A good tattoo is more than just visually appealing. It should be meaningful to the owner, too. That's why birth flower tattoos are loved by so many.
These flowers look beautiful on the skin. They can be tattooed large or small, colored or black. But most importantly, they hold a special meaning for the wearers.
Like zodiac tattoos, birth flowers are associated with one's identity and personality. And each flower has its own language, adding meaning to these flower tats.
So if you are looking for a self-representation tattoo or are celebrating your birthday, don't miss out on the following ideas.
We've rounded up a gigantic list of birth flower tattoos for each month with their meanings explained. Keep scrolling, and you'll find a beautiful one that relates to you.
Disclaimer: This collection of birth flower tattoos is for inspiration only. Please do not copy the artwork. If you love these tattoos, follow artists and show them some support.
January birth flowers: Carnation and snowdrop
Zodiac signs of the month: Capricorn and Aquarius
Birth stones of January: Garnet
No one can say no to a beautiful bouquet of carnation flowers. As the birth flower of January, carnations are a symbol of passion and love. These colorful flowers with multi-layered petals naturally spark joy, thus, are often sent as gifts for a loved one.
In Christianity's legend, carnations were formed from the tears of Virgin Mary as she watched Jesus carry the cross. That's why the flowers are also associated with motherly love.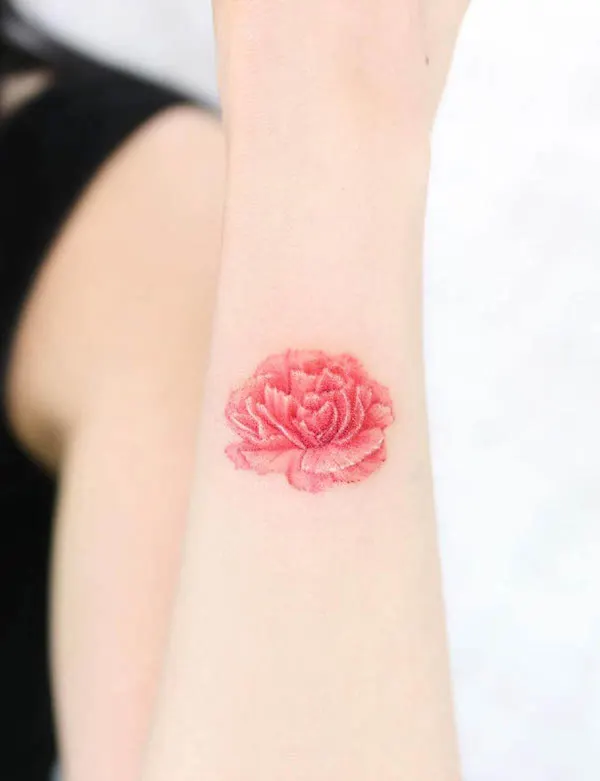 @palette.tt
Because the wrist is a placement with high exposure, wrist tattoos don't need to be complicated to stand out. A simple, elegant flower like this will give you the timeless wow factor.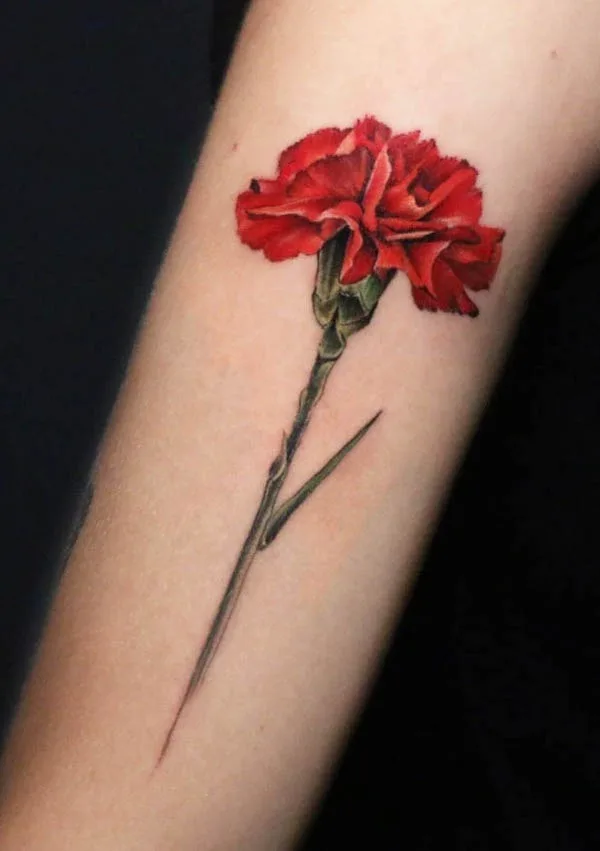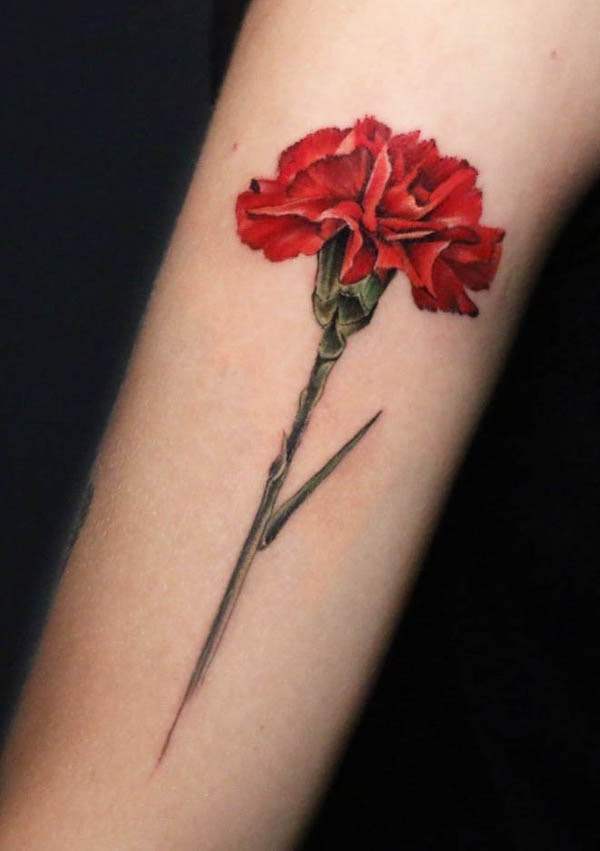 @danilo.vivanco.tattoo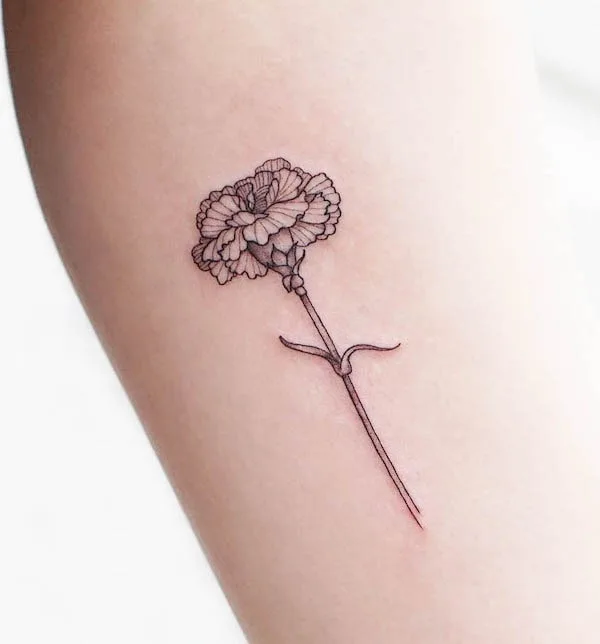 @rachainsworth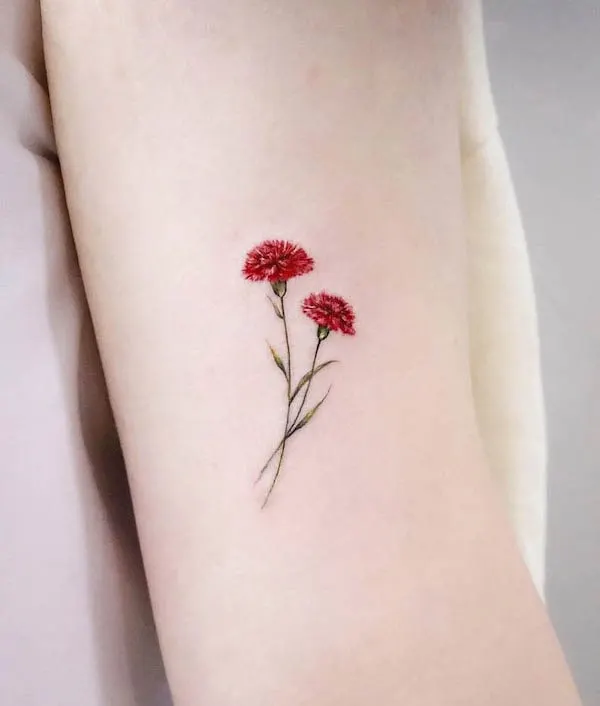 @vane.tattoo_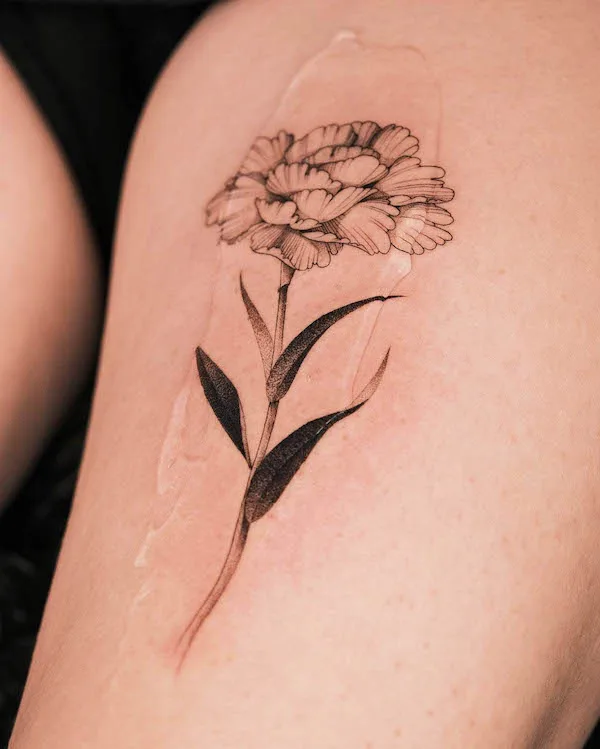 @kimbobby_ttt
If you want something big and bold, consider thigh tattoos. The thigh has enough flat space for tattoos with broad coverage. And you can be as detailed as you wish to create a realistic look.
The snowdrop is another birth flower for those born in January. As written in its name, the flower looks like a white bell with its head dropping towards the ground. Its pure white petals and long, straight stem make it recognizable among various flowers.
As the first flowers of spring, snowdrops often symbolize new beginnings, rebirth, and the resilience to endure difficulties.
The strength to overcome adversities also echoes with Capricorn, the January zodiac sign known for its tenacity. That's why the two elements are often put together in tattoos about strength.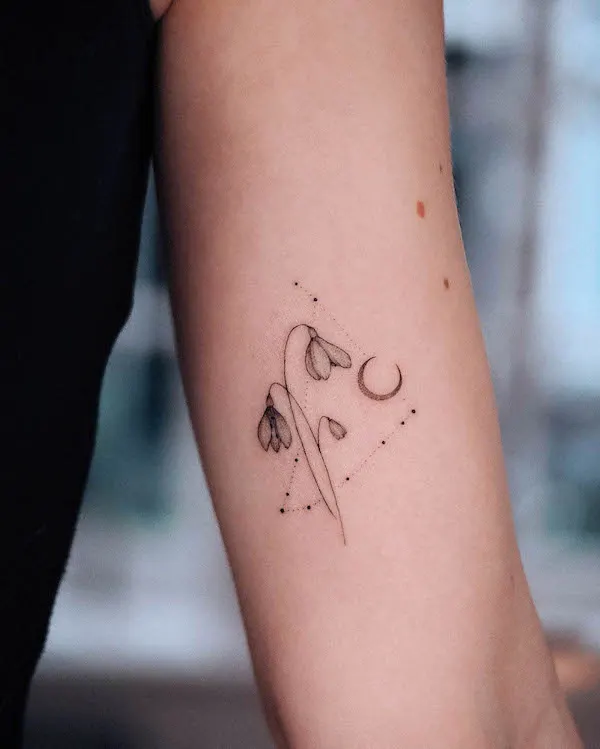 @bunami.ink
Both birth flowers and zodiac signs resonate with one's identity. This simple black and grey snowdrop tattoo shows how you can incorporate the two elements elegantly.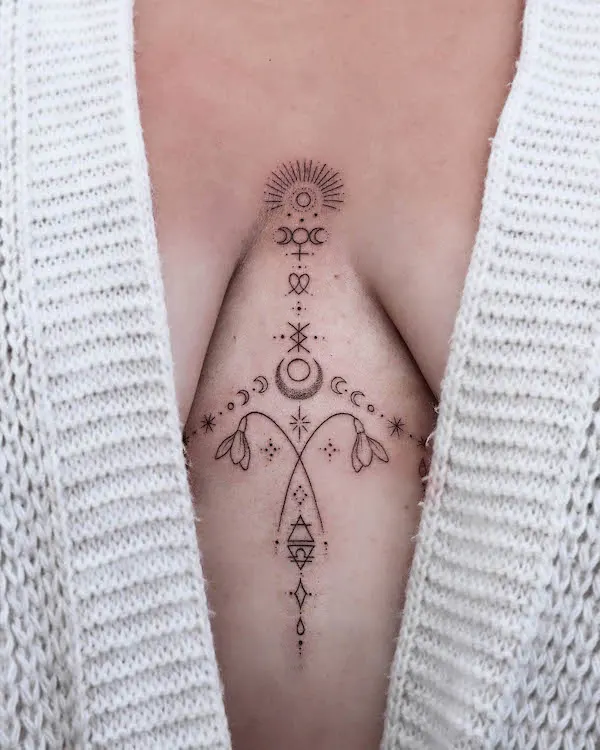 @trikona.tattoos
Intricate between-the-boobs tattoos are rare because the space is limited. This one, however, pushes the boundaries and plays with the shape of the sternum to the maximum. And the result is gorgeous.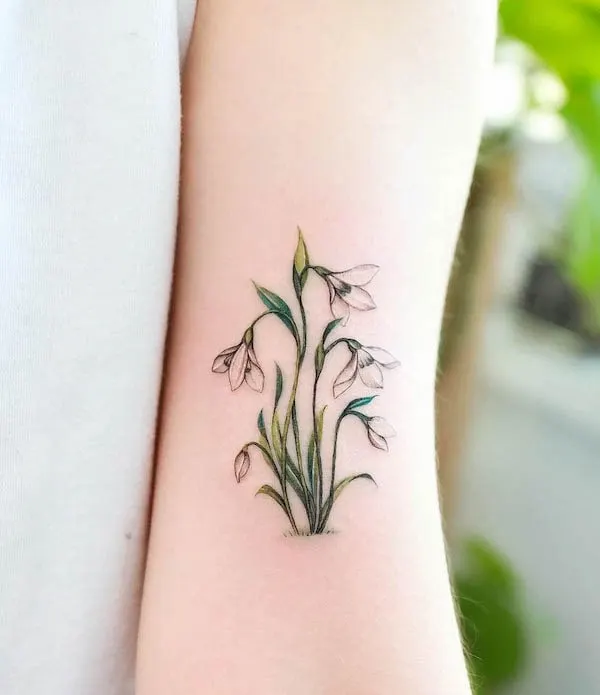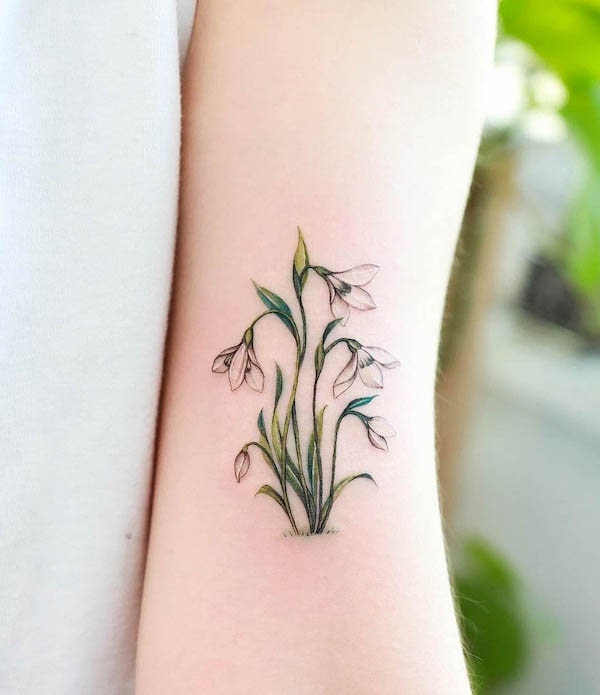 @xiso_ink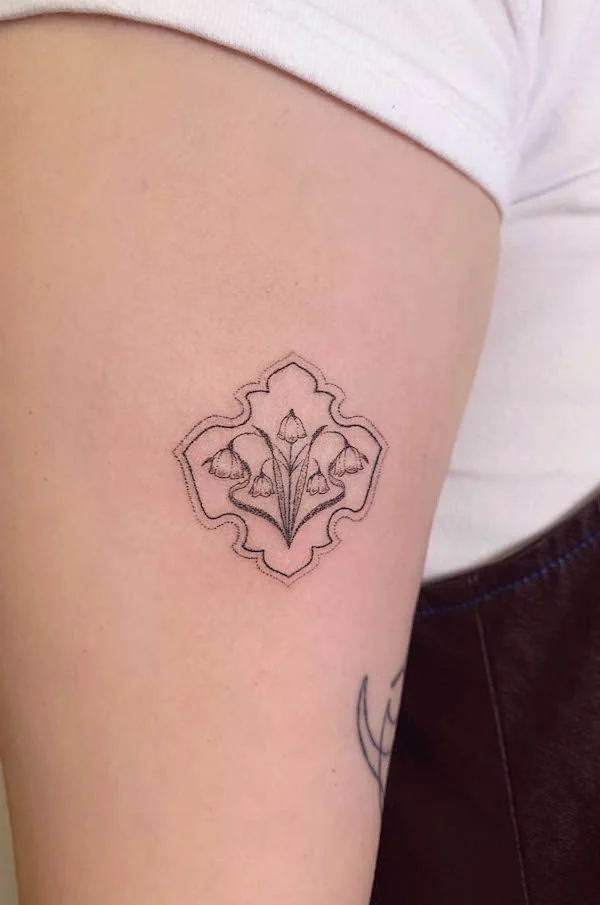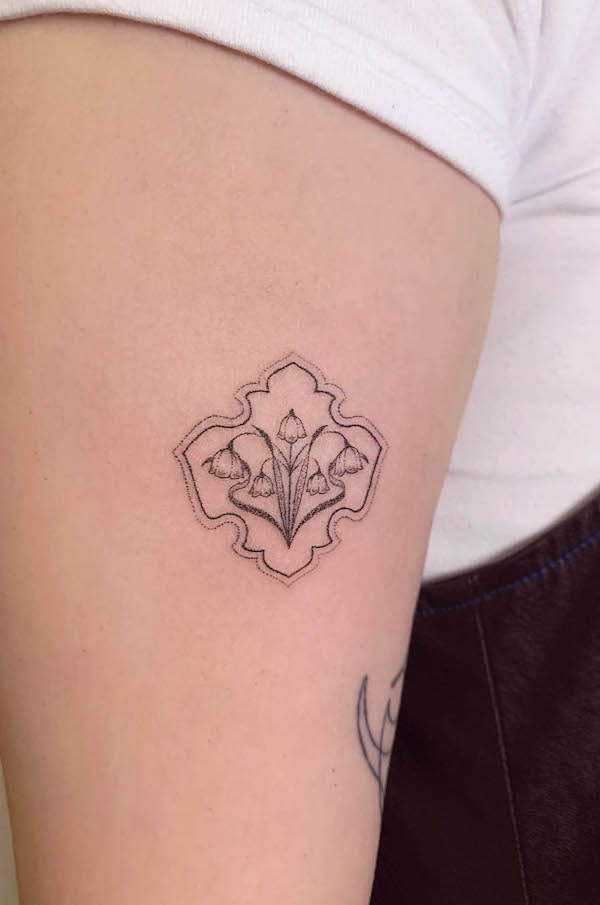 @semin__tt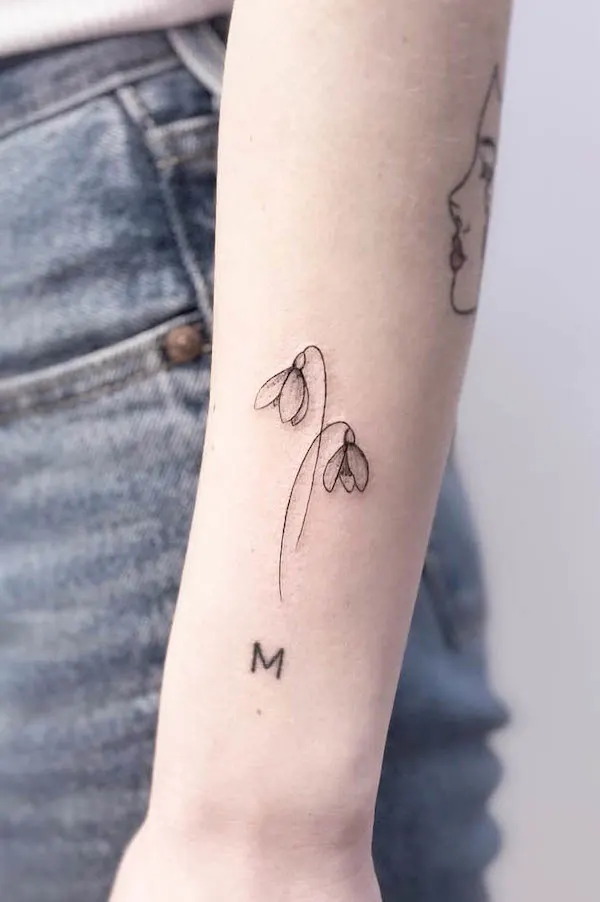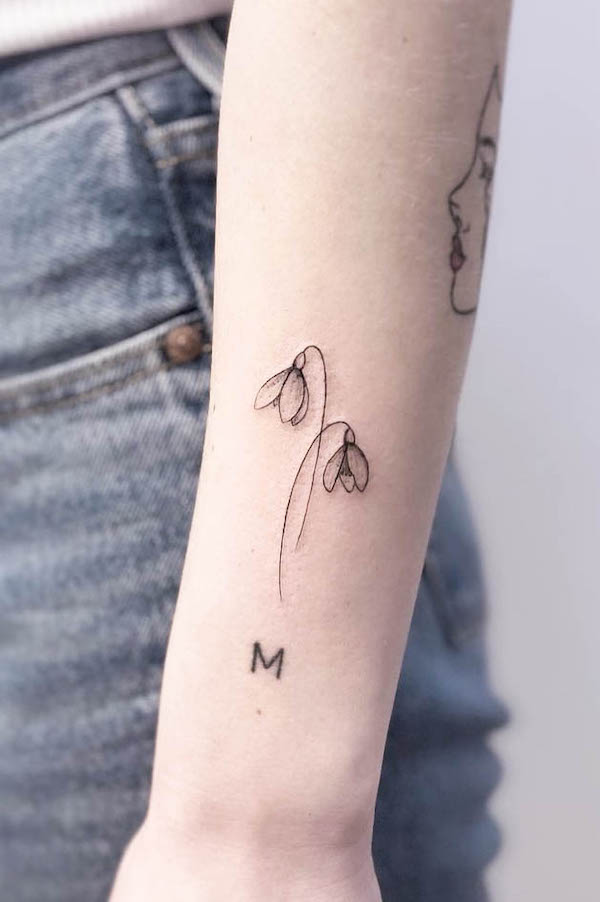 @minimaltattoonl
February birth flowers: Violet and primrose
Zodiac signs of the month: Aquarius and Pisces
Birth stones of February: Amethyst
As the name suggests, violet is a beautiful purple flower. However, it's worth noting that these gorgeous flowers also come in pink and blue.
Because of the vibrant colors, violets often capture people's attention from a distance. And a lot of violet tattoos are in color to maximize the visual impact.
In terms of meanings, violets are associated with Virgin Mary. The root in Christianity gives the flower the meaning of modesty and protection. And because purple is the color of spirituality, the flower also represents spiritual wisdom and enlightenment.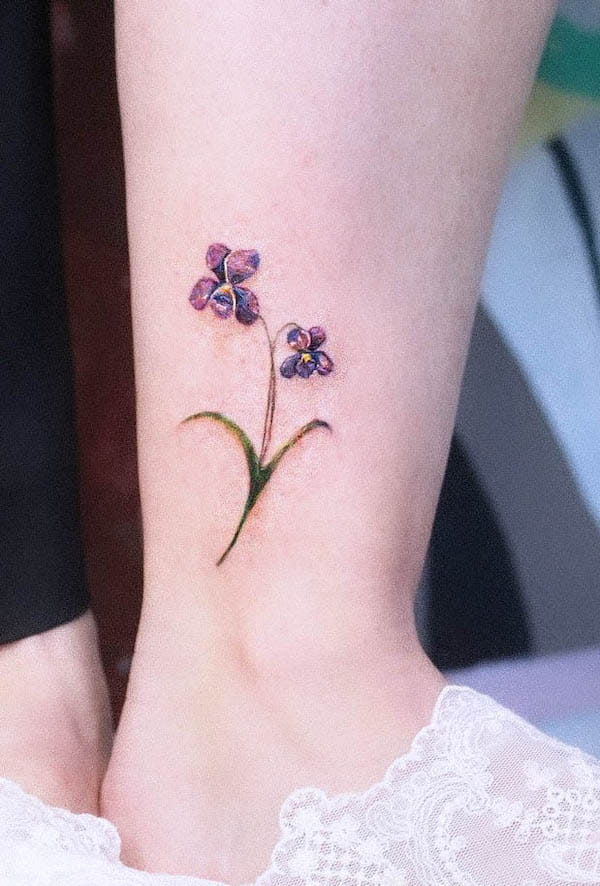 @rose_pique
If you want something beautiful but not overwhelming, ankle tattoos may be a good option.
Because the ankle is below eye level, tattoos on the area are not as visible as those on the arm or neck. But you can still show it with shorts or dresses.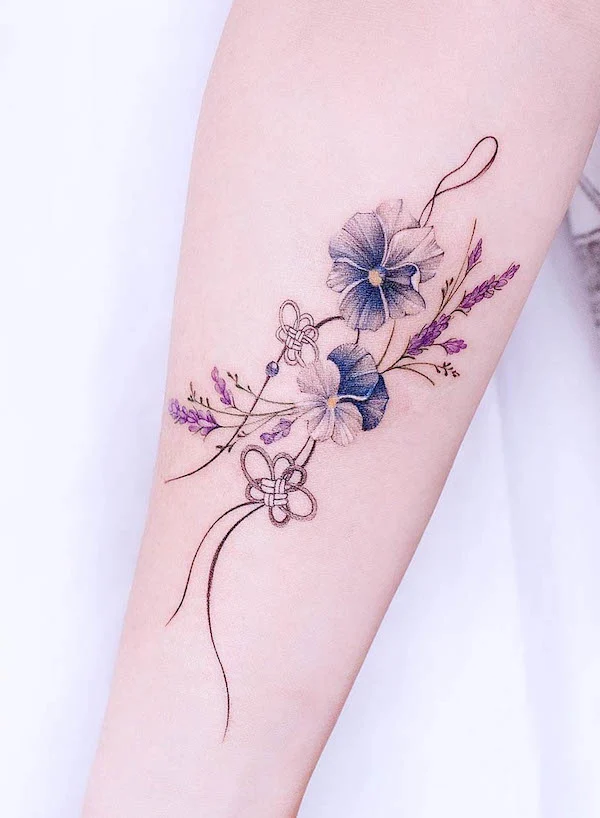 @tattooist_arun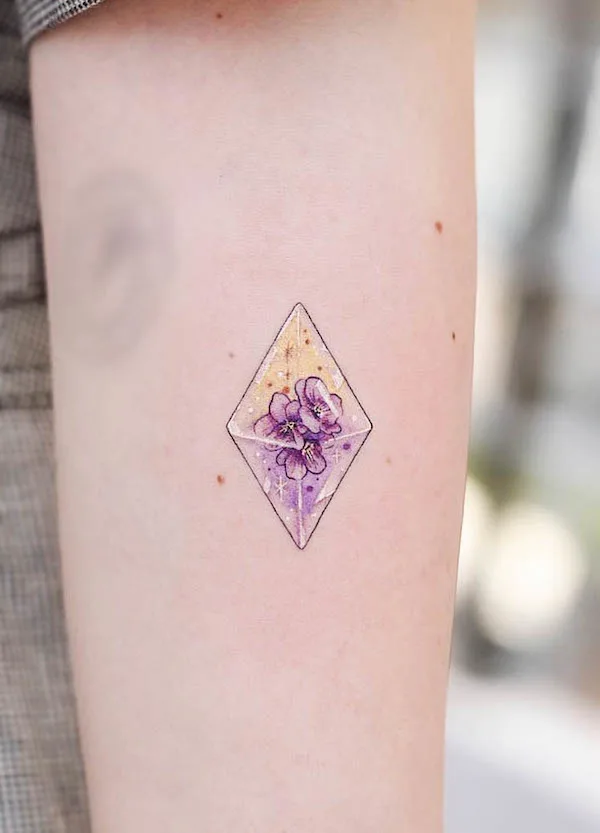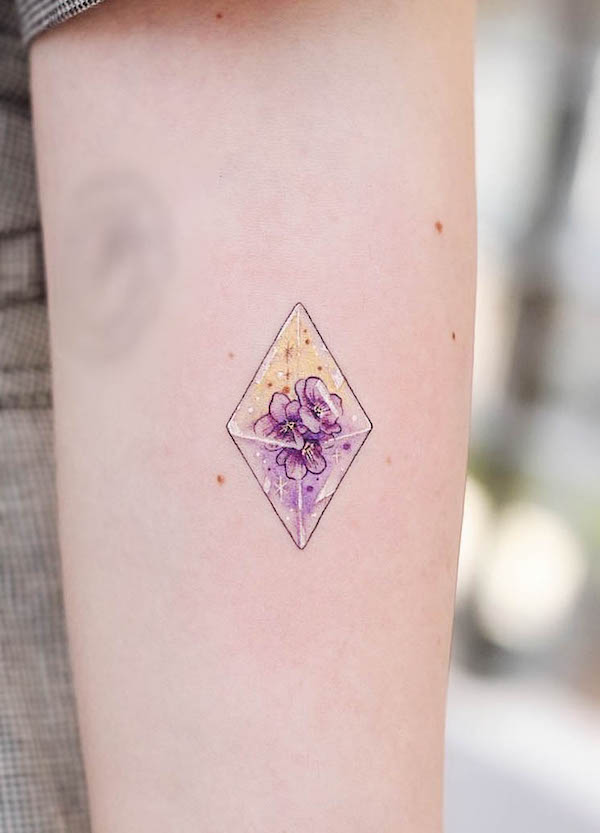 @heemee.tattoo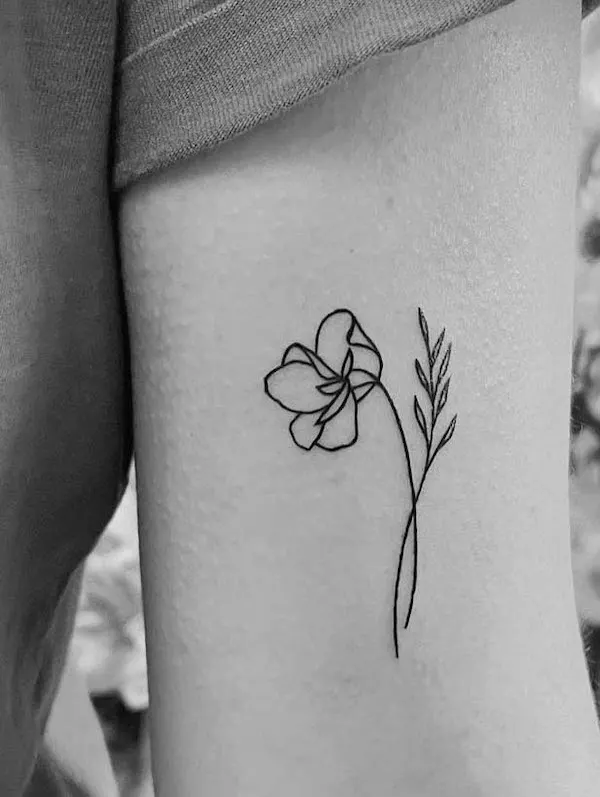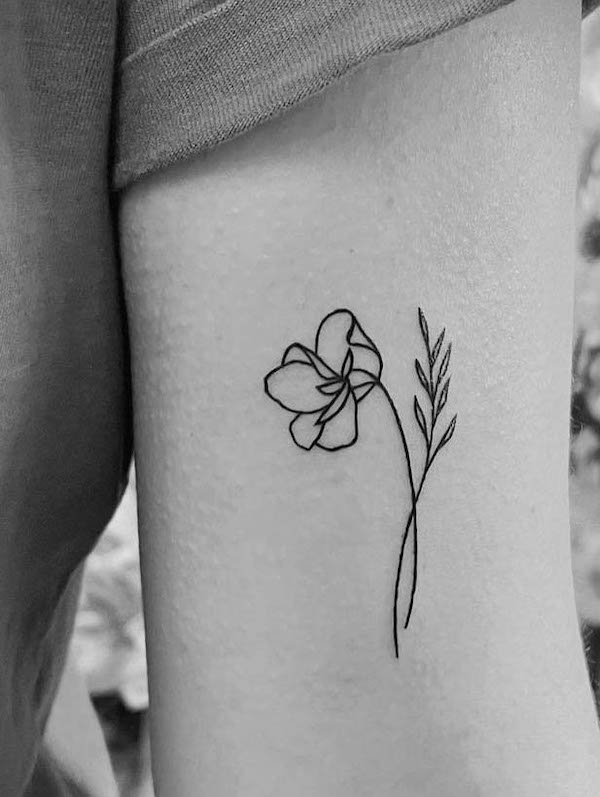 @patricia.regina.tattoo
If you are getting your first tattoo, simple blackwork like this can't go wrong. This minimalistic outline tattoo captures the elegance of the flower. Plus, by reducing the details, this tattoo will be less time-consuming and more affordable.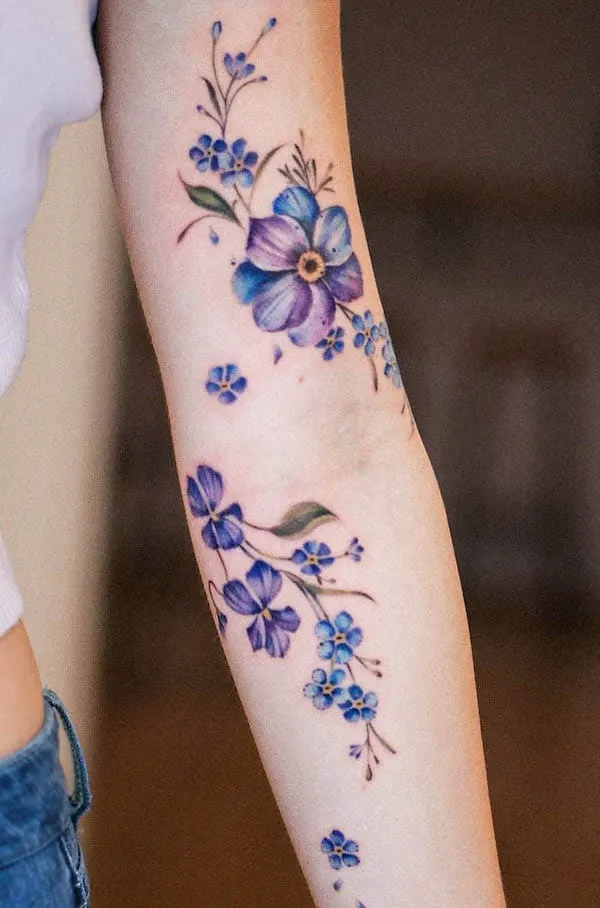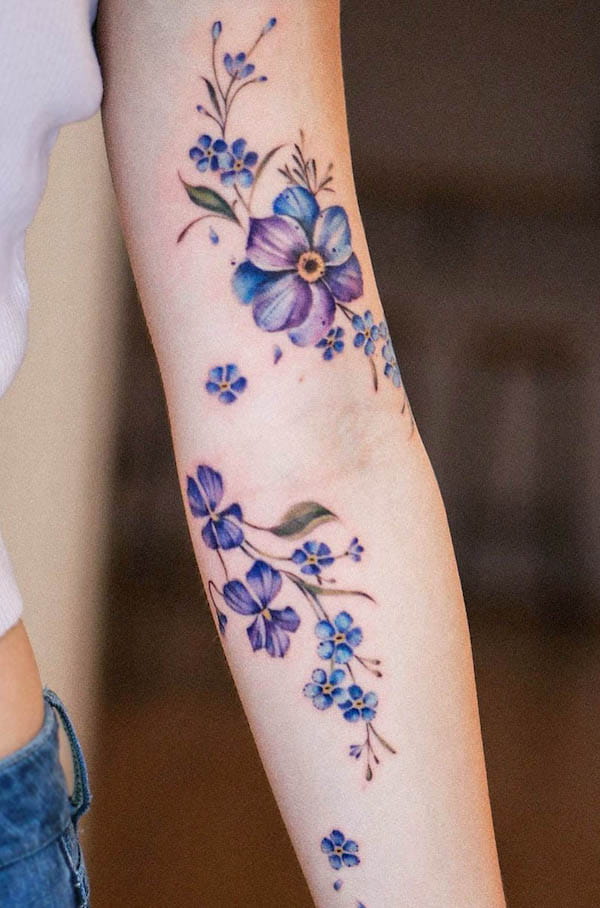 @veroni.ink
A full-arm tattoo is only for the courageous. But if you have something as intricate and stunning as this one, why not show it proudly?
Primroses may be smaller in size compared to roses or violets. But they come in so many colors that they make beautiful spring foliage themselves.
Primroses are among the first flowers to bloom in spring. "Prim" as a root in Latin means "first." Therefore, they are often regarded as a symbol of youth, new beginnings, and renewal.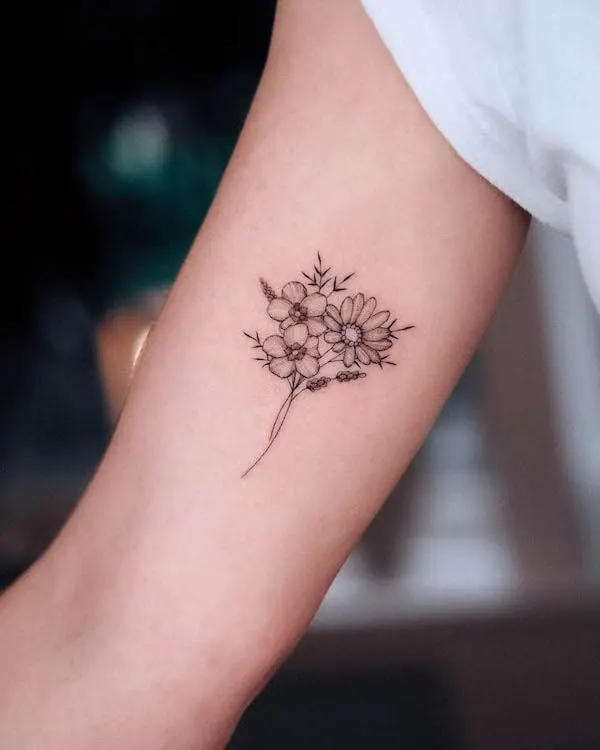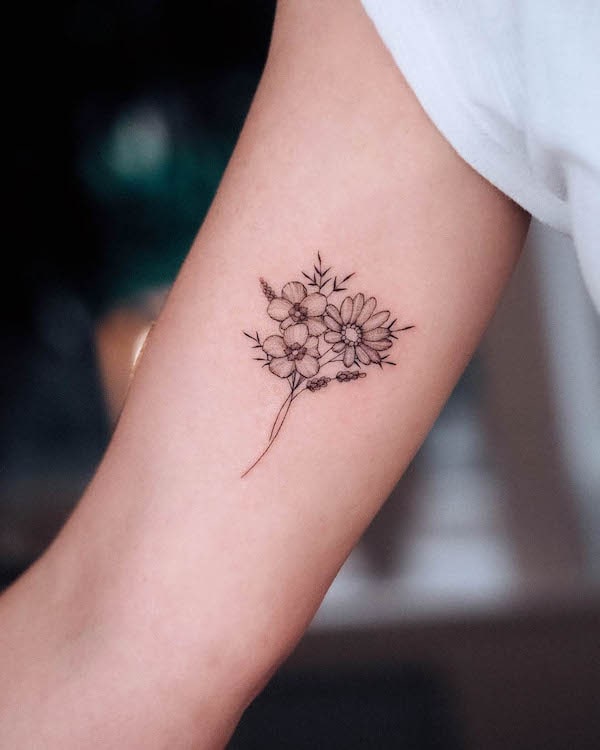 @bunami.ink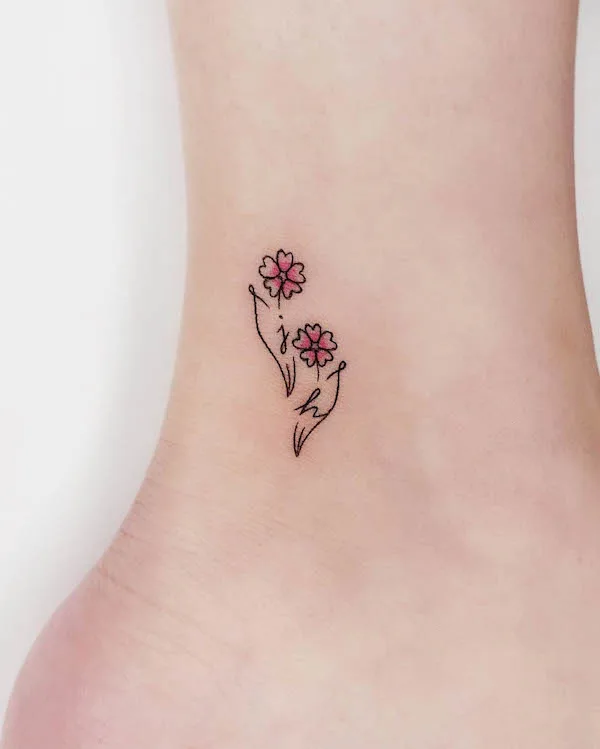 @nieun_tat2
What a cute combination of birth flowers and initial tattoos! By placing the initials on the stems, the tattooist creates a tease for those who take a closer look.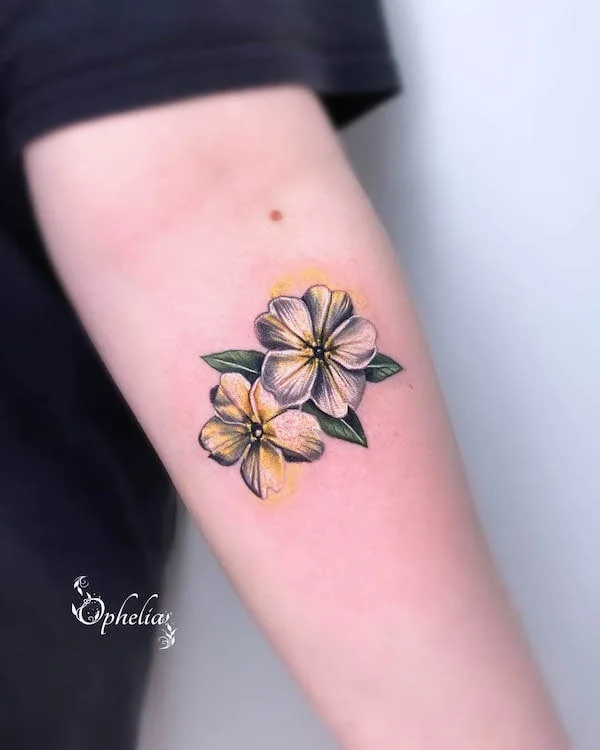 @ophelia.bespoke.tattooing
March birth flowers: Daffodil and jonquil
Zodiac signs of the month: Pisces and Aries
Birth stones of March: Aquamarine and bloodstone
When you observe a spring garden, you can't miss a daffodil. The stunning flower often comes in white or bright yellow. And with its bulb blooming at the end of a long stem, its beauty demands attention.
The spring comes at the sight of daffodils. And that gives the flower the symbolism of a new beginning as well as hope and energy needed in a new life chapter.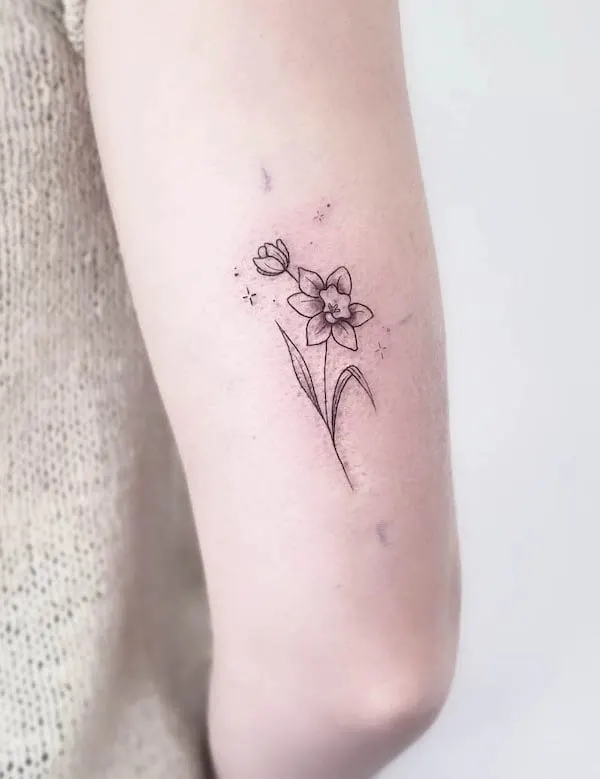 @jeidoo__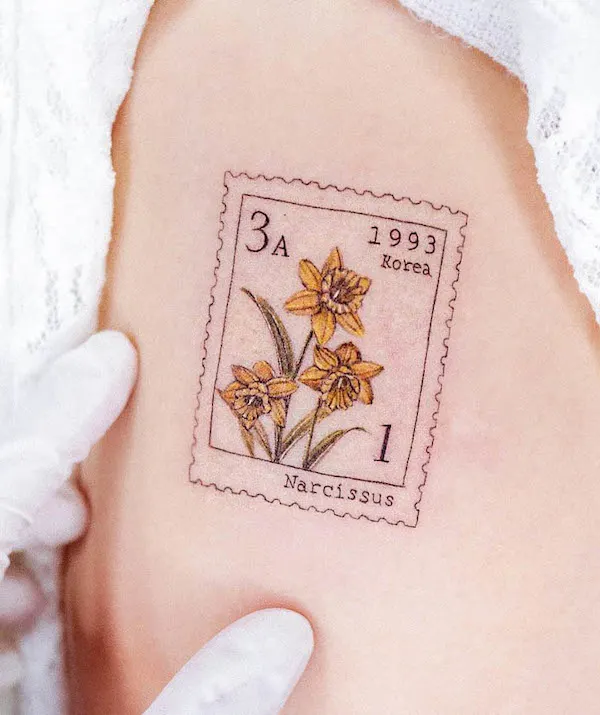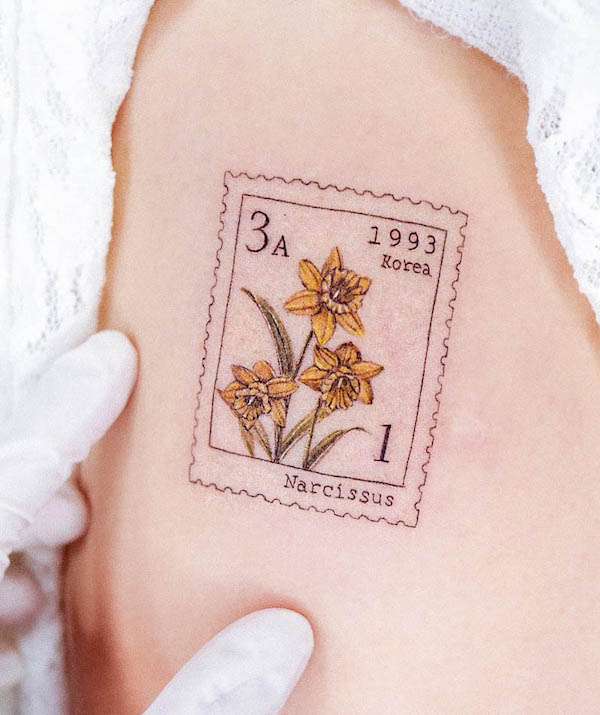 @yojogrim
Instead of placing the flowers directly on the skin, the tattooist uses the stamp as a canvas and incorporates the flower's name and the wearer's nationality.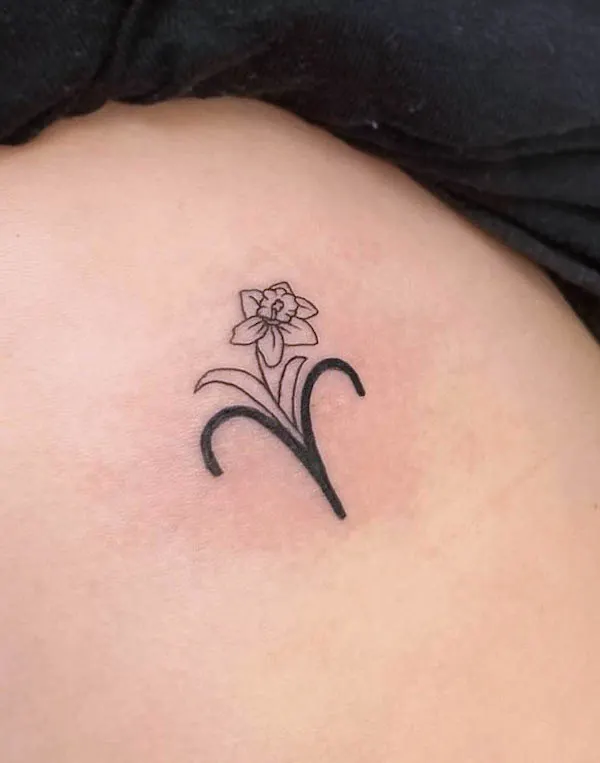 @vibrant.ink
Another way to incorporate your sign with your birth flower is by adding a zodiac glyph. Because glyphs are made of basic shapes and lines, they keep the tattoo sleek without losing its meaning.
Another March birth flower is the jonquil. It might not be as known as daffodils, but its bright colors and small petals make them a good tattoo motif to pair with other elements.
Jonquils belong to the family of narcissus, the same as the daffodil. But their petals are smaller compared to trumpet daffodils.
Meaning-wise, they appear a lot in mental health tattoos as they represent survival after a long winter. In addition, their bright yellow and white colors are often associated with happiness.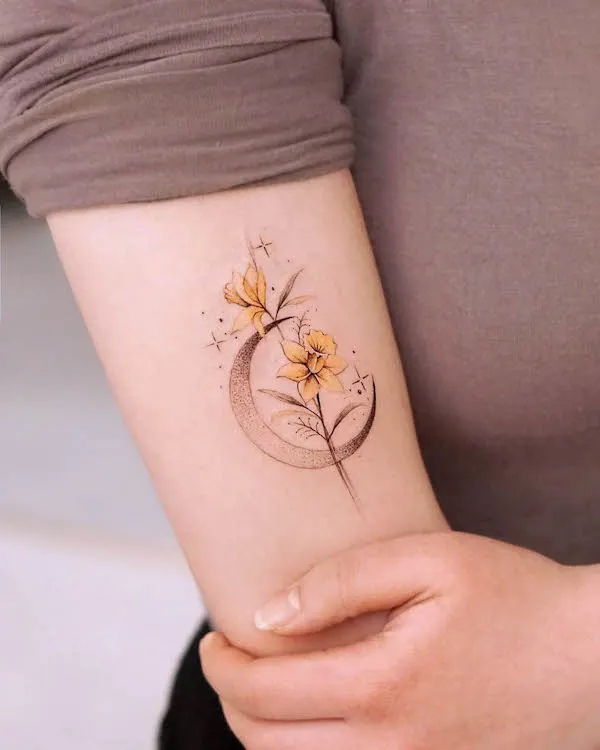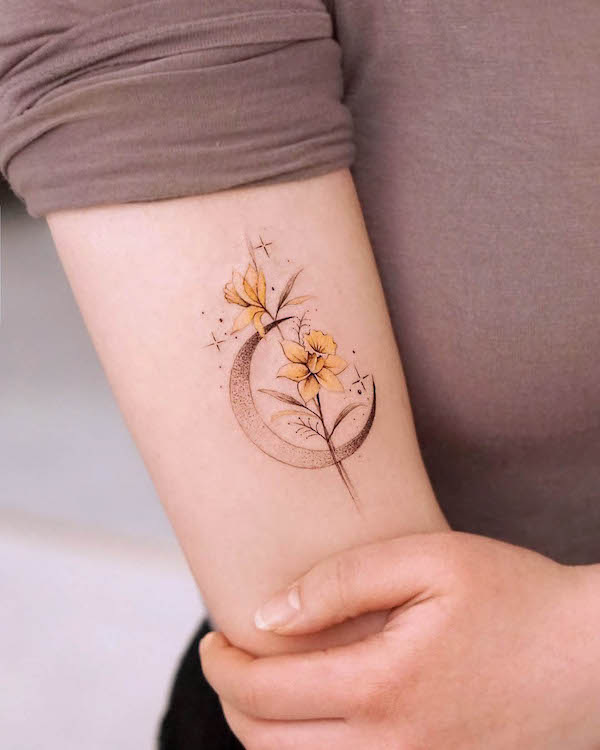 @tattooist_giho
The moon symbolizes femininity, and moon tattoos are a great demonstration of one's feminine side. This tattoo on the upper arm combines the wearer's birth flower with the moon and creates something elegant and gorgeous.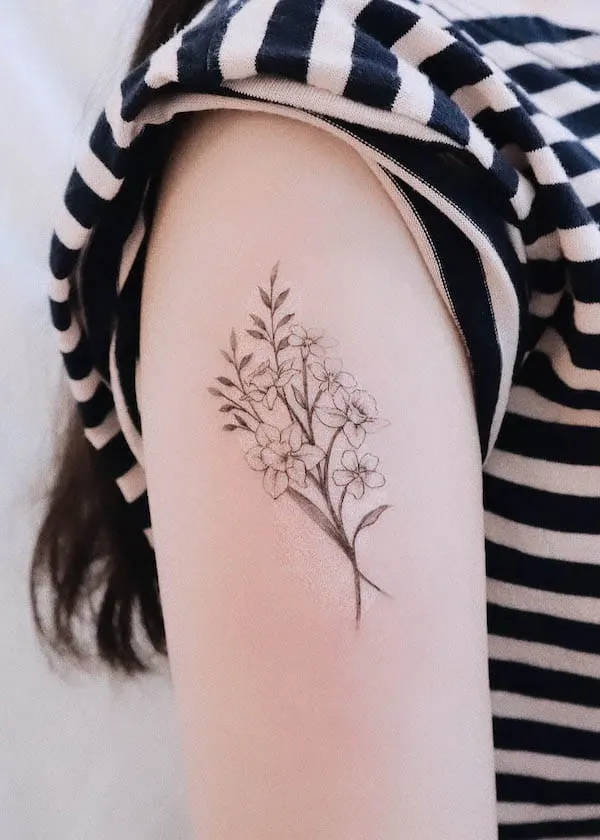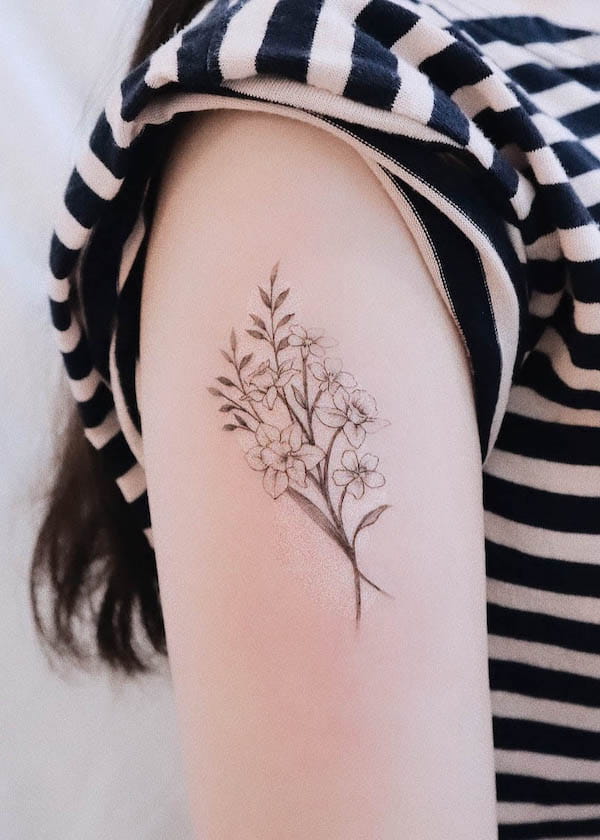 @yezottt
April birth flowers: Daisy and sweet pea
Zodiac signs of the month: Aries and Taurus
Birth stones of April: Diamond
Daisies are a common wildflower species. These dainty little flowers bloom in the wild as well as in gardens. They are known for their pure white leaflike petals and the yellow pistils, two cheerful colors that correspond with the spring vibes.
Many people send daisies as a gift for childbirth because they symbolize purity, youth, and joy. But they also make great tattoos representing the wearers' innocence and a soul that never gets old.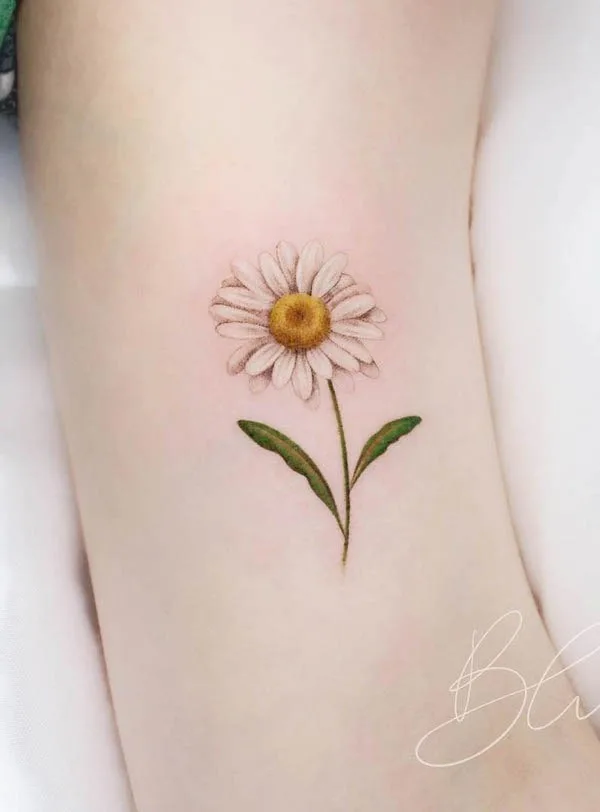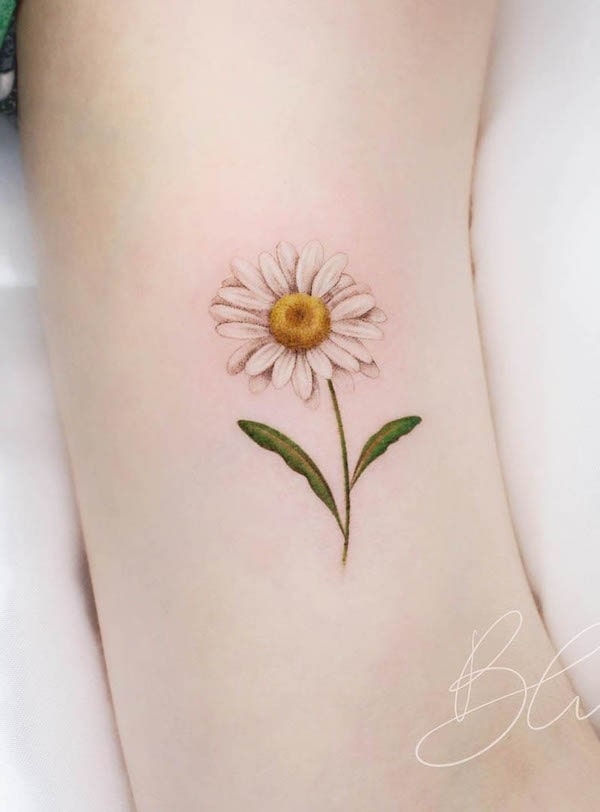 @blu.tattoo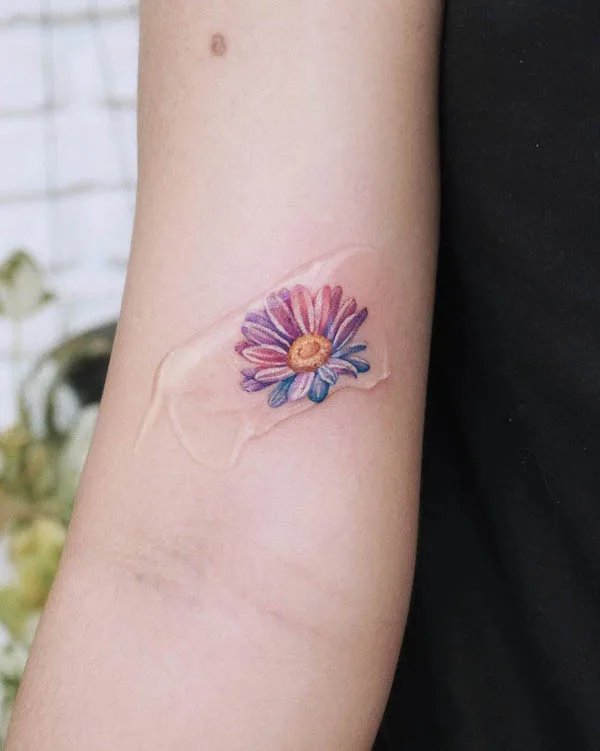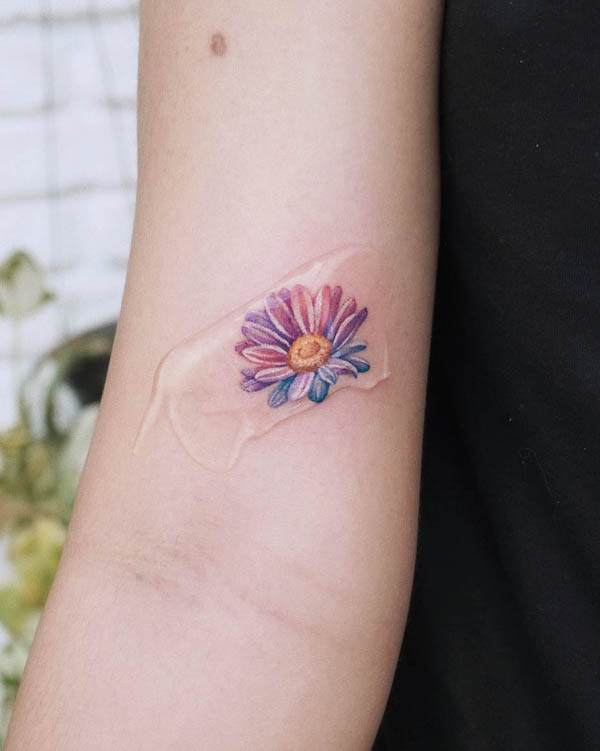 @second.b2
Just because most daisies are white or yellow doesn't mean there's no room for creative color palettes. This one takes a risk and challenges the normality. But the result is beautiful and worth the effort.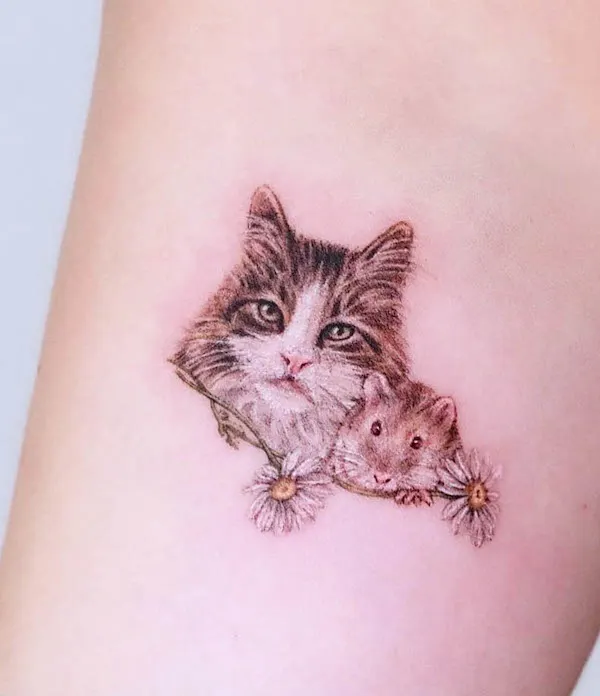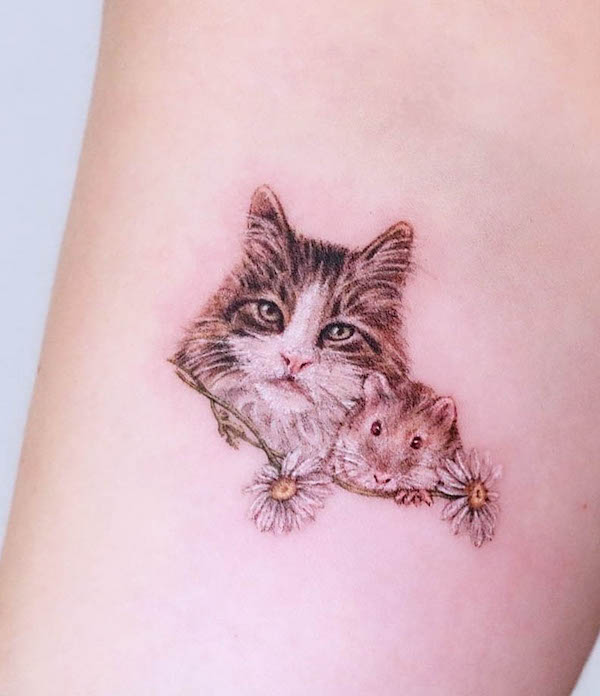 @aphrotatt
If you have a pet, a cat, a dog, or a hamster, it can be a good idea to make them the central motif of your next tattoo and decorate it with your birth flower. Such a cute tattoo like this will not only be meaningful. But it also shows your love for your fluffy pals.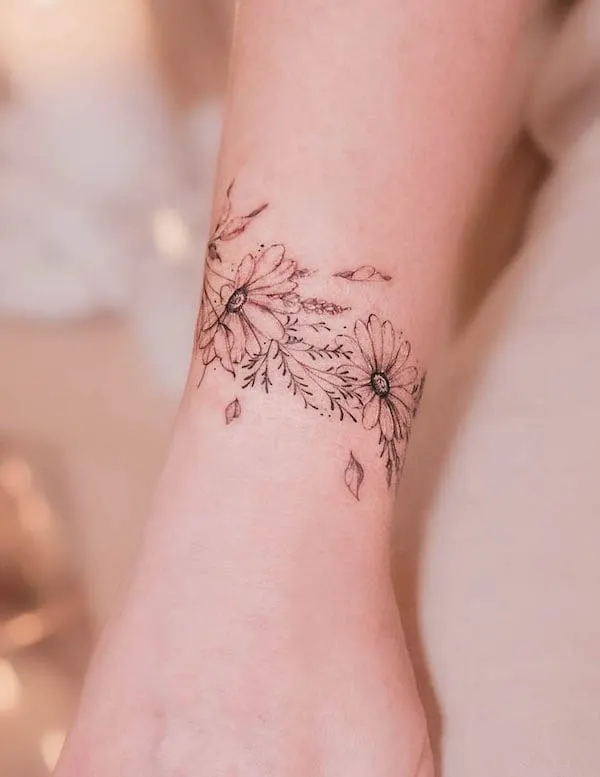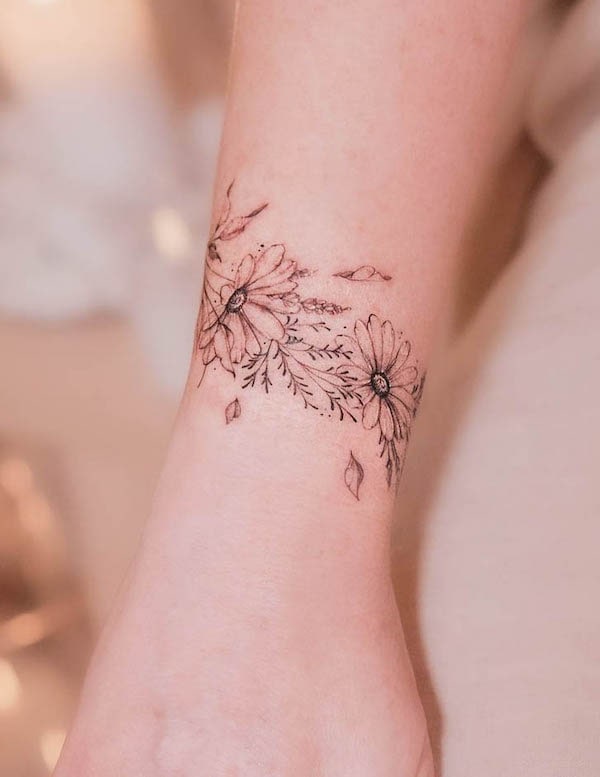 @modelajna
Bracelet tattoos and armband tattoos are those that wrap around the limb. Unlike others, they also function as jewelry.
This one is a great example of turning your birth flower into a meaningful, permanent decoration on the skin.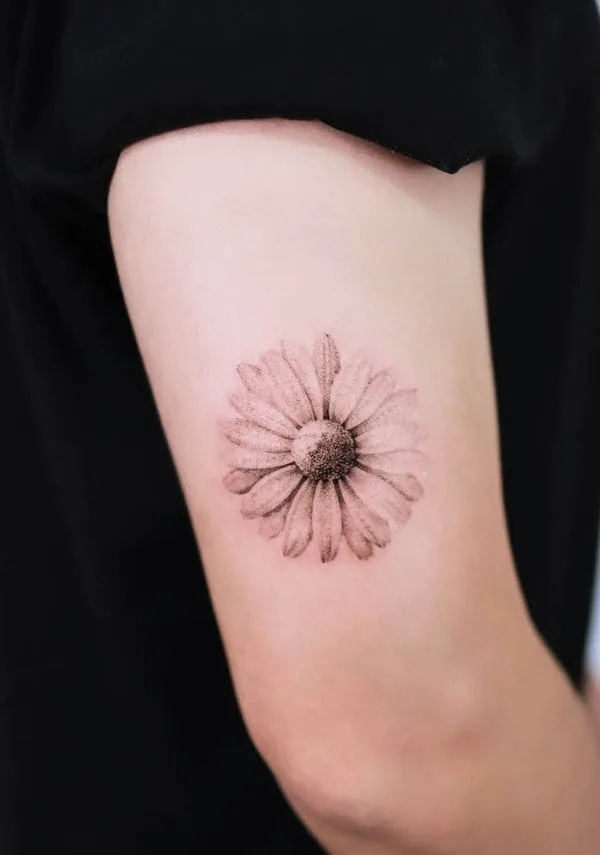 @tattooist_soom
Unlike most flowers, sweet peas grow on vines. The small colorful clusters of petals bloom on vines in the wild, unleashing vitality and energy.
The flowers are often connected to St. Patrick's Day. In folklore, it's believed that planting a sweet pea before sunset will bring you good fortune. Thus sweet pea is often considered a lucky charm and a symbol of bliss and abundance.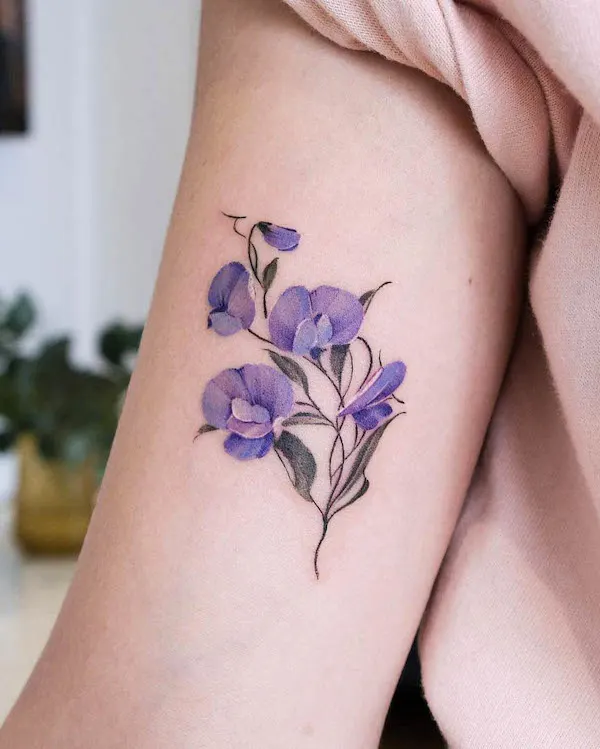 @mo.no_.tattoo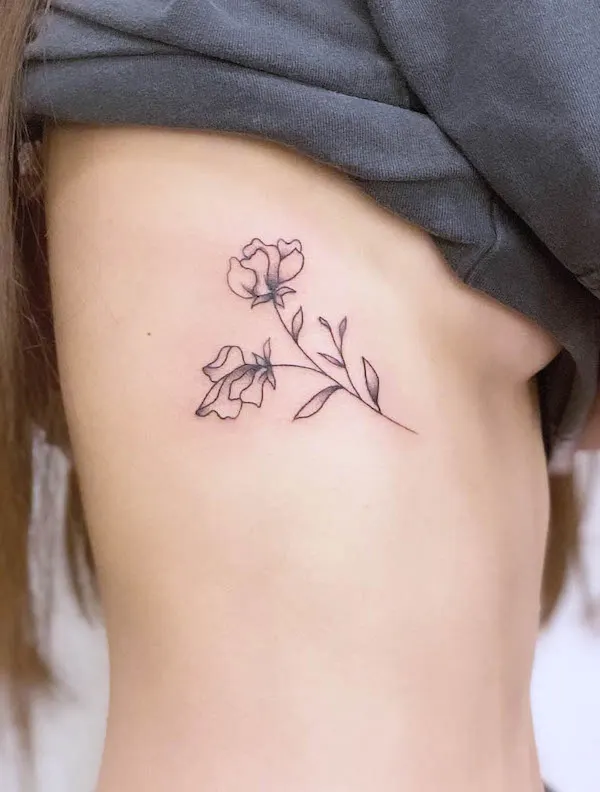 @jamezkan
Because the skin of the ribcage is pretty thin, a complex tattoo on this area could cause much pain. That's why if you are pain-sensitive, a simple and small tattoo like this can be a better idea.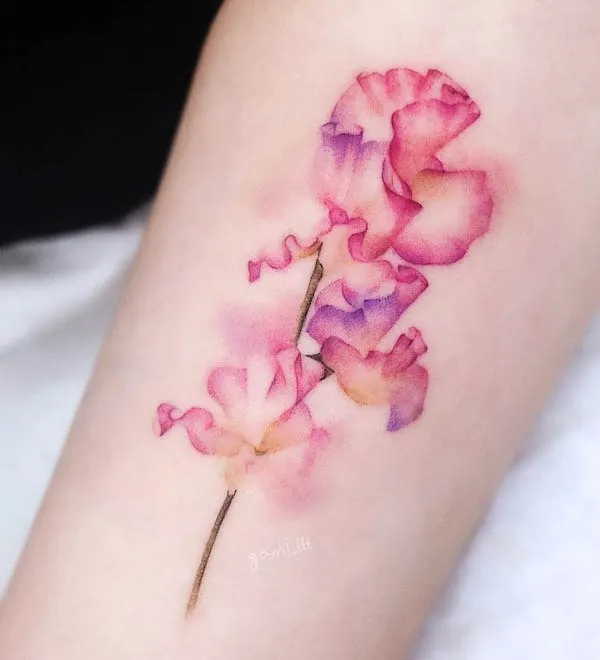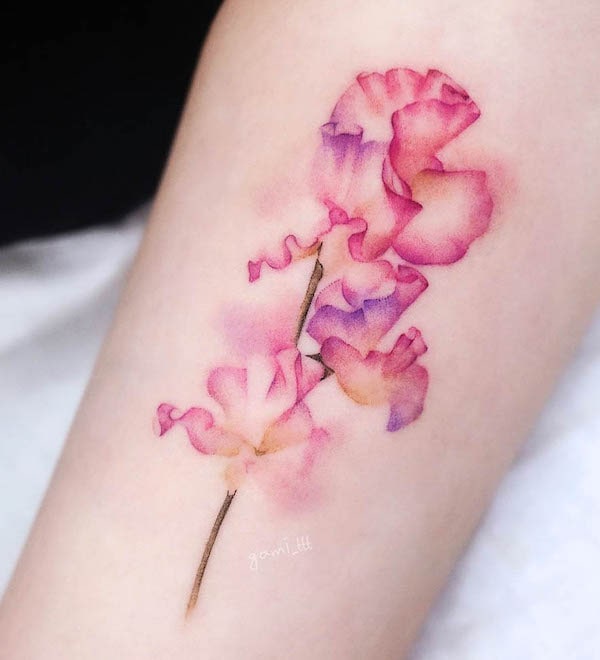 @gami_ttt
A watercolor tattoo feels light and flowy because it doesn't have lines separating the colors. It allows them to blend with each other naturally and creates a soft, elegant look.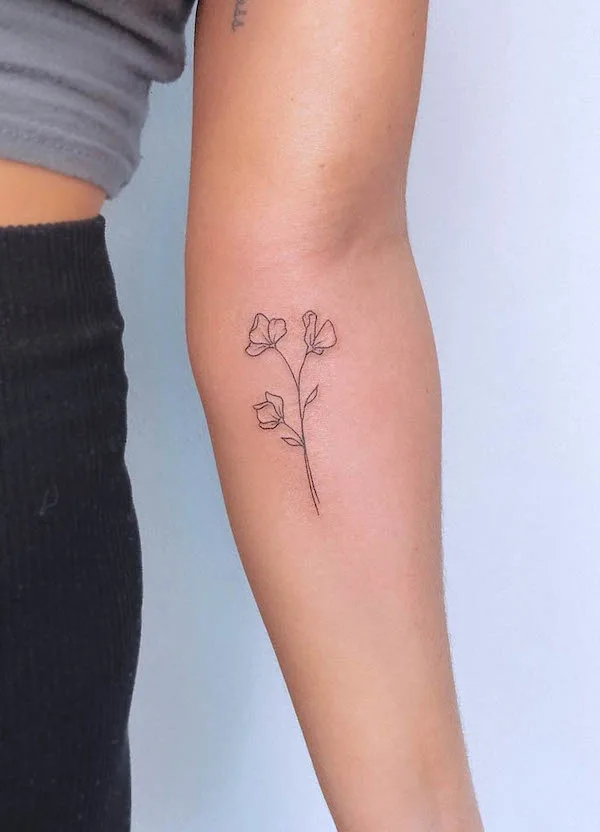 @pollytatttoo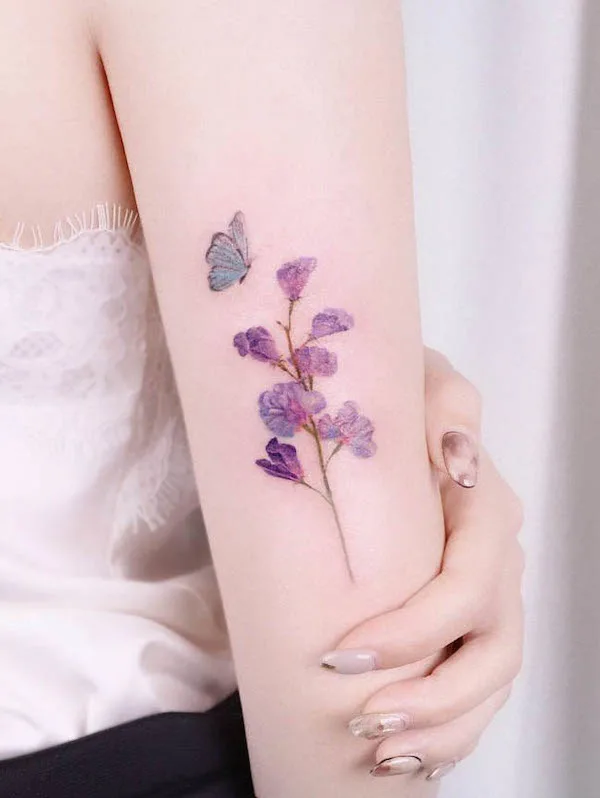 @peria_tattoo
May birth flowers: Lily of the valley
Zodiac signs of the month: Taurus and Gemini
Birth stones of May: Emerald
Lily of the valley flowers usually come in clusters. Their bell-shaped flowers dangle on one side of the stalk and remind us of summer's arrival.
Though the flowers have a variety of colors, they are mostly recognized as pure white. Thus they are often seen as a symbol of purity, beauty, and humility.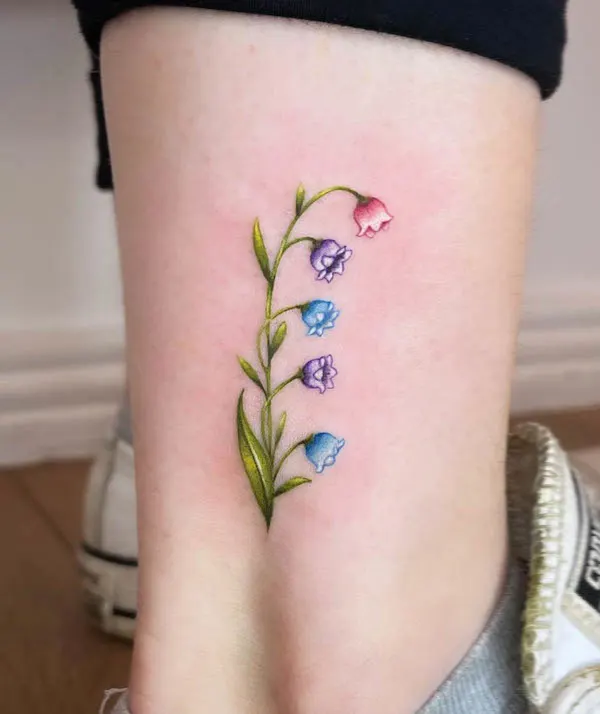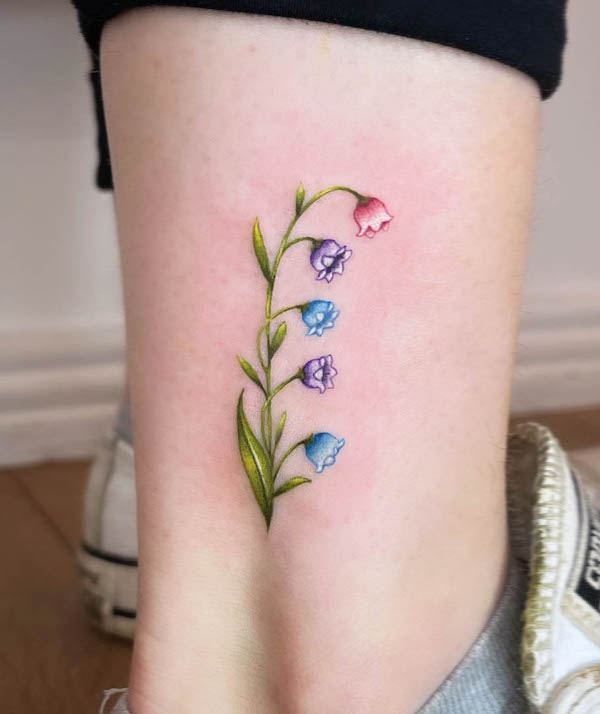 @al.brennantattoo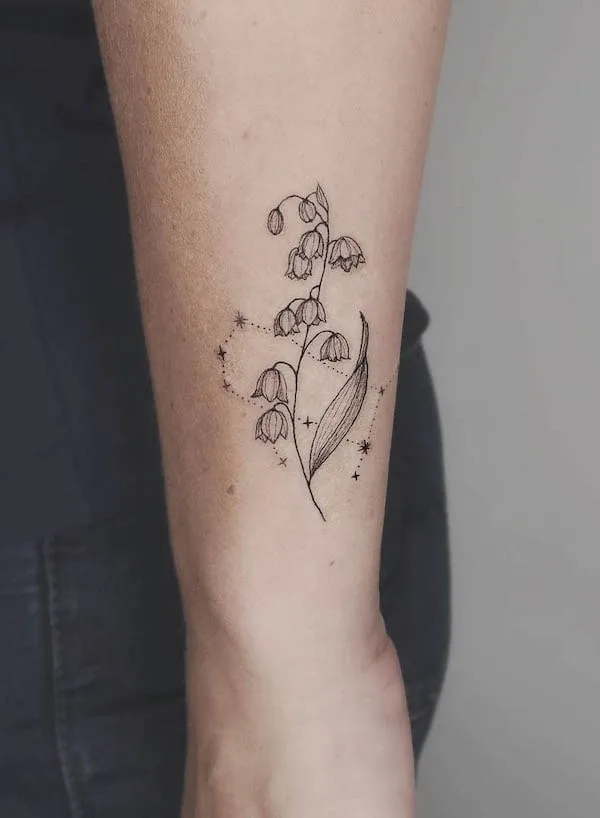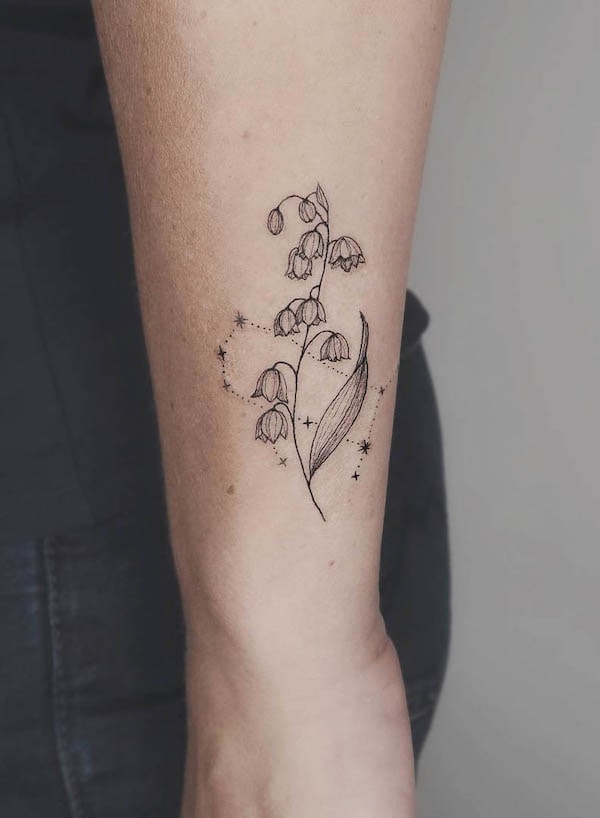 @lenasnow.tattoo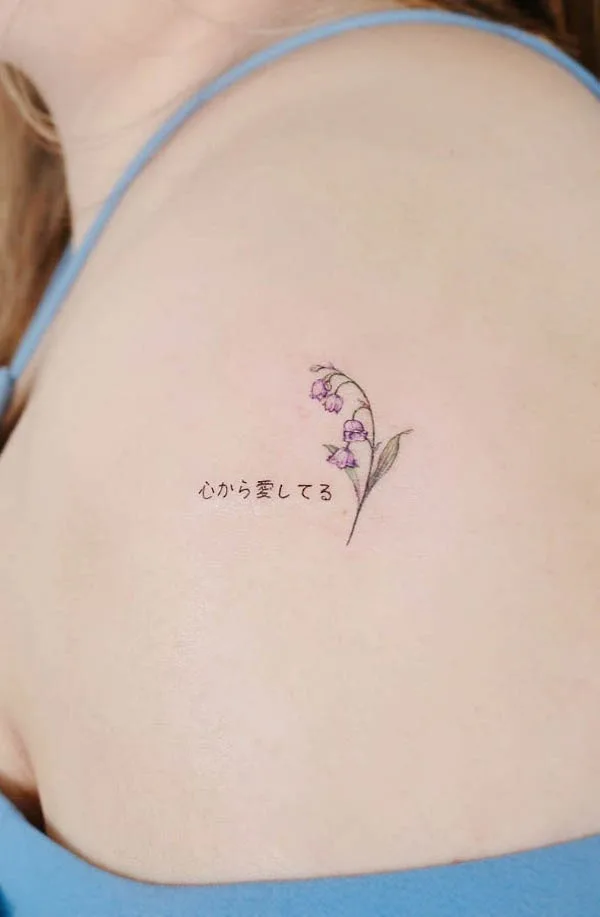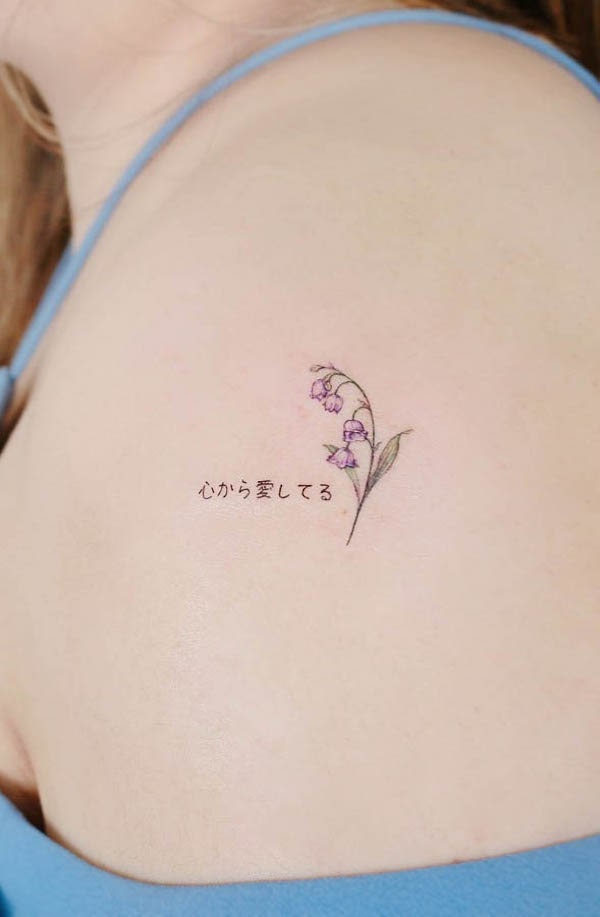 @tattooistflower_mood
If a tiny flower is too simple, consider adding your life mottos to turn it into a meaningful quote tattoo. Choose the font and the size of the letters cautiously to match the flowers.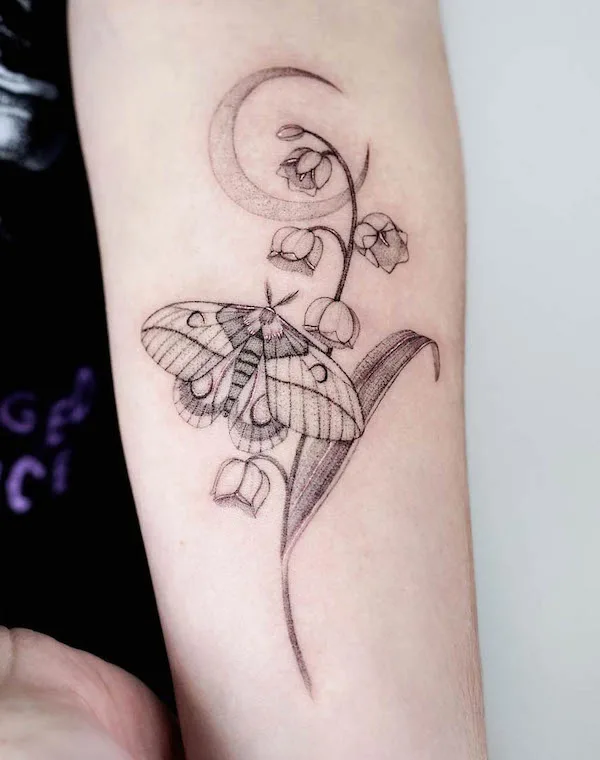 @yojogrim
Moths are not as commonly seen in tattoos as butterflies. But they both represent transformations in life.
In addition, a moth dies when it flies into the fire. Thus a moth tattoo is also a reminder to seek truth from within instead of from the outside world.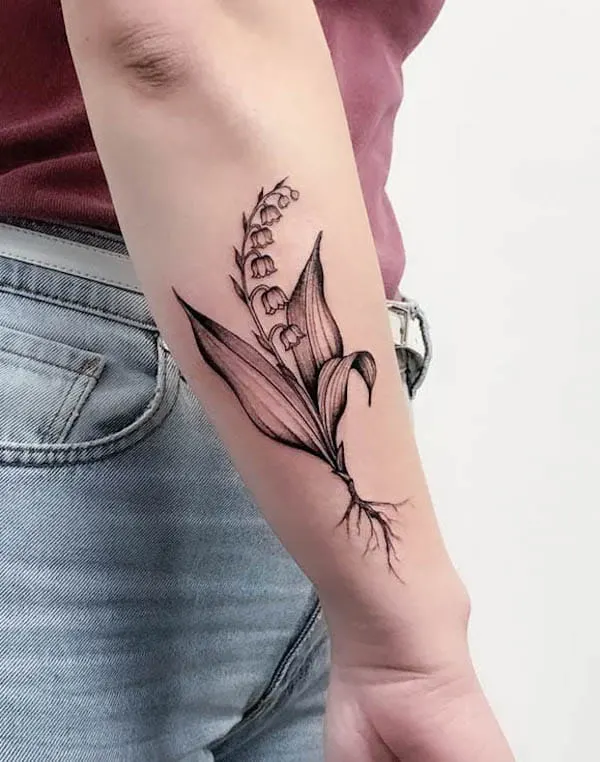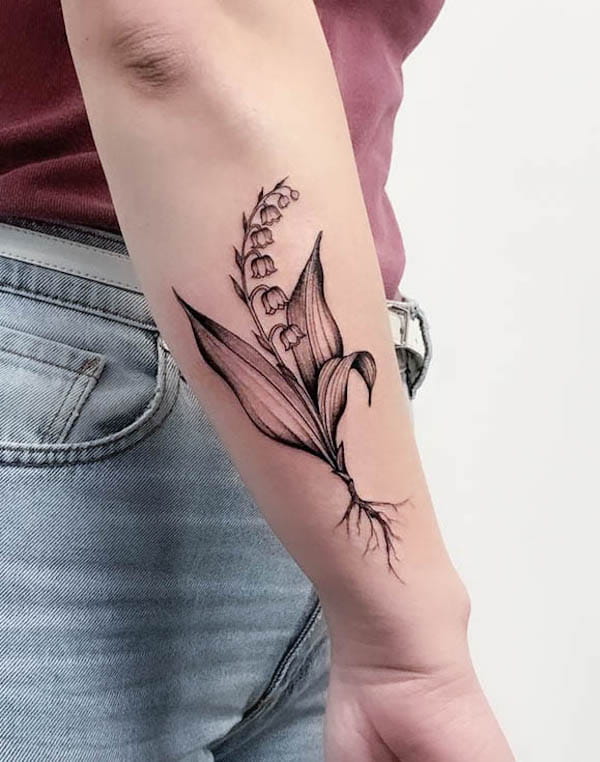 @tussilago.t
June birth flowers: Rose and honeysuckle
Zodiac signs of the month: Gemini and Cancer
Birth stones of June: Pearl, alexandrite, and moonstone
Roses are an evergreen tattoo motif. With their petals curling slightly on the edges, roses bloom like nothing is holding them back. The fully open petals and vibrant colors give them the symbolism of passion.
Sending roses as a gift is also seen as a gesture of love. These dearly gorgeous flowers hold a special place in lovers' hearts. Therefore, they are also listed as a motif in symbolic love tattoos. So, if you want something to represent your passionate, romantic, and loving side, rose tattoos are for you.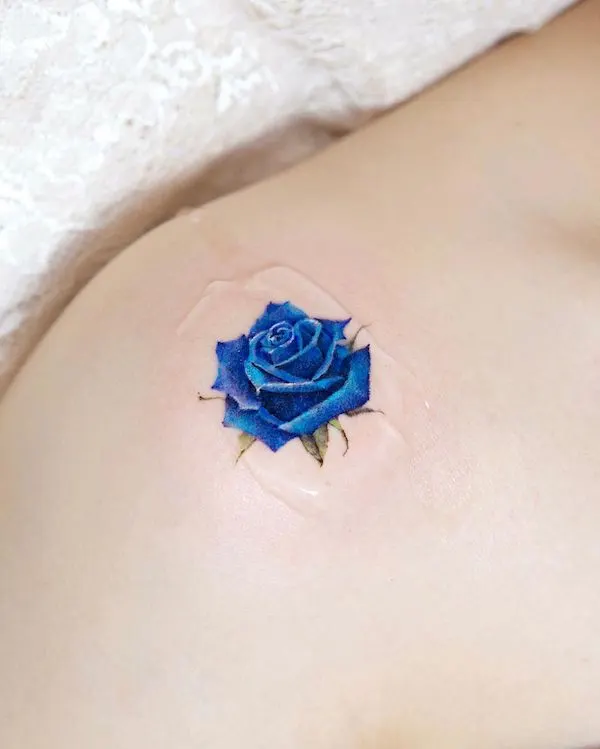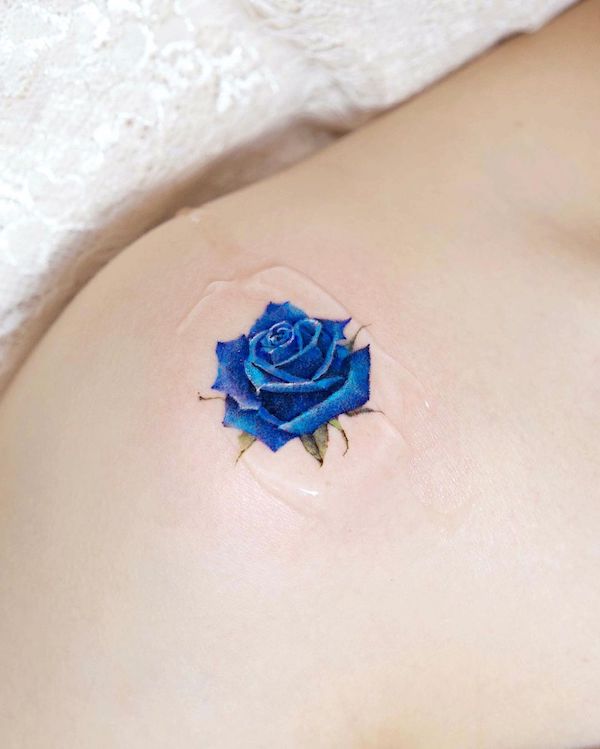 @tilda_tattoo
Tattooist Tilda has a portfolio of flower tattoos in stunning colors. And this one is no exception. Because pure blue roses don't exist in nature, this tattoo is a symbol of rarity and nobility.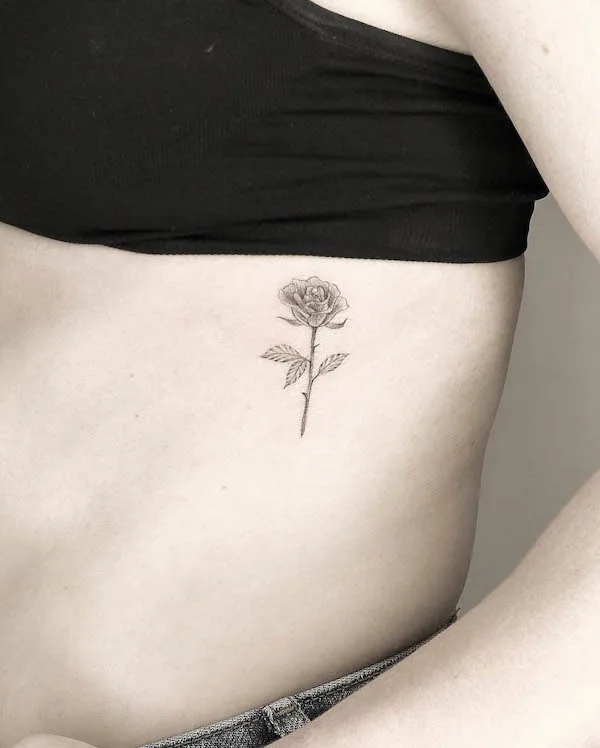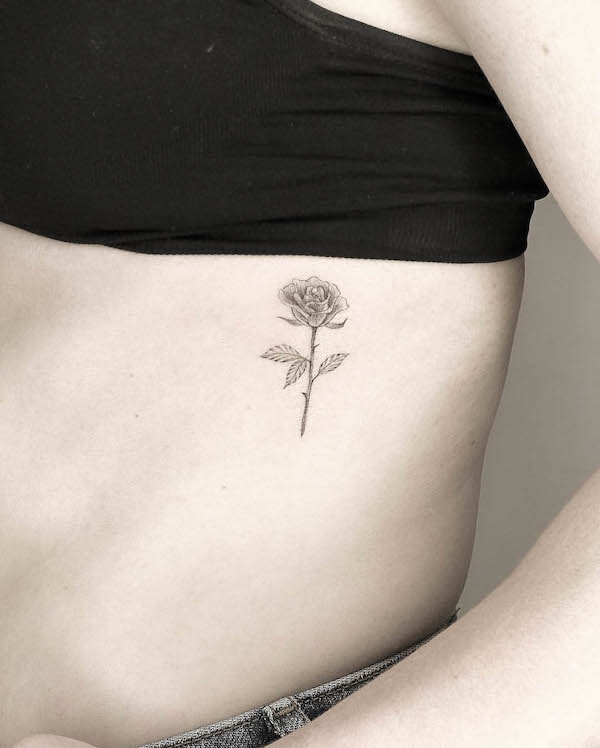 @tattoobychang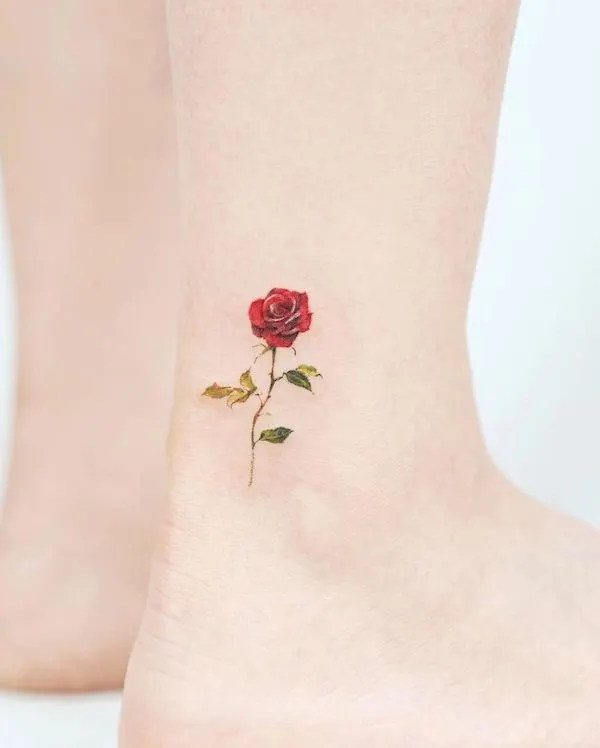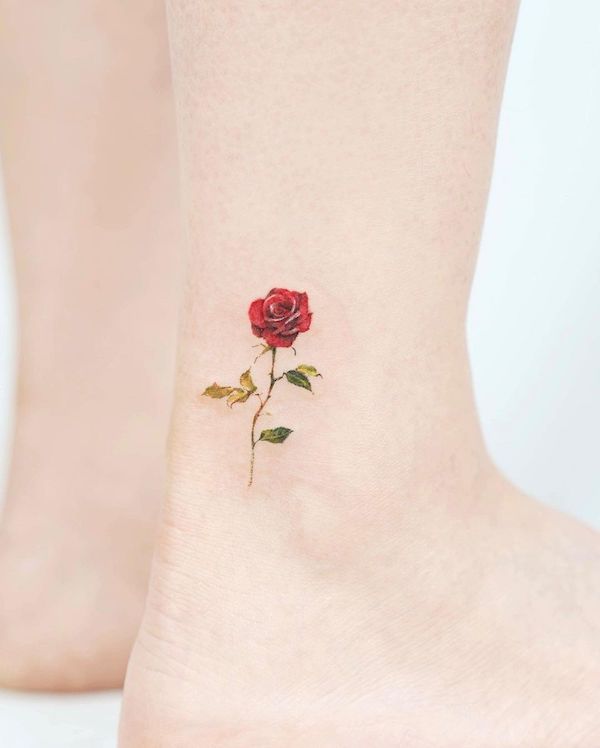 @tilda_tattoo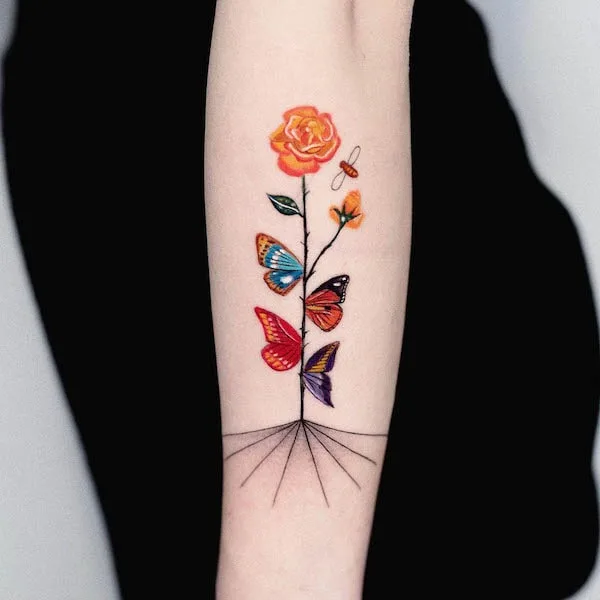 @hakanadik
This tattoo of a rose with butterfly petals is inspired by Salvador Dali's painting Flordali II. This Dali tattoo will be a great addition to the skin to show the wearer's artistic side.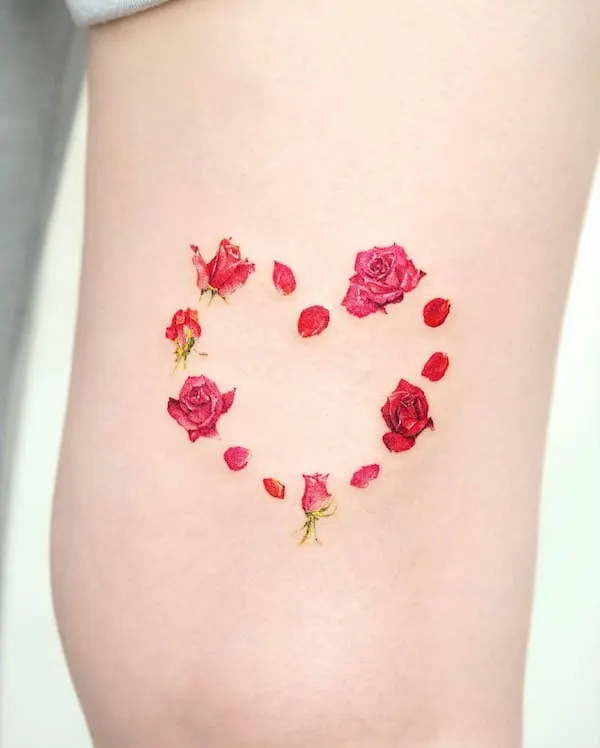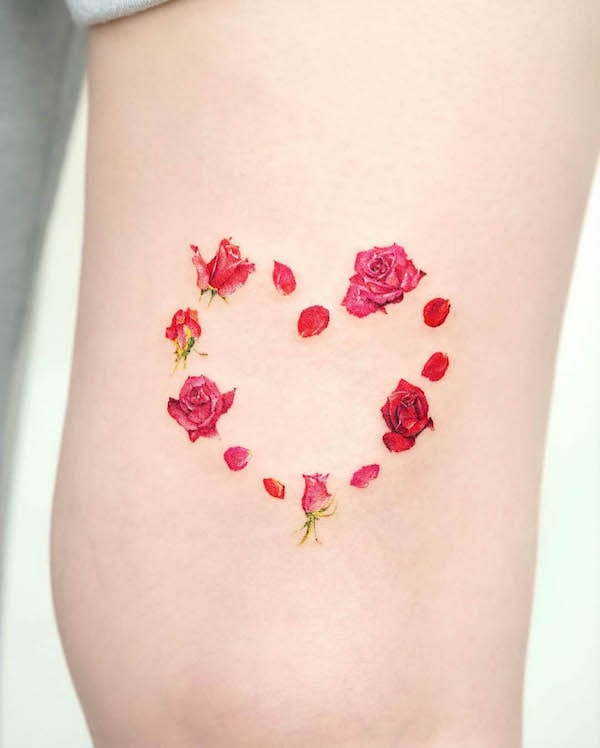 @tilda_tattoo
Another birth flower for the month of June is the honeysuckle. These fragrant flowers are often yellow or white, with blackberries hanging around their leaves.
Because of its sweet aroma, honeysuckle often represents affection and appreciation. In Greek mythology, Eros, the god of love, used the honeysuckle bloom to connect two lovers living far away from each other. Thus the flower is also associated with pure love that goes beyond the distance.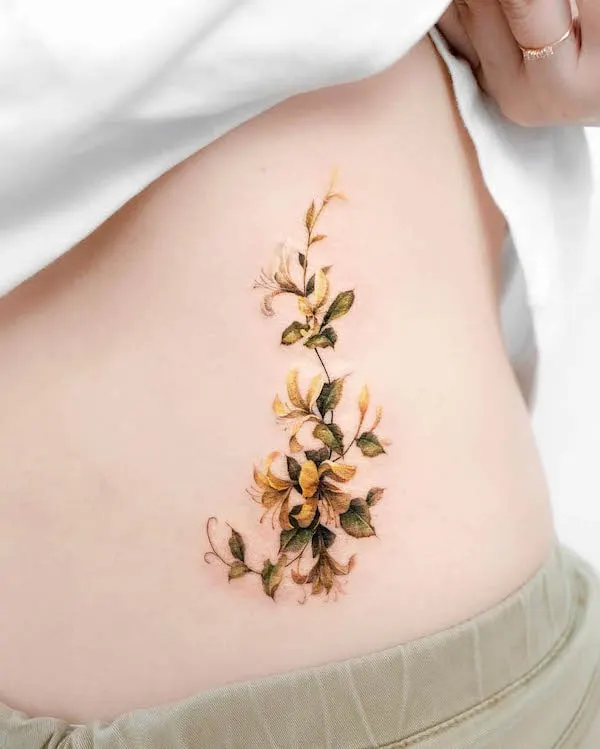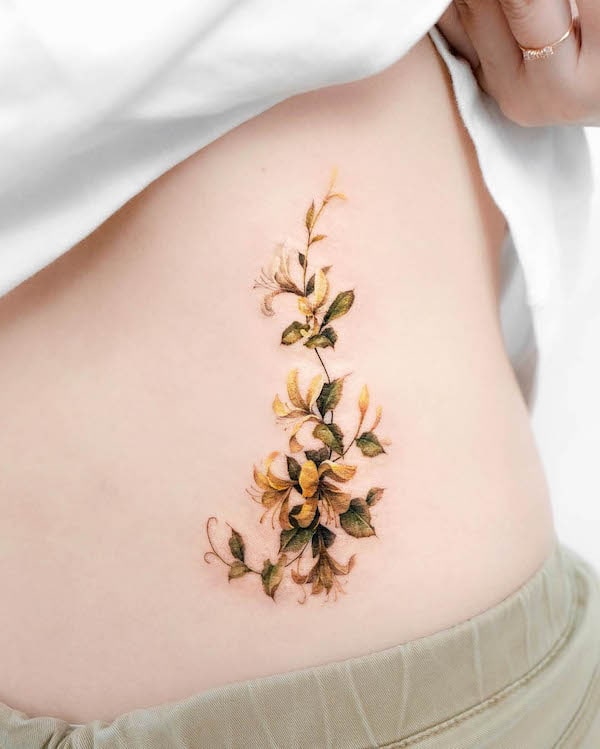 @donghwa_tattoo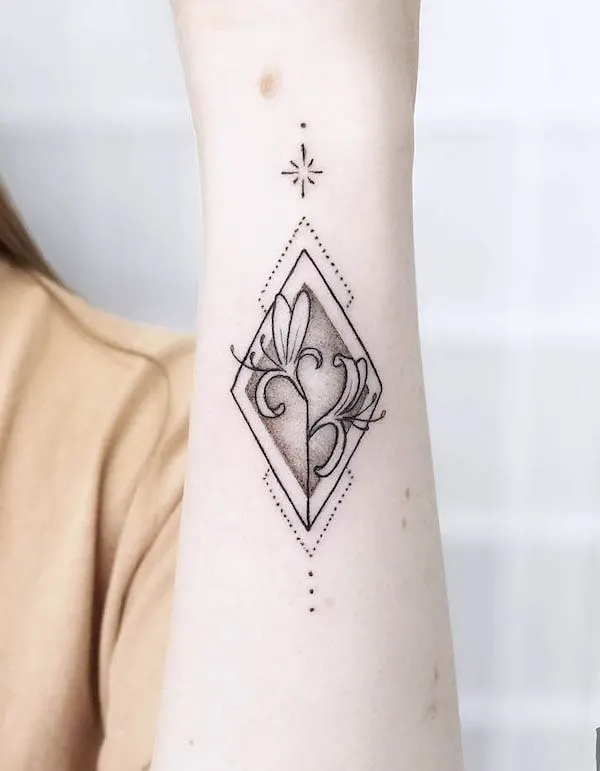 @emmagracetattoo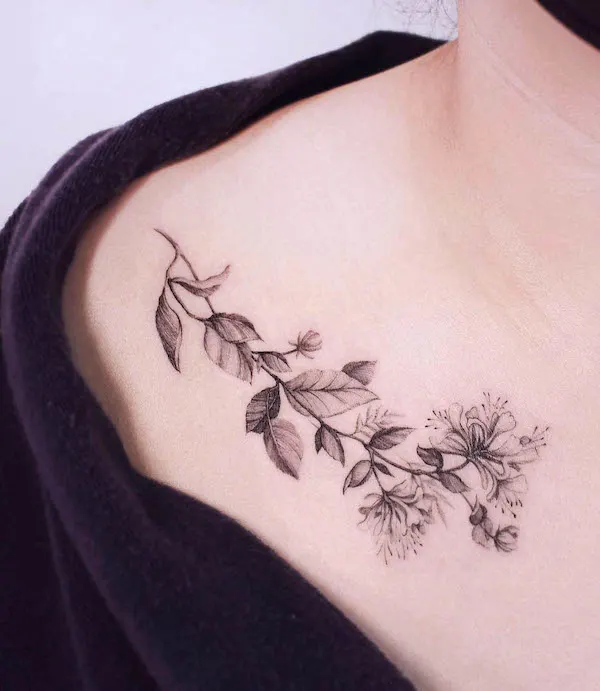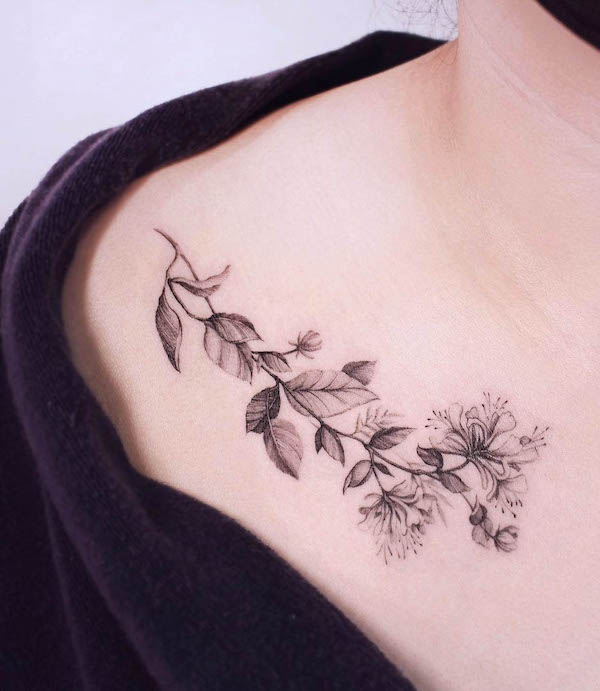 @uno.tat
July birth flowers: Larkspur and water lily
Zodiac signs of the month: Cancer and Leo
Birth stones of July: Ruby
Larkspur charms with its delicate and intricate shape – long, lance-shaped flower head with broad, wavy, dark green leaves at the base. As a summer flower, larkspurs can be found in dry and wet areas, fields, meadows, roadsides, and woodlands.
They are sometimes seen in wedding bouquets, representing the happiness of a marriage. Because they blossom in mid-summer, larkspur tattoos also represent joy, and the carefree spirit to enjoy every moment.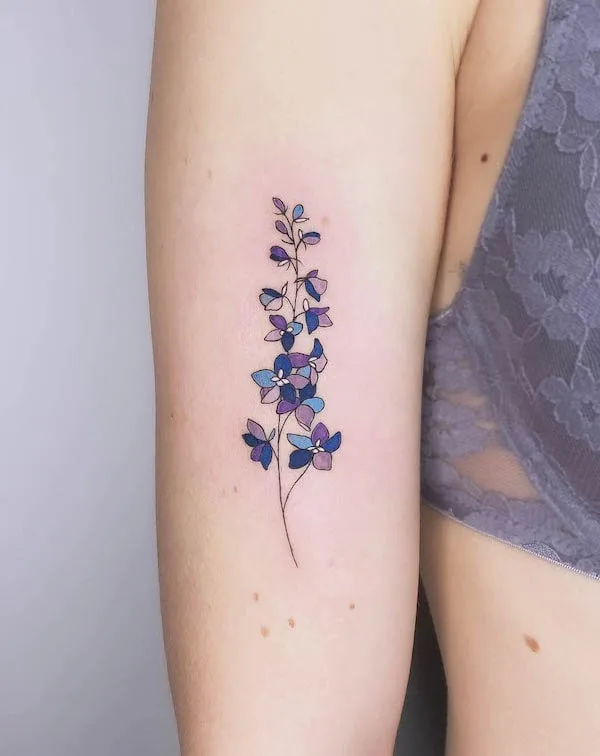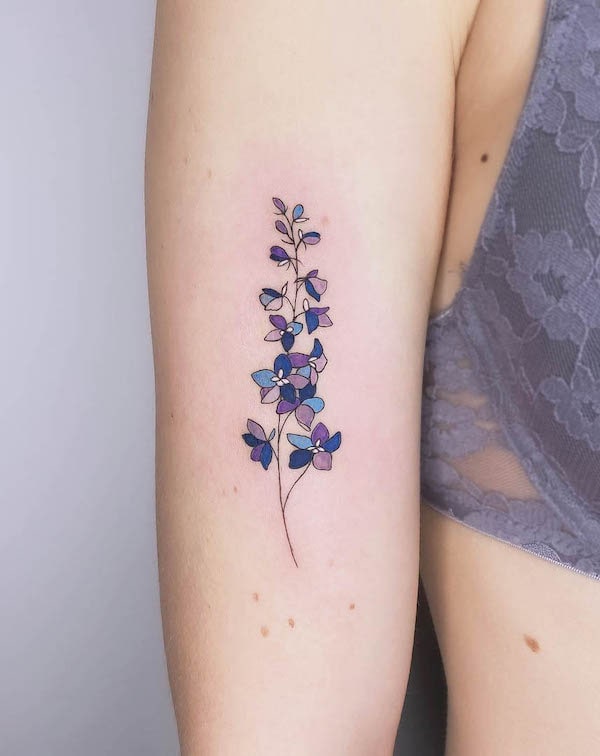 @muk.tatouage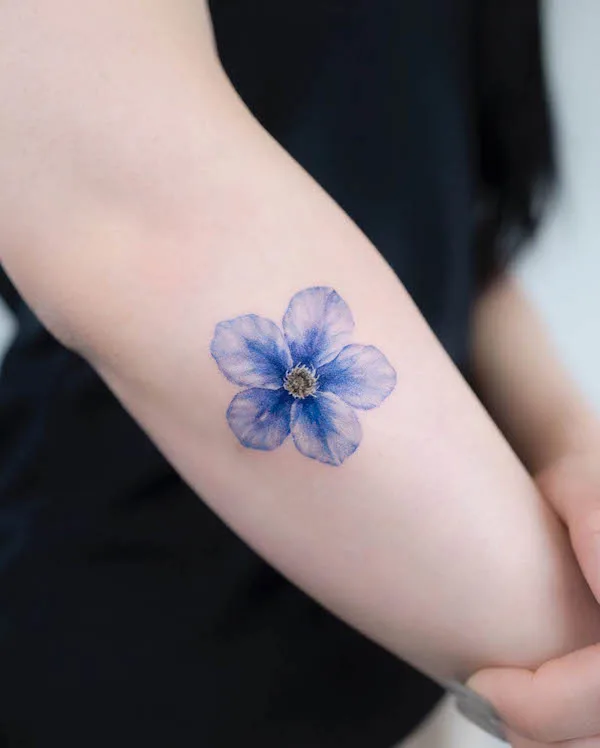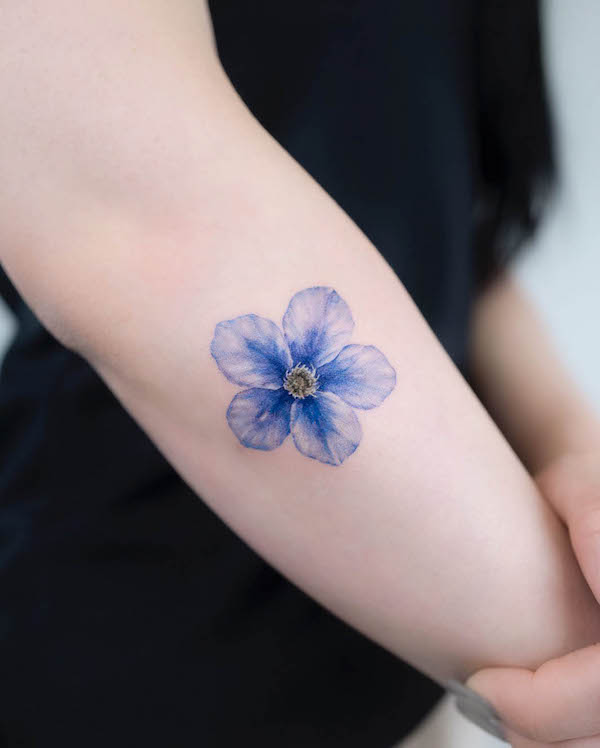 @donghwa_tattoo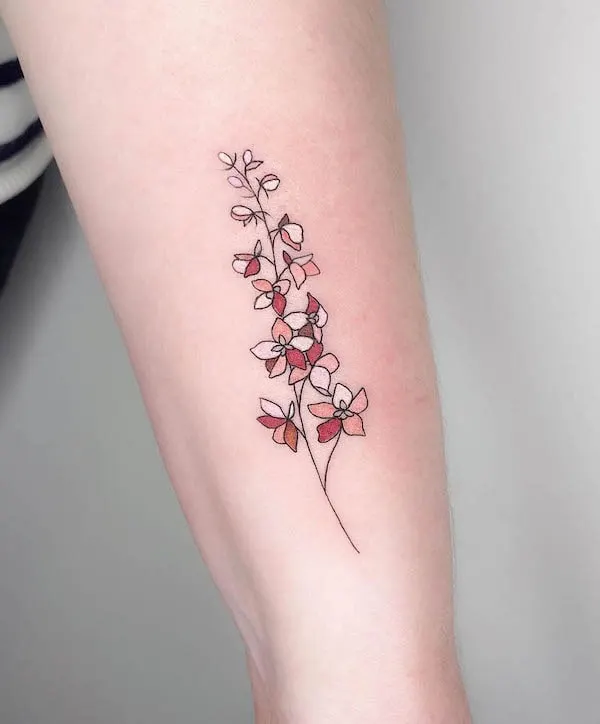 @muk.tatouage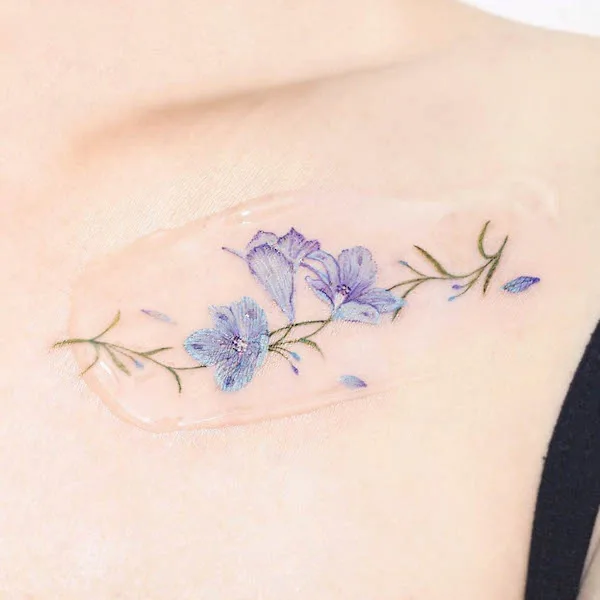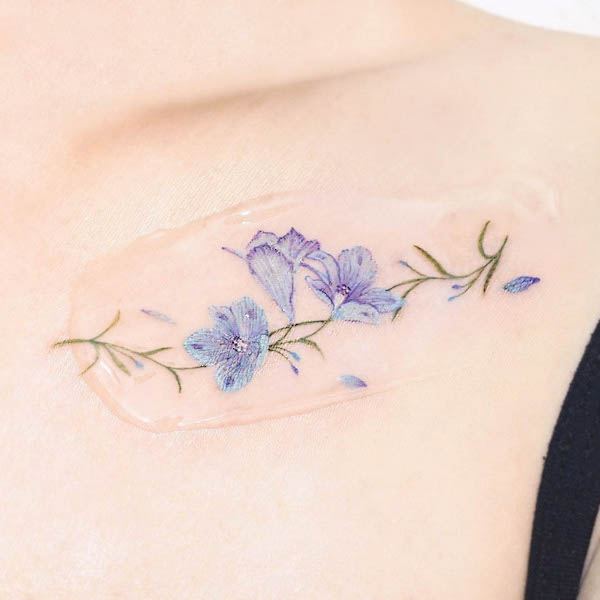 @tattooist_momom
One of the most beautiful sights in the world is a pond with water lilies floating on top. The flower grows in water and surfaces when it blossoms.
Its widely open petals are never contaminated by the mud in the river bed. Thus the flower is seen as a symbol of purity, innocence, and calmness. And they often appear in yoga tattoos as a reminder to find one's balance and zen.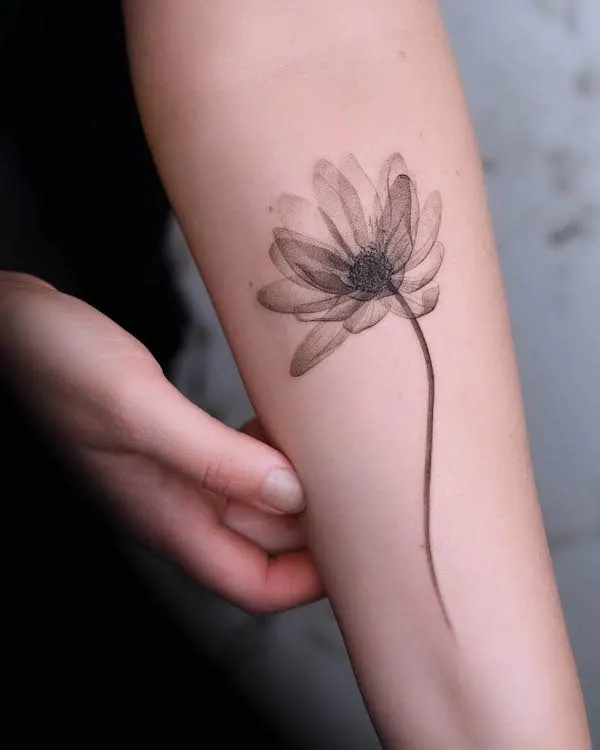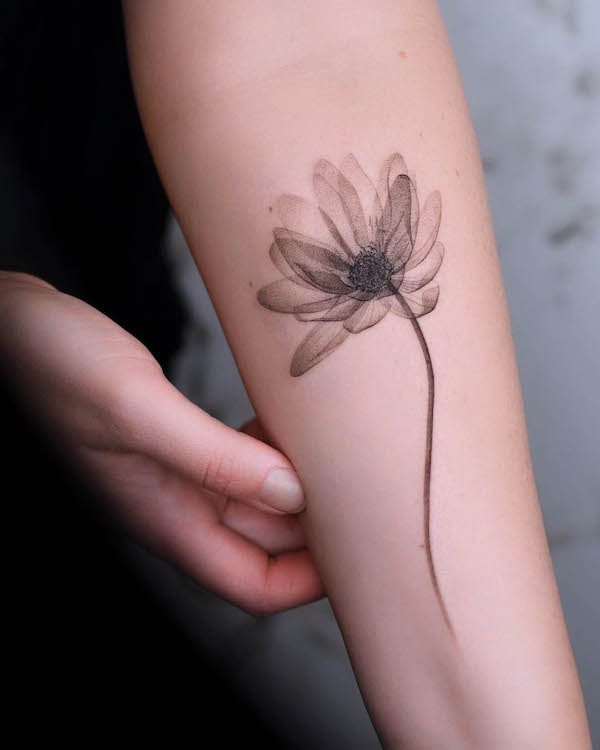 @bryan.gee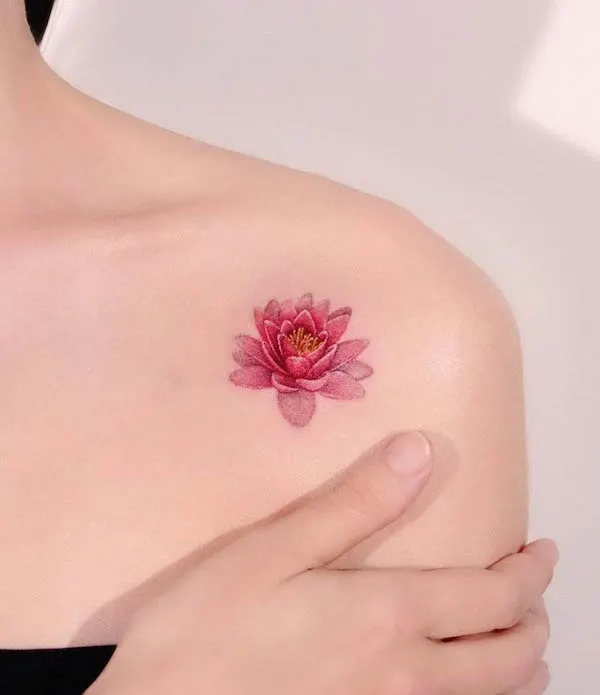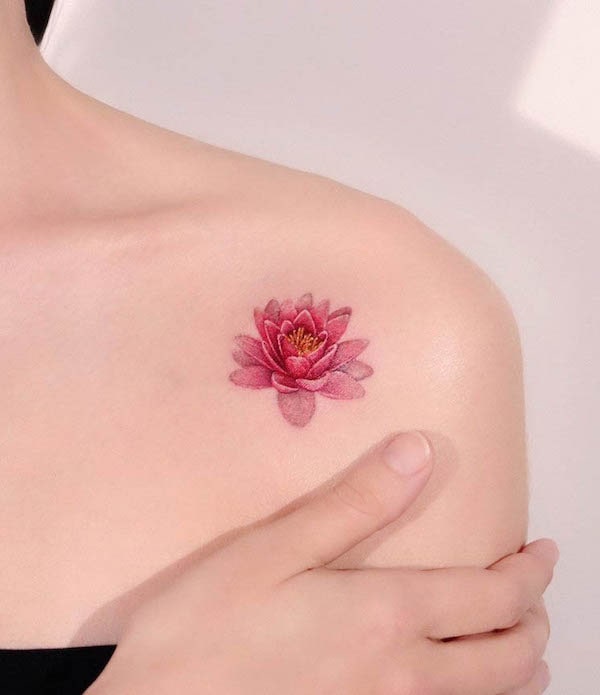 @peria_tattoo
Many collarbone tattoos are horizontal designs that follow the structure of the bone. This one, however, keeps it simple with a single water lily below the boney area. Yet, the color and the details still make it pop.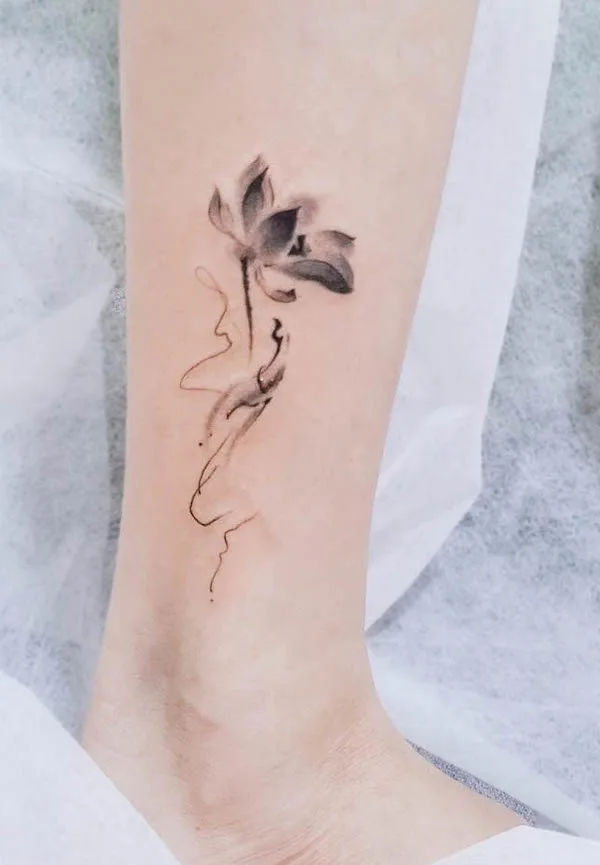 @miuzzyinktattoostudio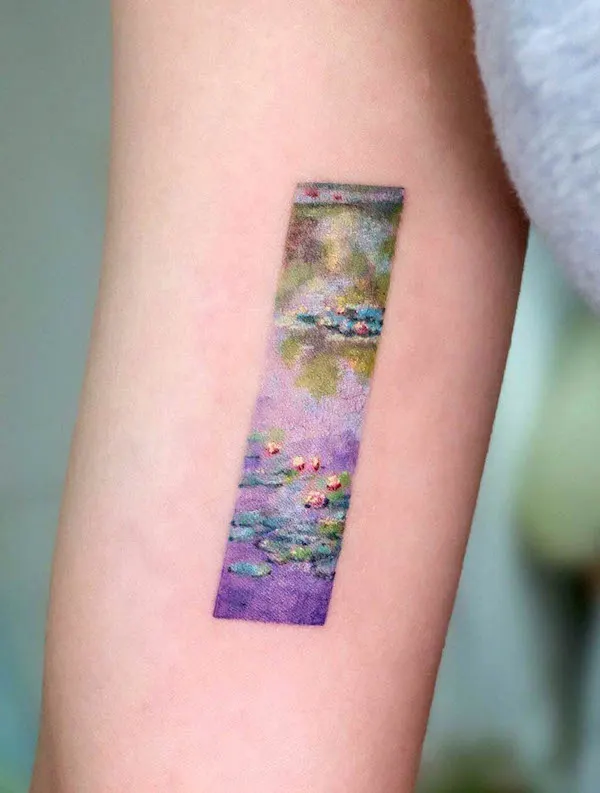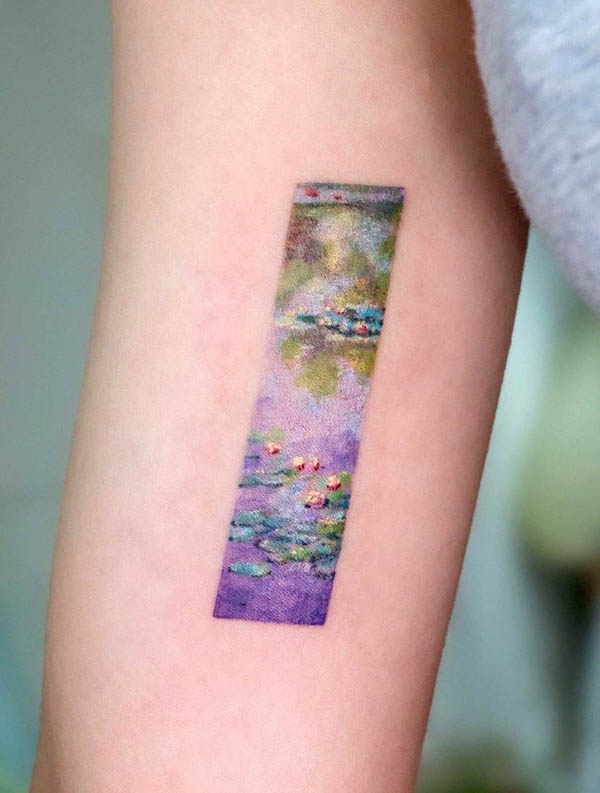 @eunyutattoo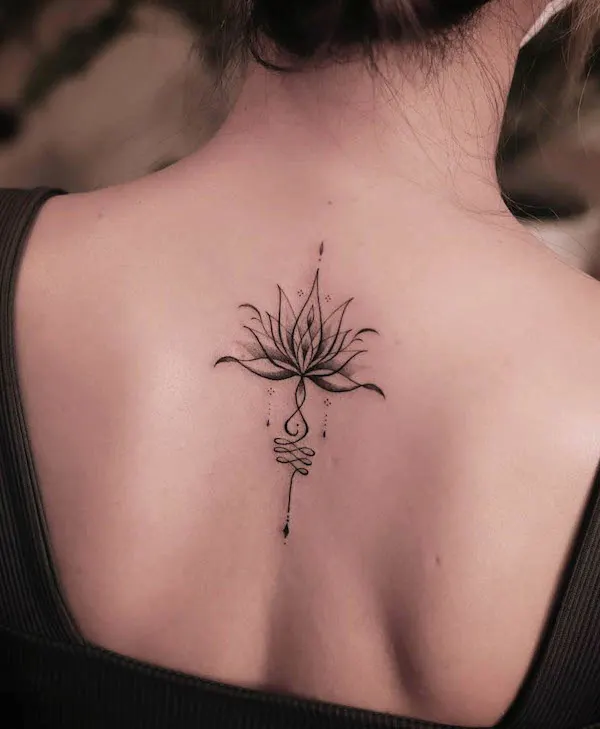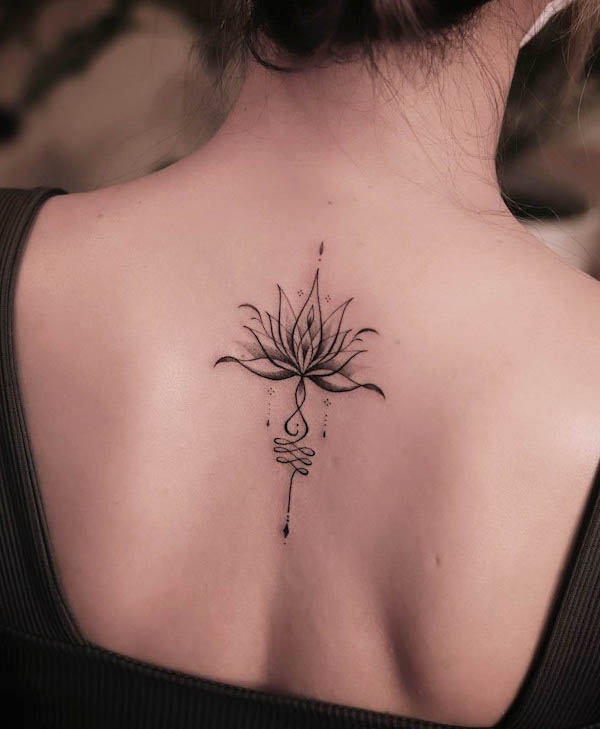 @sukza__art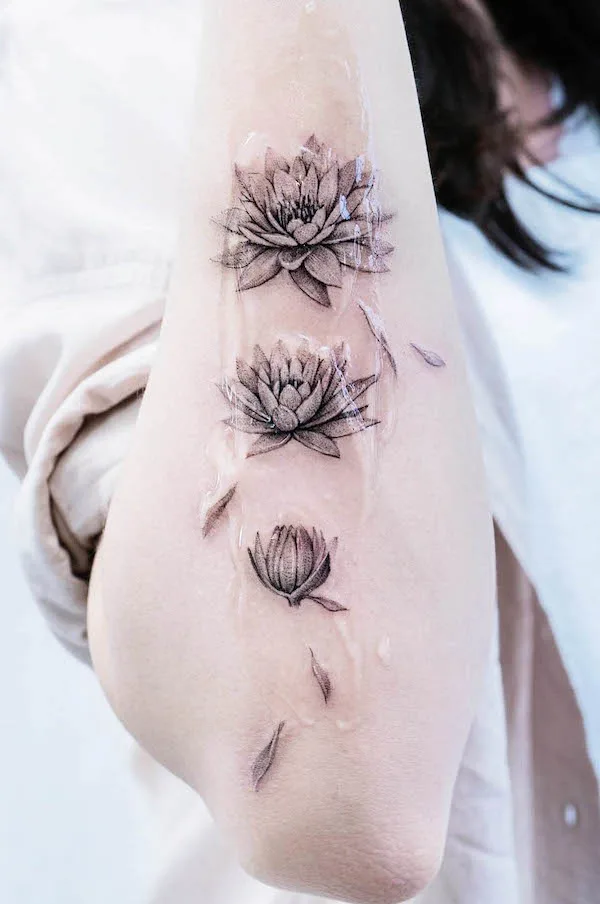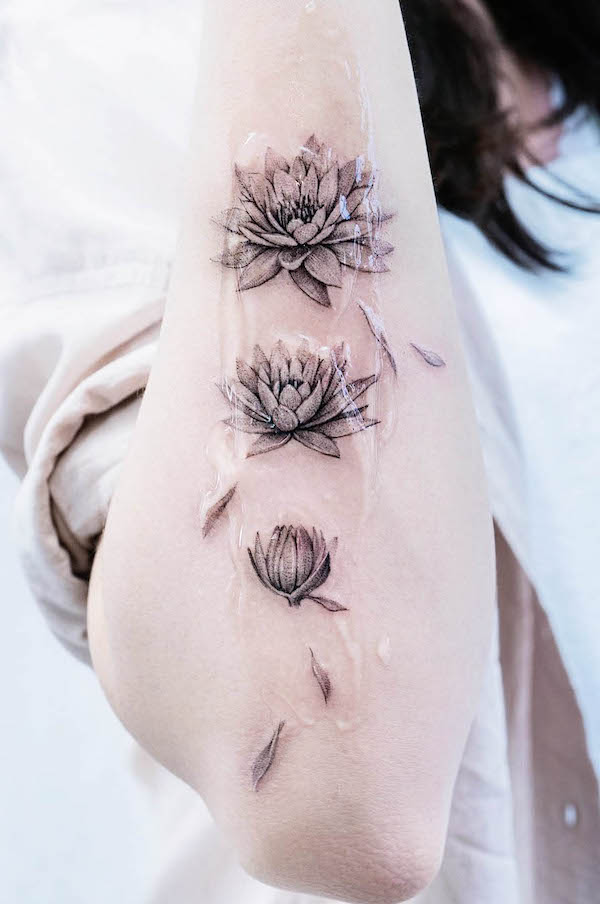 @tattooist_color.b
This tattoo captures the water lily in different phases. From a flower bud to blossoming above water, the three stages resemble one's spiritual journey and make it a meaningful tattoo about growth.
August birth flowers: Gladiolus and poppy
Zodiac signs of the month: Leo and Virgo
Birth stones of August: Peridot, spinel, and sardonyx
Gladiolus flowers are easily recognized by their long stems and bulbs. They are also known as sword lilies because of the sword-like shape of the flower.
They come in a variety of uplifting colors like red, purple, pink, and yellow, bringing joy to the summertime.
Because the flower's name comes from the Latin word "sword," gladiolus is often associated with strength, integrity, and courage.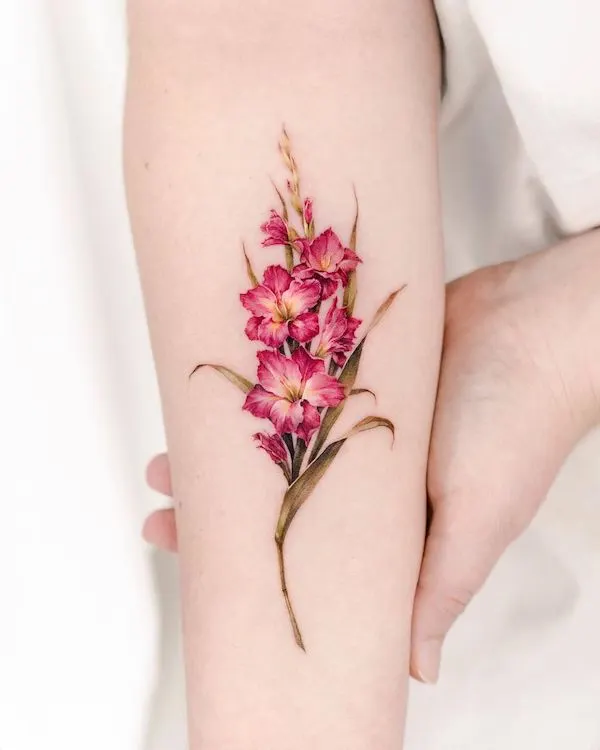 @donghwa_tattoo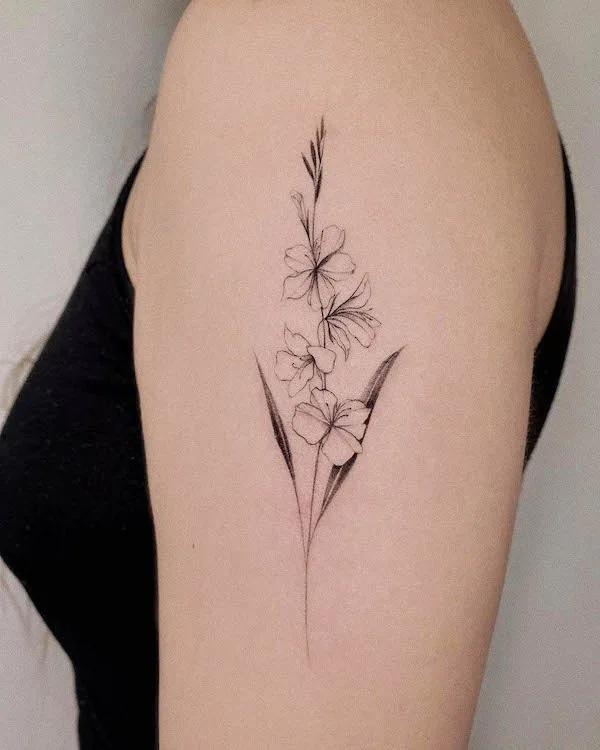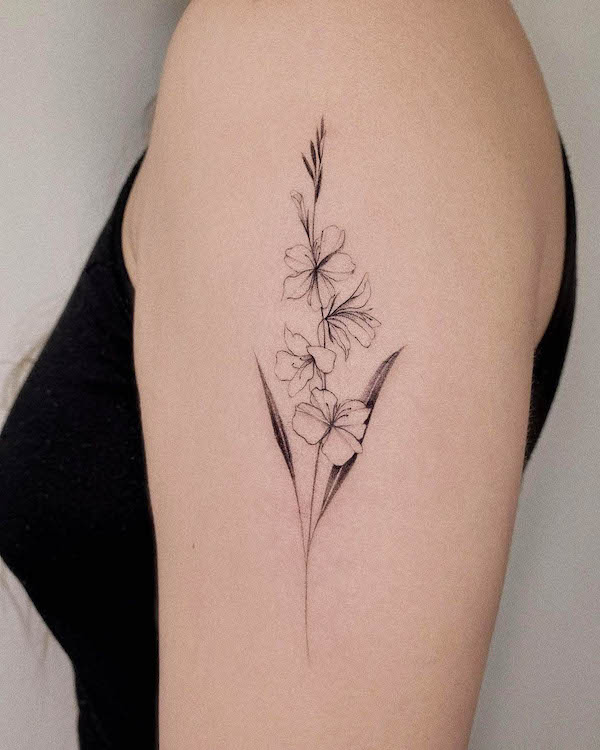 @tattooist_haedeun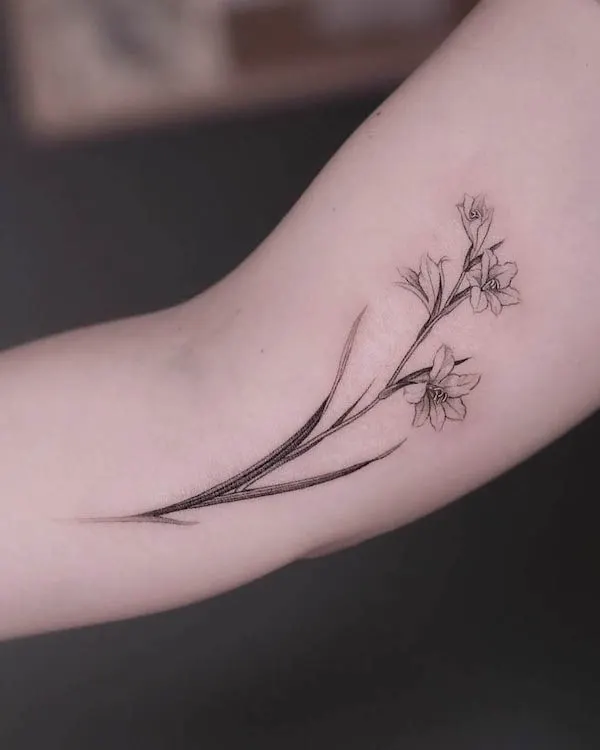 @dinna.tattooer
You can spot a poppy from far away if you know about flowers. It stands out with its long, thin stem and bright-colored petals.
In terms of meaning, the poppy used to be a symbol of remembrance and death. But because their popping colors bring joy and strength to the living, they also symbolize hope and the courage to move on.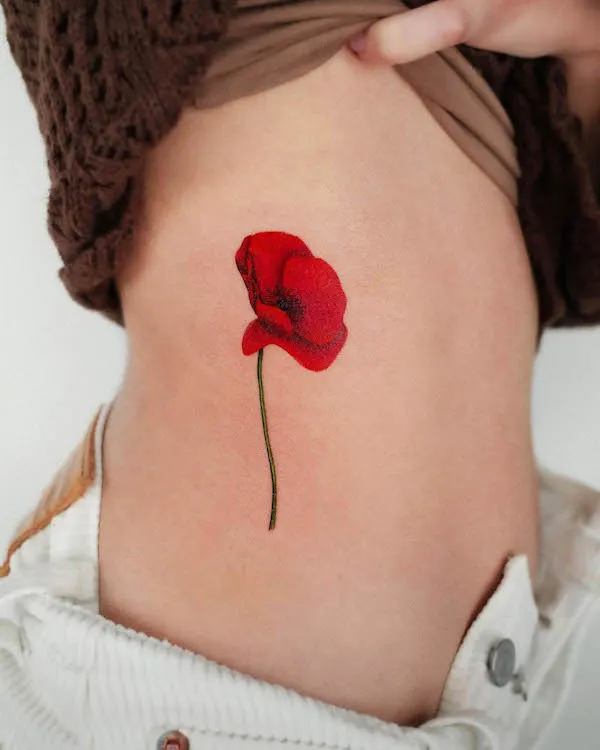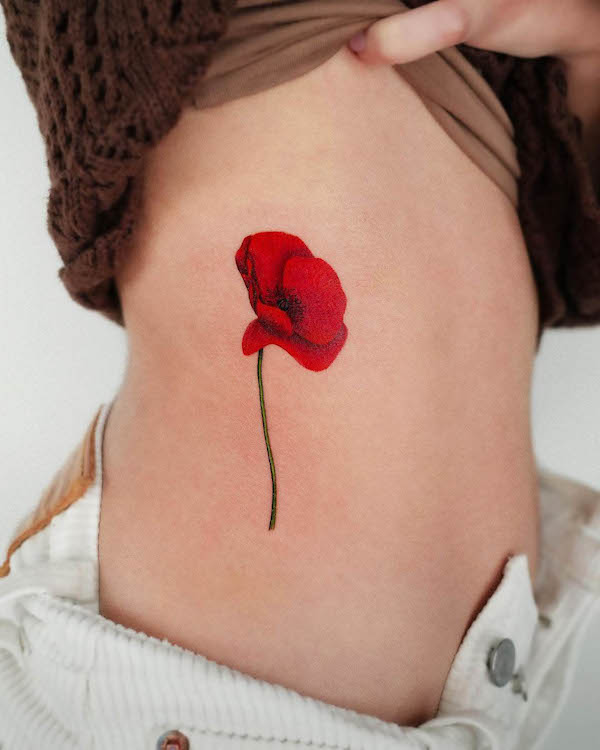 @frommay_tat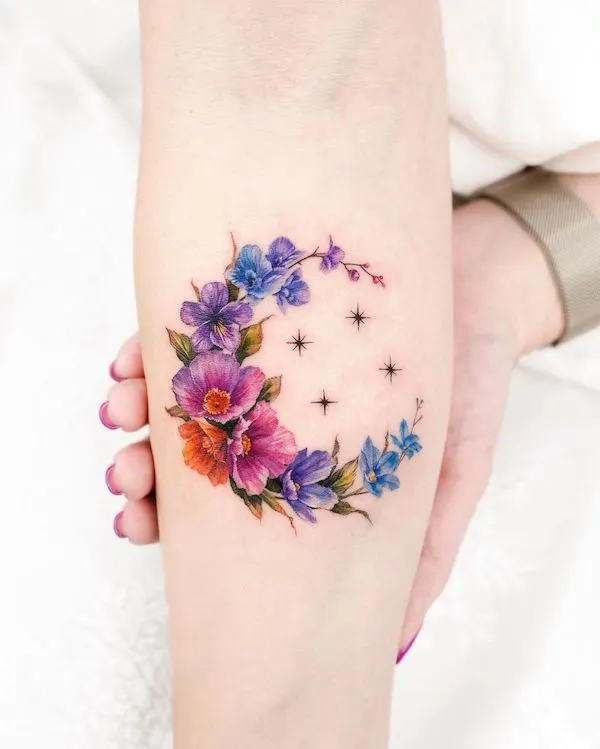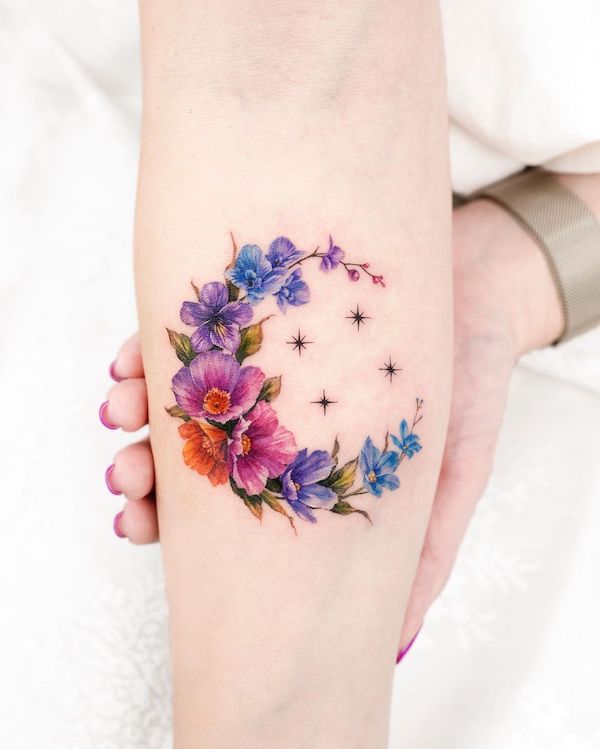 @donghwa_tattoo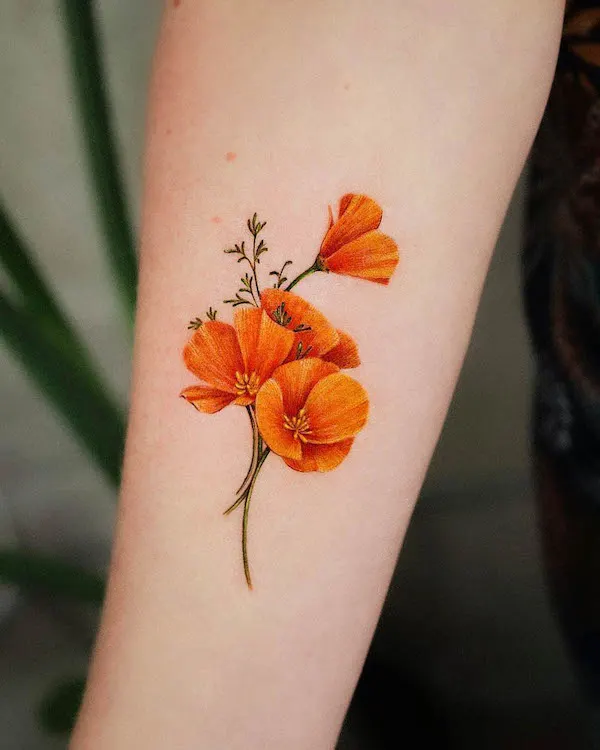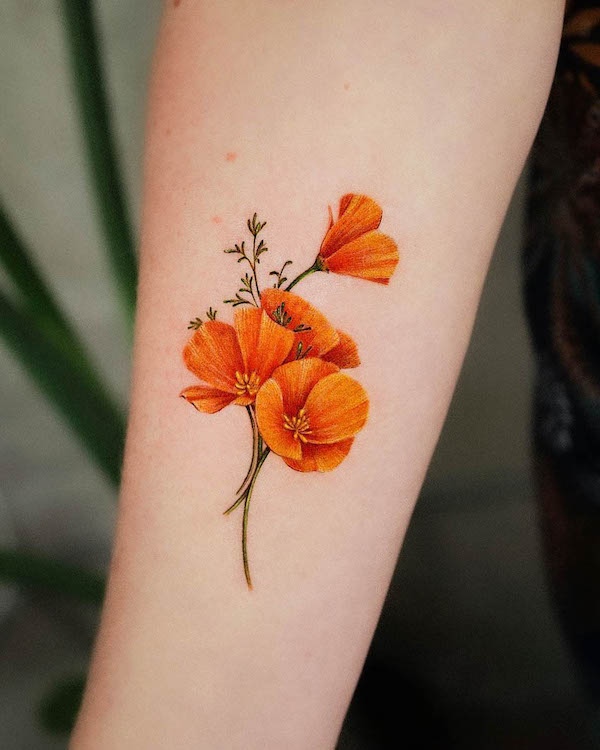 @frommay_tat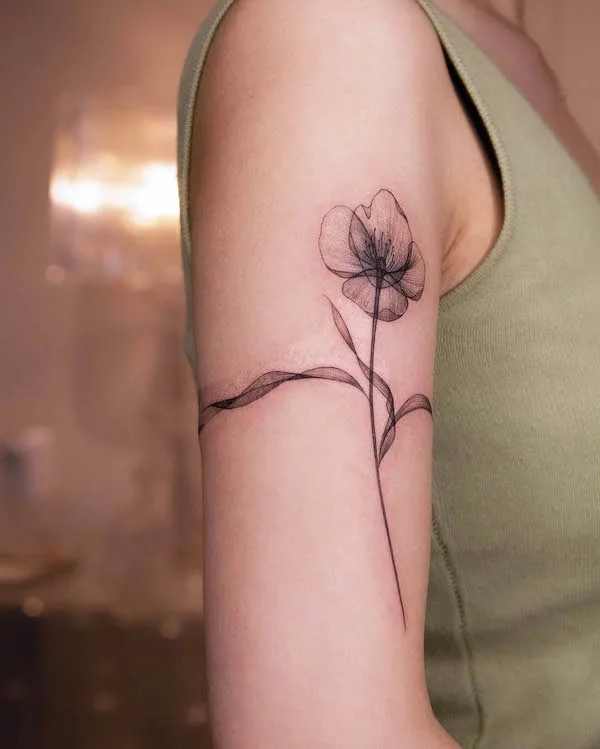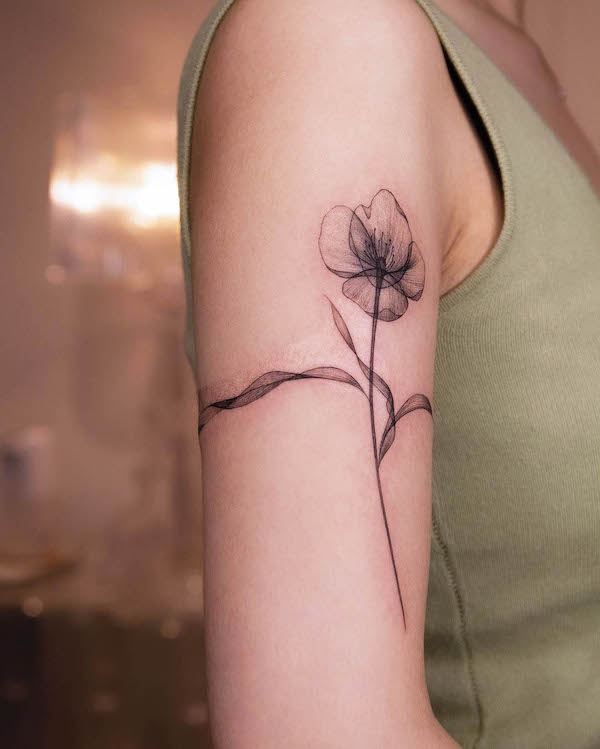 @kegarden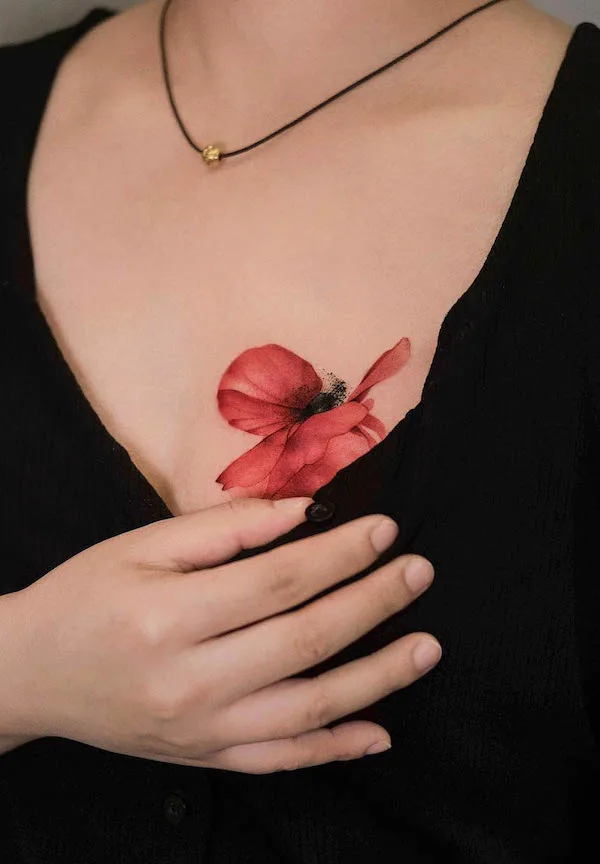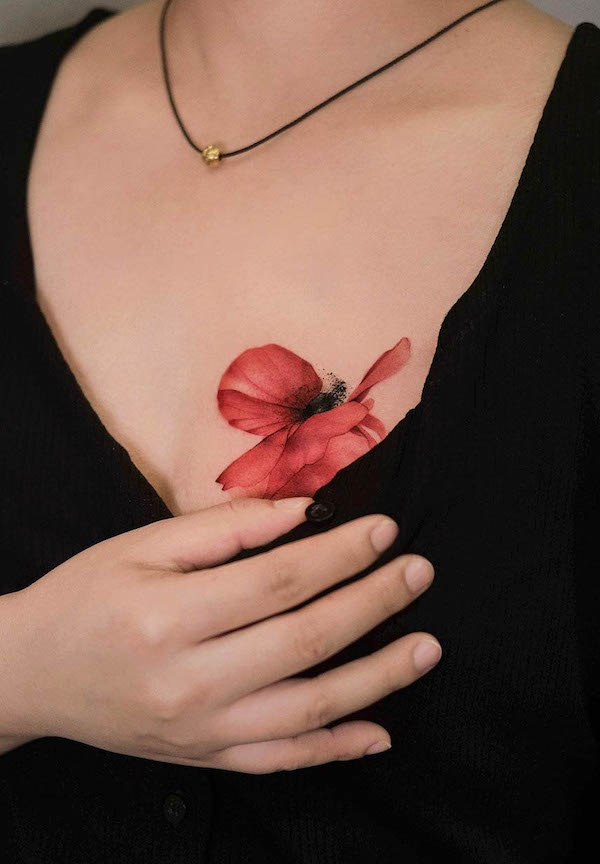 @newtattoo_qiqi
The vibrant solid colors of a poppy make it ideal for cover-up tattoos. This ink on the chest is an excellent example of bringing a faded tattoo a new glow.
September birth flowers: Aster and morning glory
Zodiac signs of the month: Virgo and Libra
Birth stones of September: Sapphire
Aster flowers look a lot like daisies. But unlike daisies, which are primarily white and yellow, most asters we see are purple. Their star-like petals are like a sun radiating energy around the florets.
While the meaning of asters can vary from color to color, they generally represent wisdom and love. In addition, the name aster comes from the Greek word "star". And whoever wears an aster is meant to shine.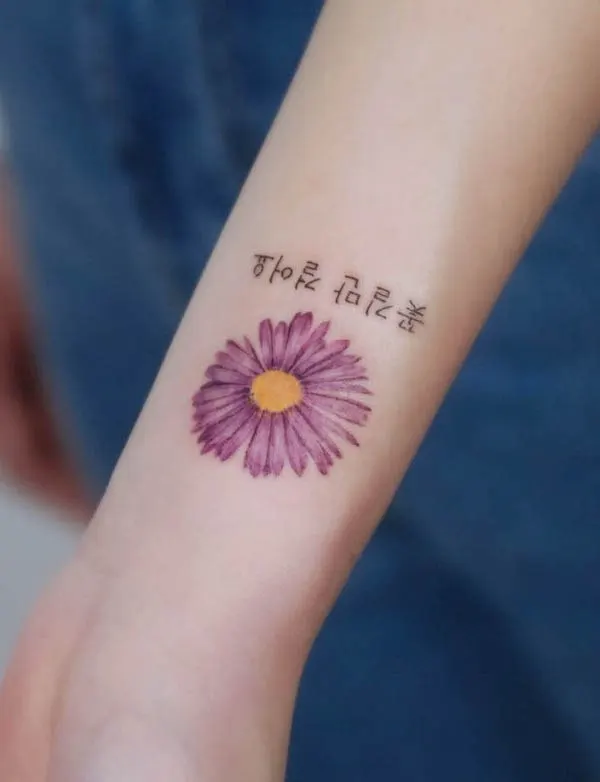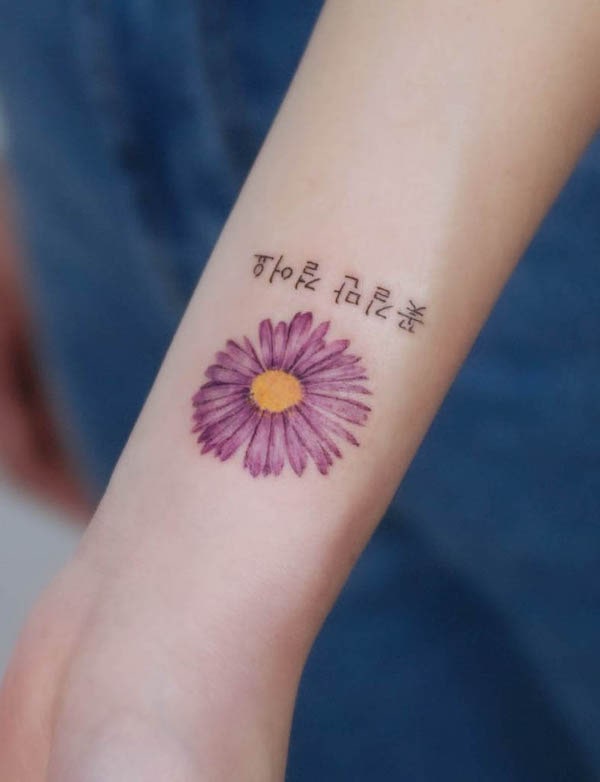 @second.pin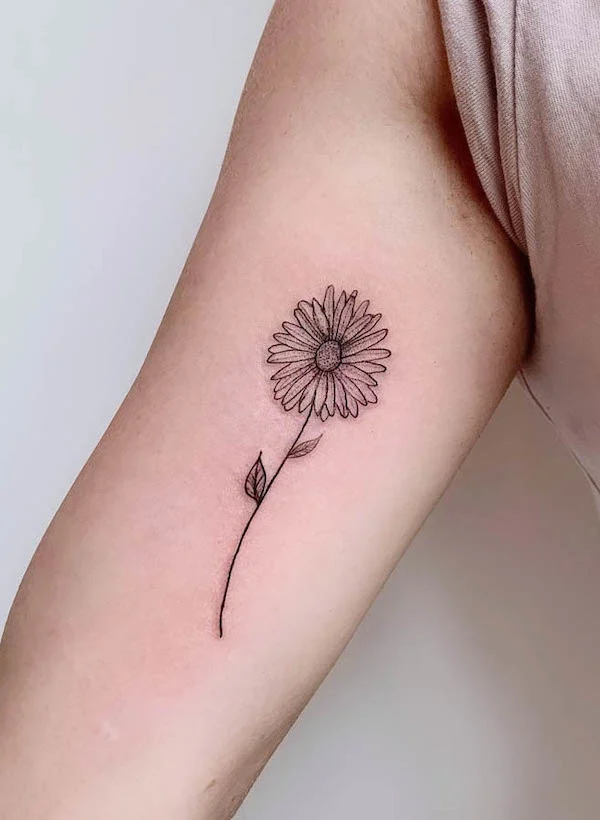 @kendylrankine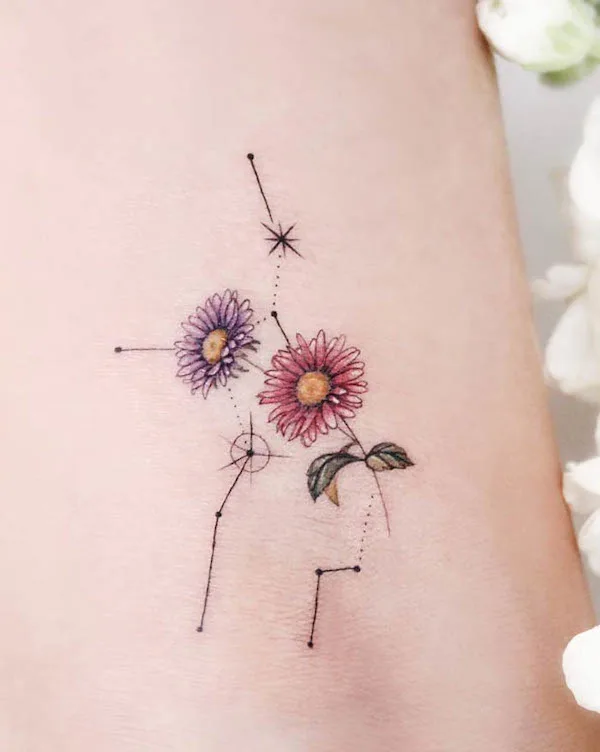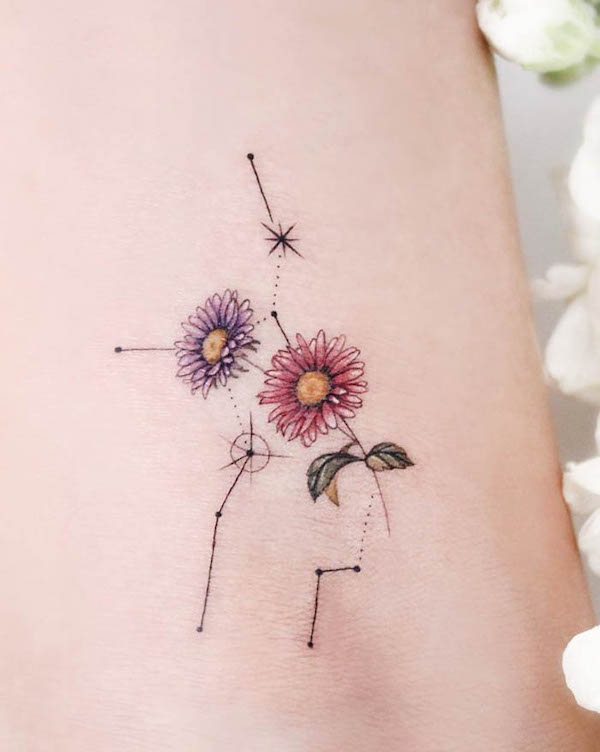 @tattooist_greem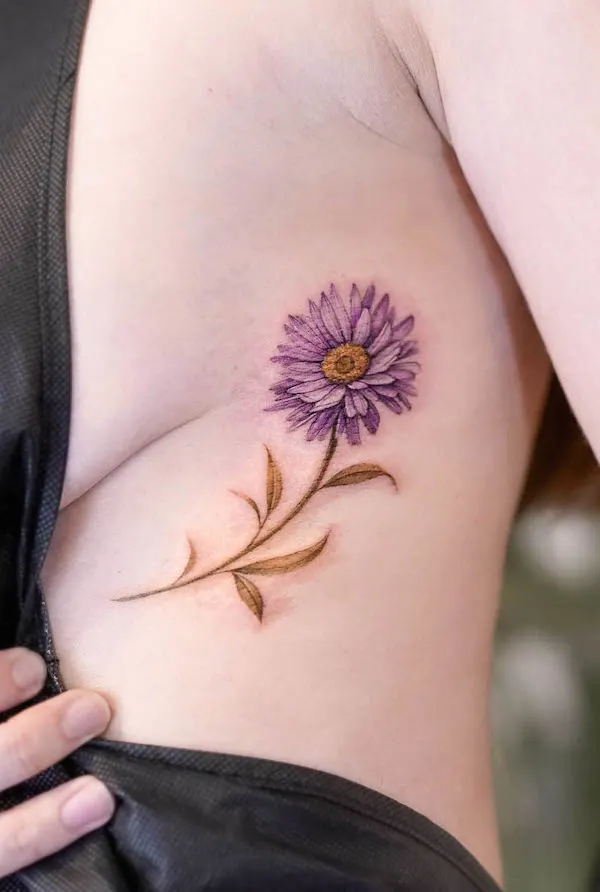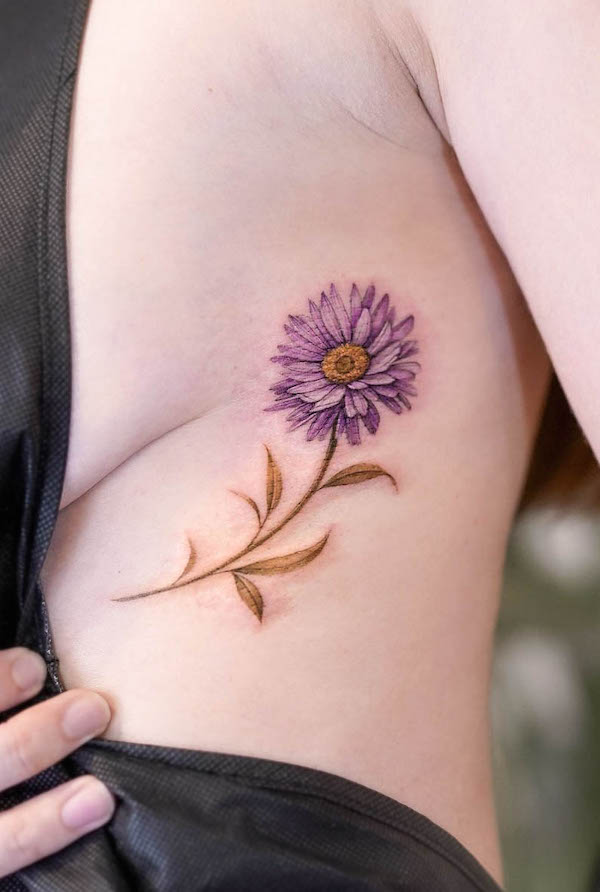 @yojogrim
The large trumpet-shaped petals and the sweet scent of morning glory earn it the love of many.
But as the name suggests, the flower often blooms in the morning and may die within the same day. That makes it a reminder of lost lives and the short-lived beauty.
Unlike the flower itself, a morning glory tattoo lasts forever. It stays on the skin for a lifetime and symbolizes a fresh start and healing energy.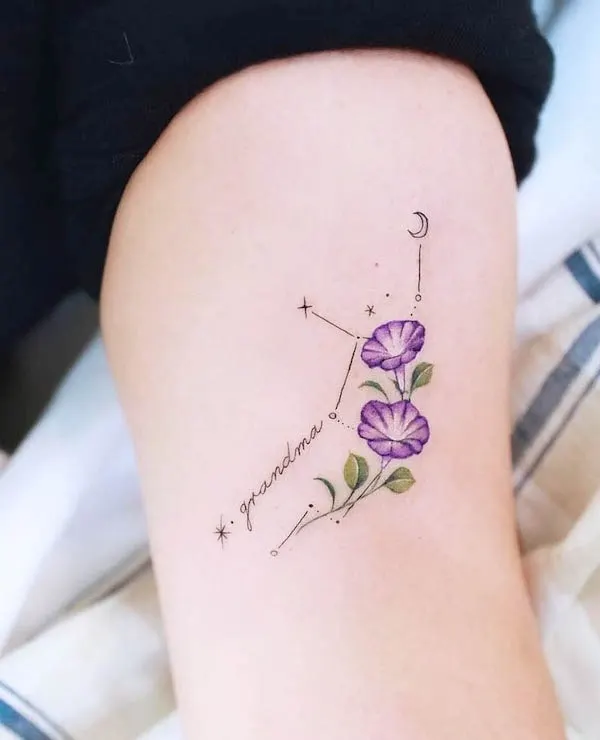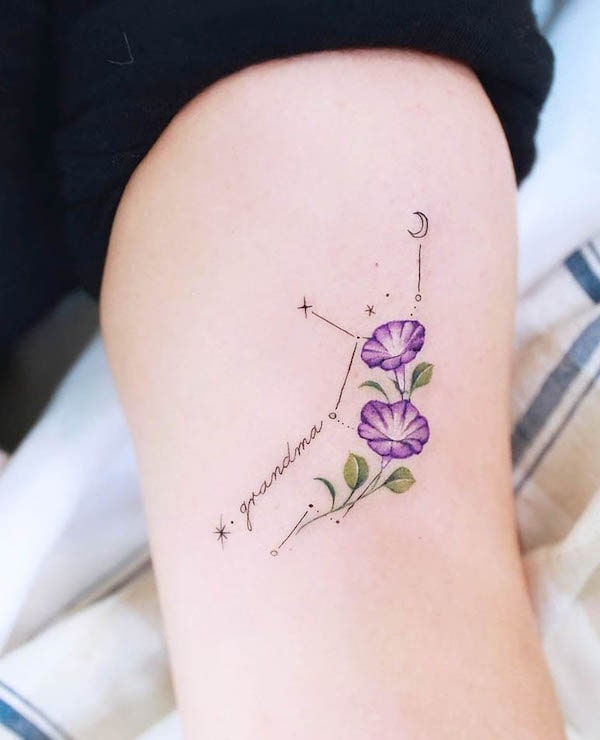 @xiso_ink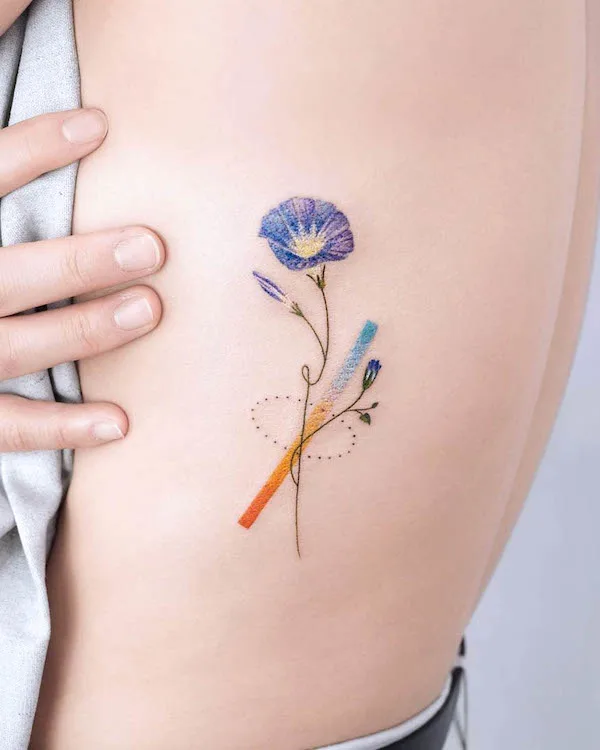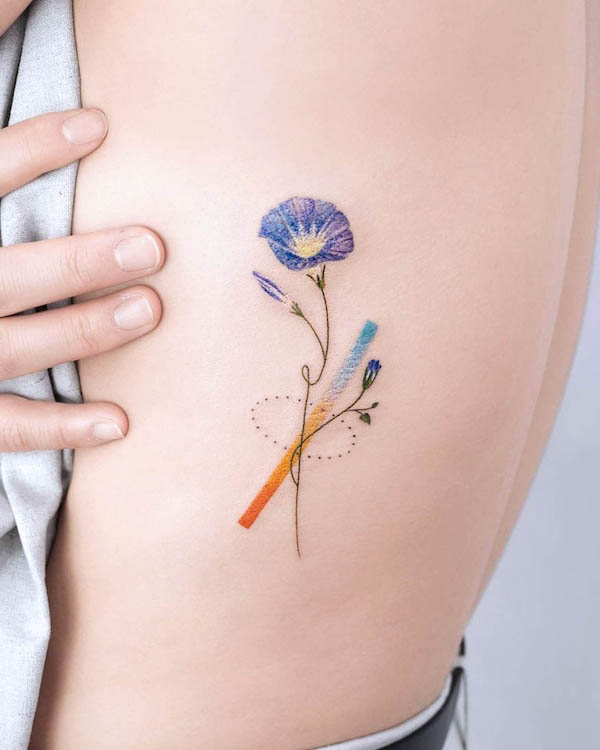 @tattooist_basil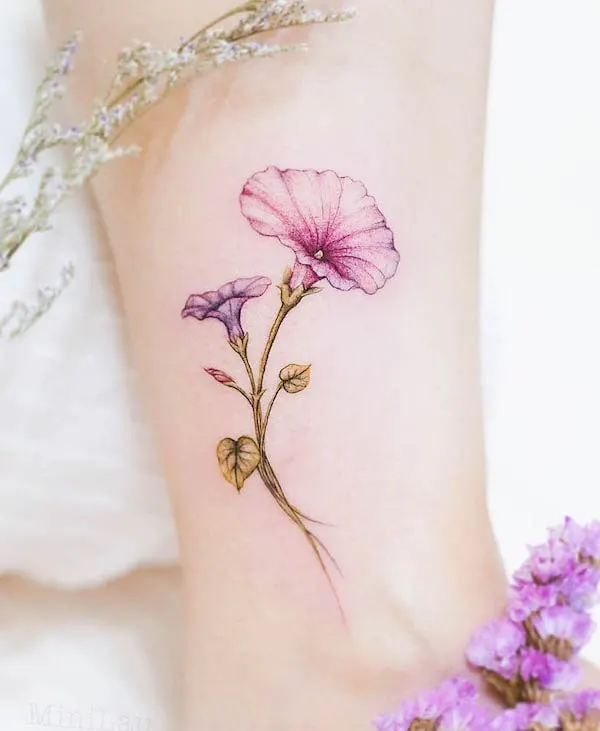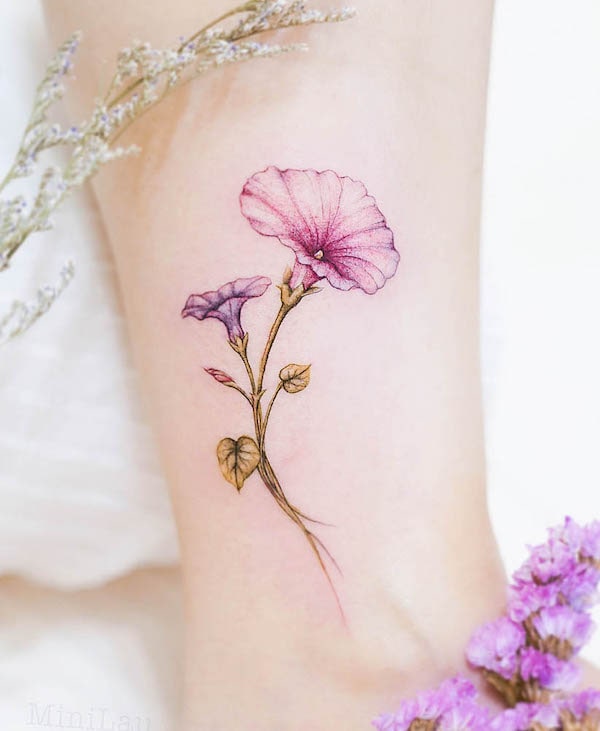 @mini_tattooer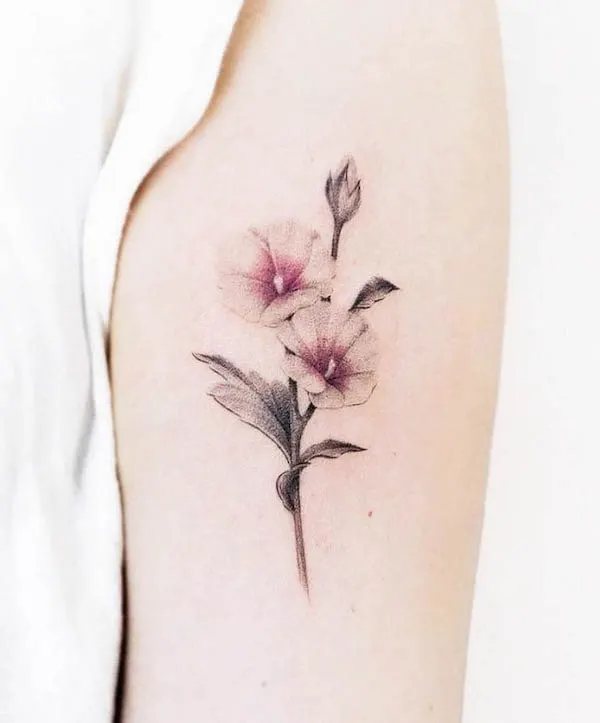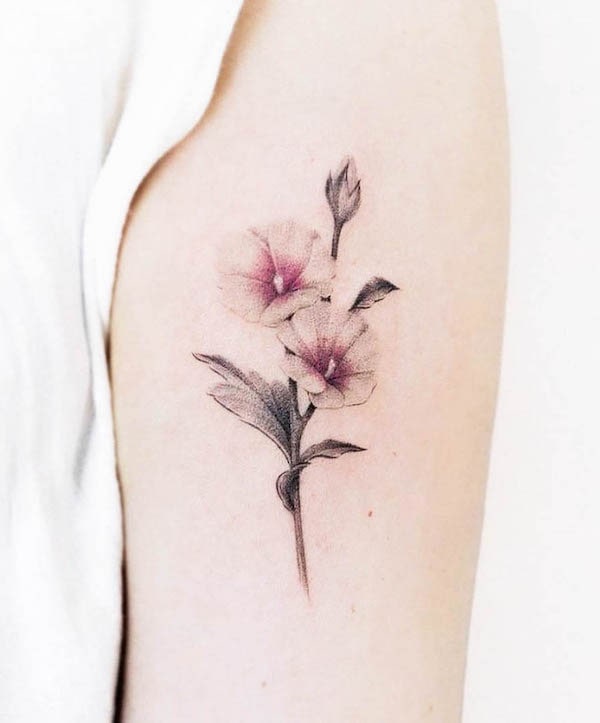 @eontattoo
October birth flowers: Marigold and cosmos
Zodiac signs of the month: Libra and Scorpio
Birth stones of October: Opal and tourmaline
If you love sprucing your house with flowers, you will love marigolds. These bright-colored flowers bloom in clusters throughout the summer. It can survive various environments and easily brighten up a house or a room.
Because they often appear in uplifting colors like red, orange, or yellow, they are often associated with the sun and thus symbolize energy and strength.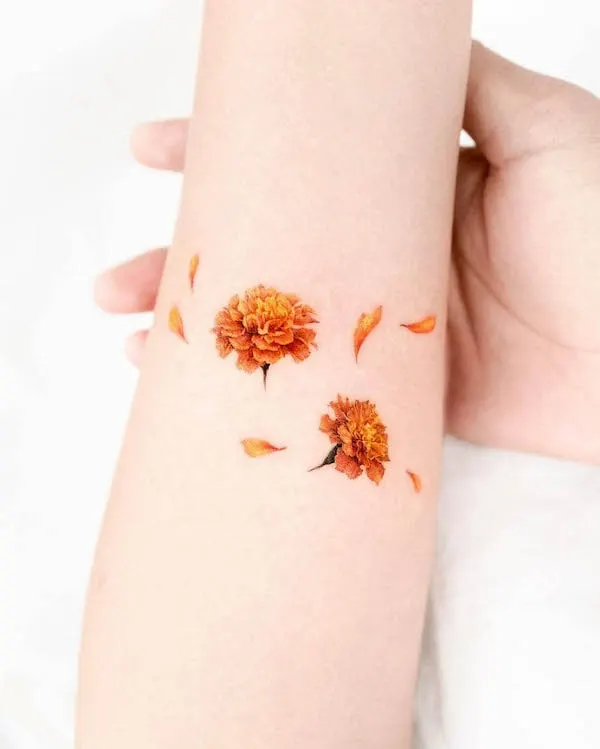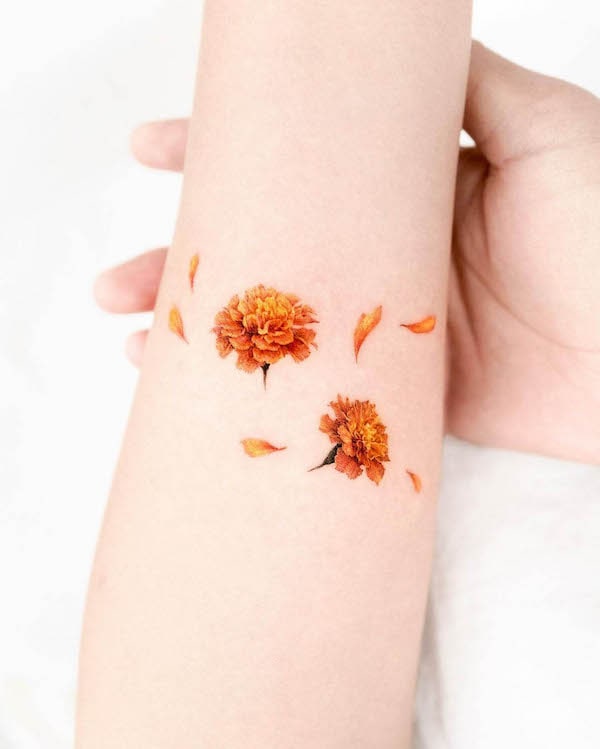 @donghwa_tattoo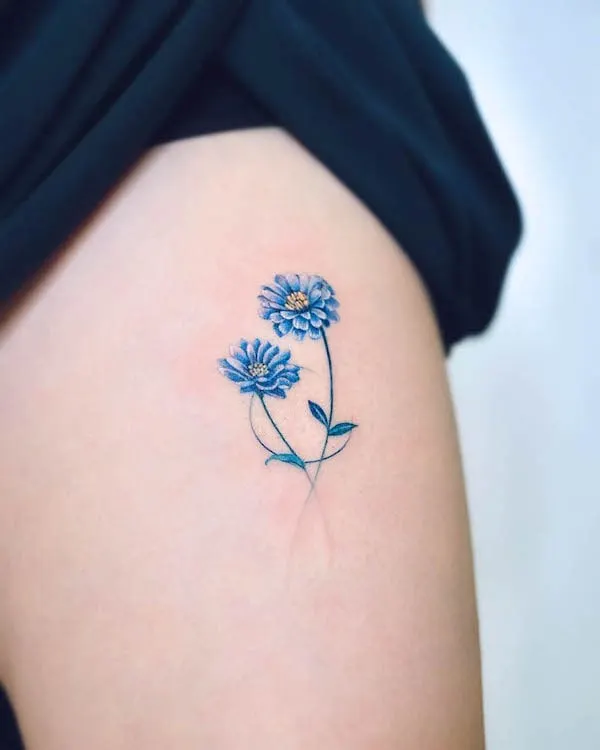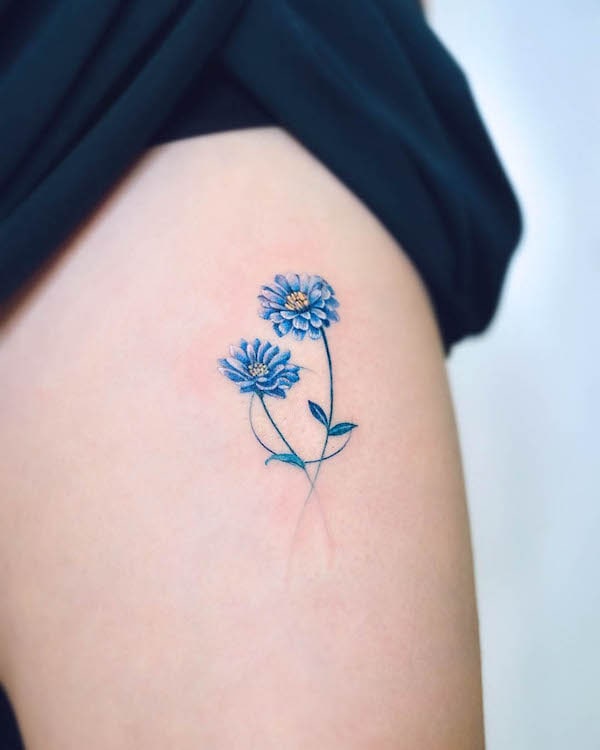 @haenytattoo
This cute blue marigold tattoo is a tribute to motherly love.
The taller flower represents the mother and the smaller one represents the daughter. It demonstrates the mother's protection and guidance for her daughter and makes a heart-warming mother-daughter tattoo.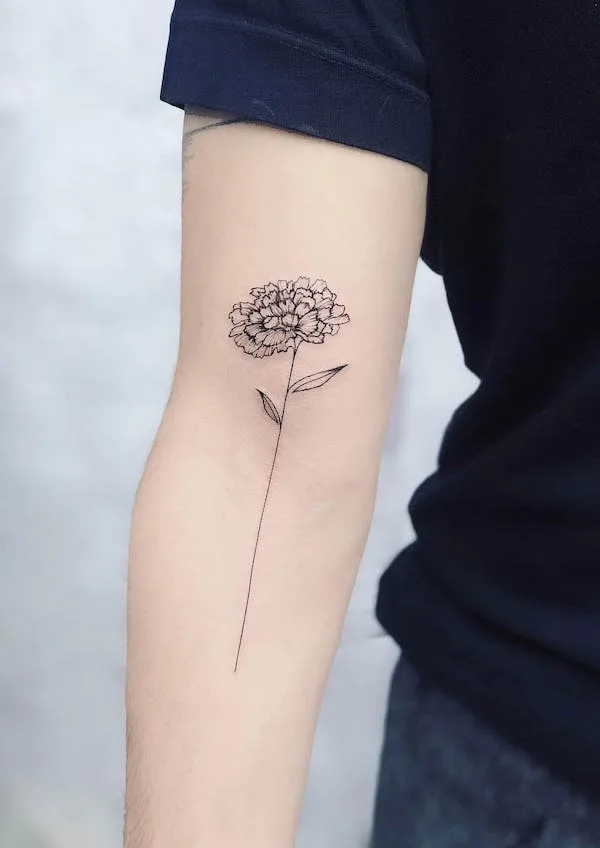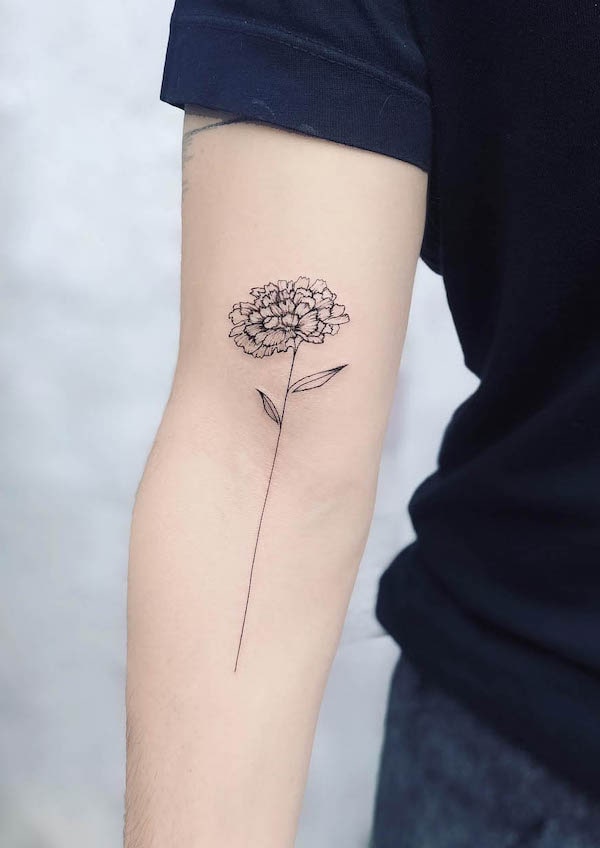 @nothingwildtattoo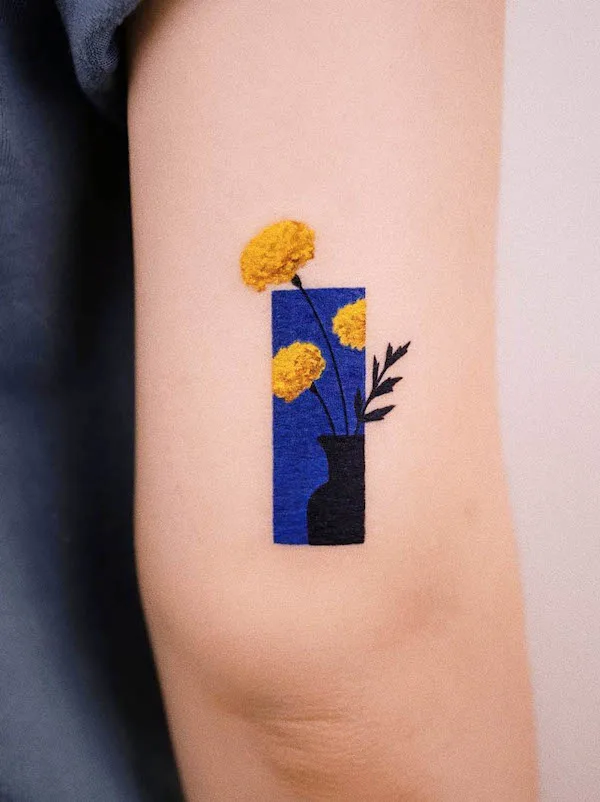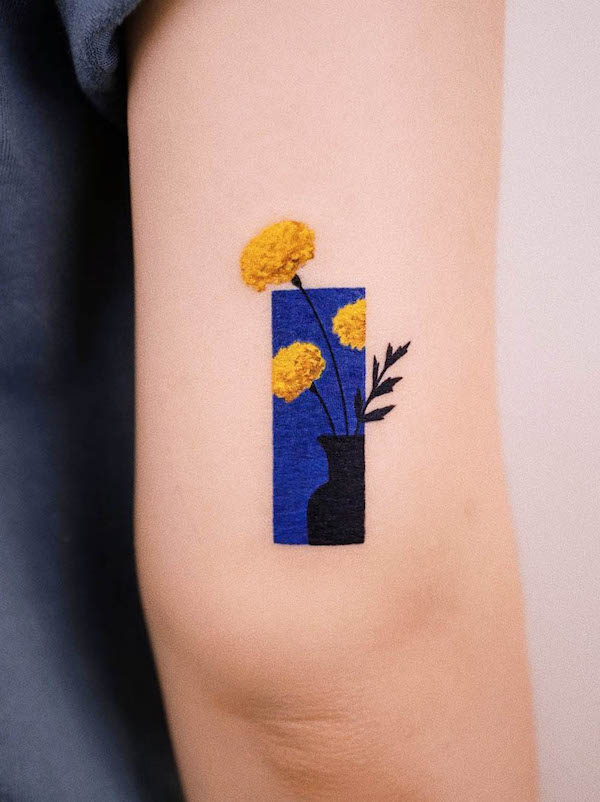 @youngchickentattoo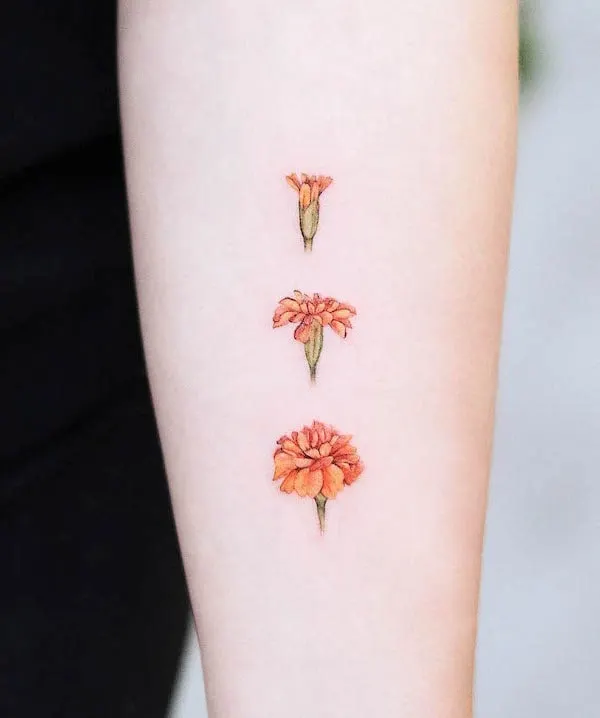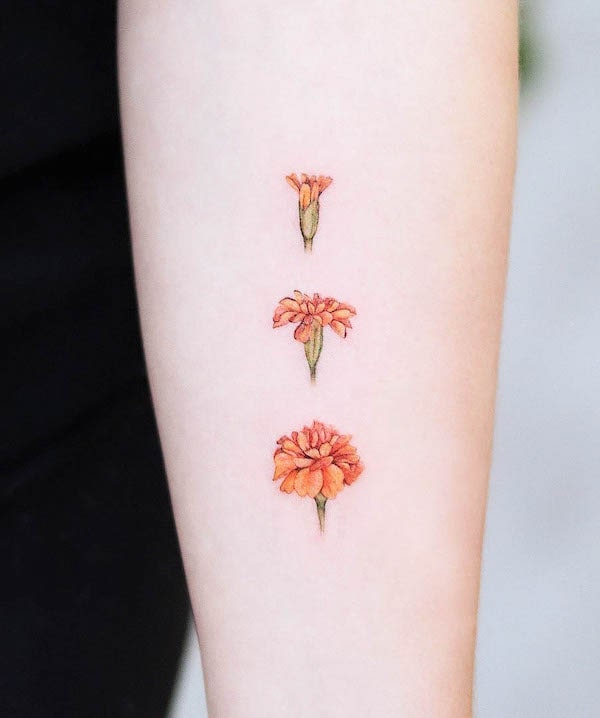 @hnnhtattoo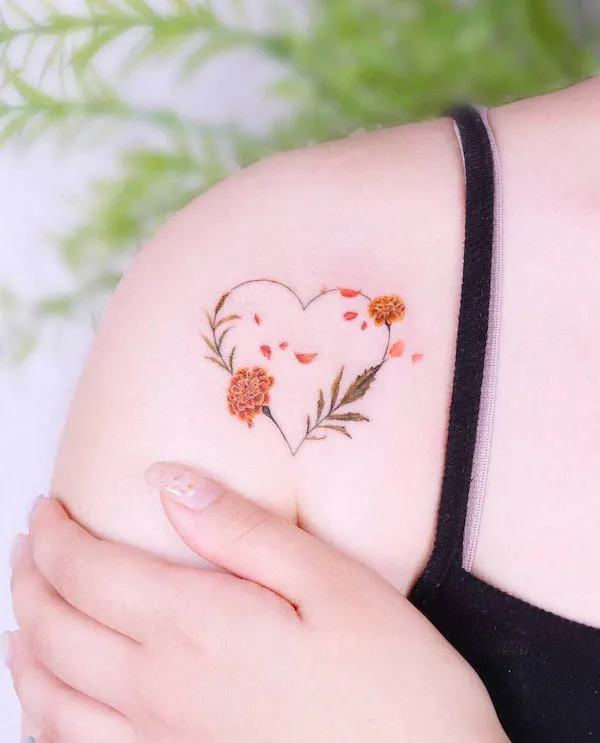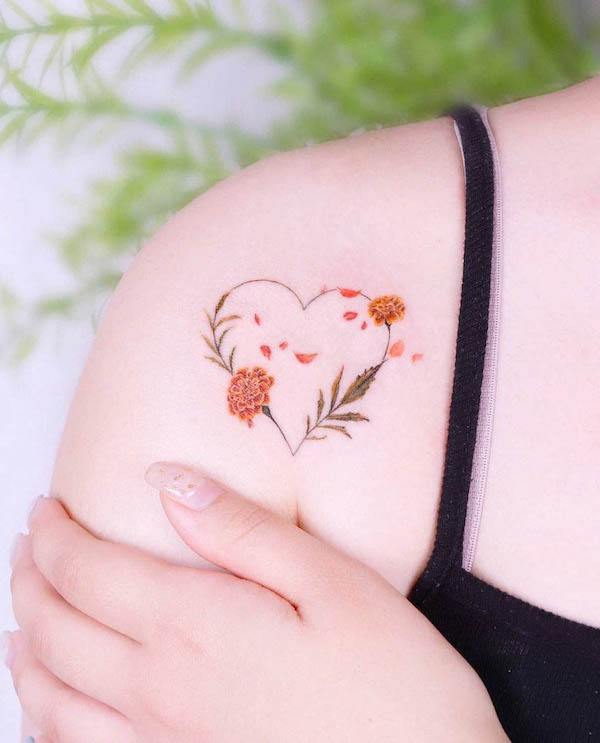 @peria_tattoo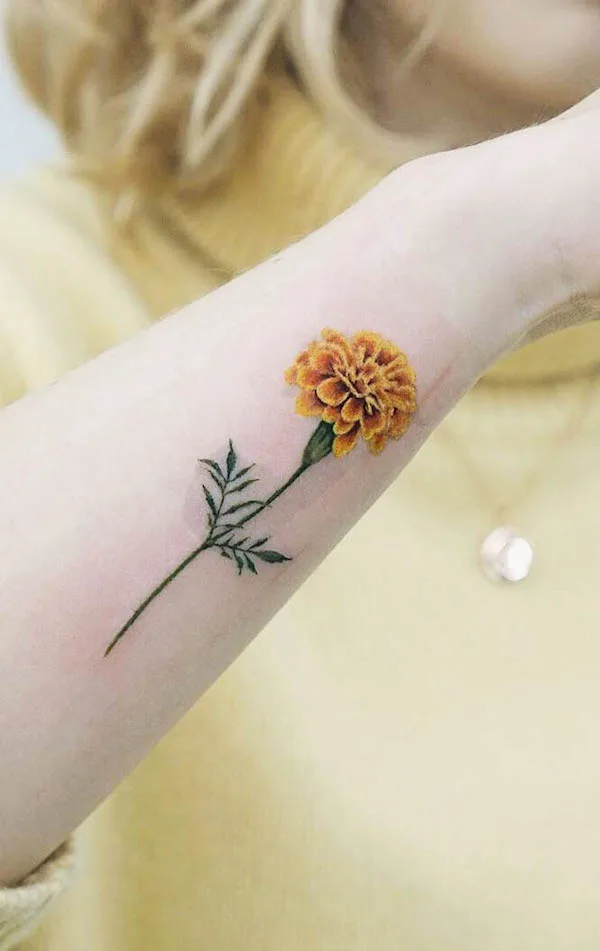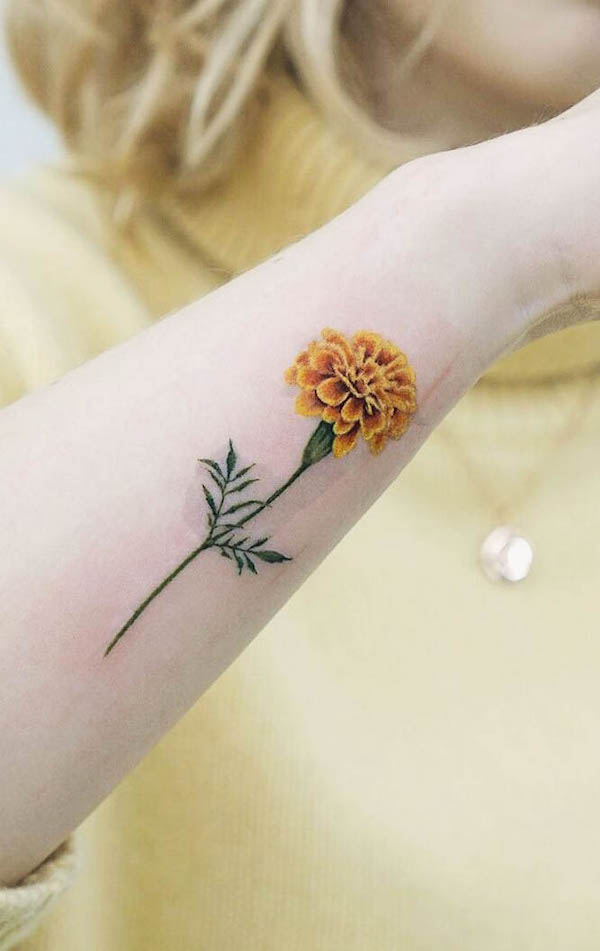 @picsola
Though their petals may be smaller and not so eye-catching, cosmos flowers can grow up to six feet. The height enables them to absorb as much sunlight as possible, which is crucial to their growth.
These daisy-like flowers have a range of positive symbolisms attached to them. The name comes from the Greek word "order," which brings harmony and peace. And in Hinduism, they also represent the journey to enlightenment.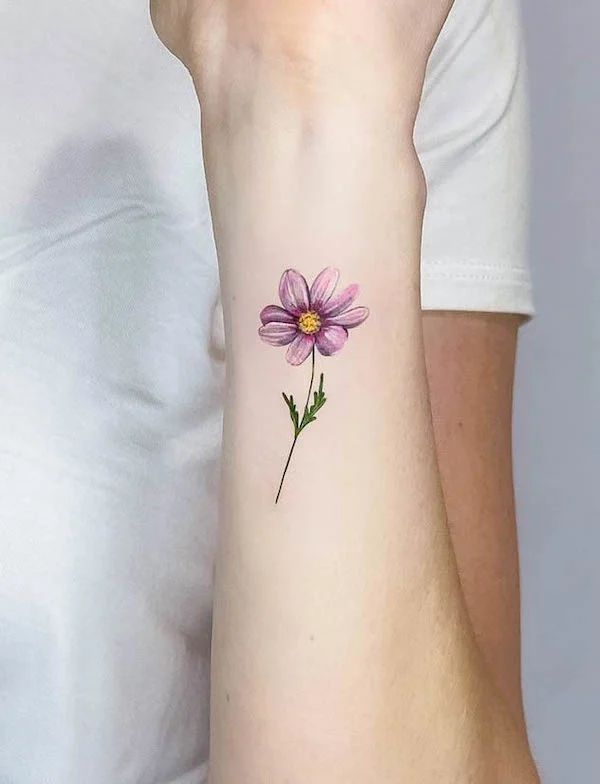 @inkynas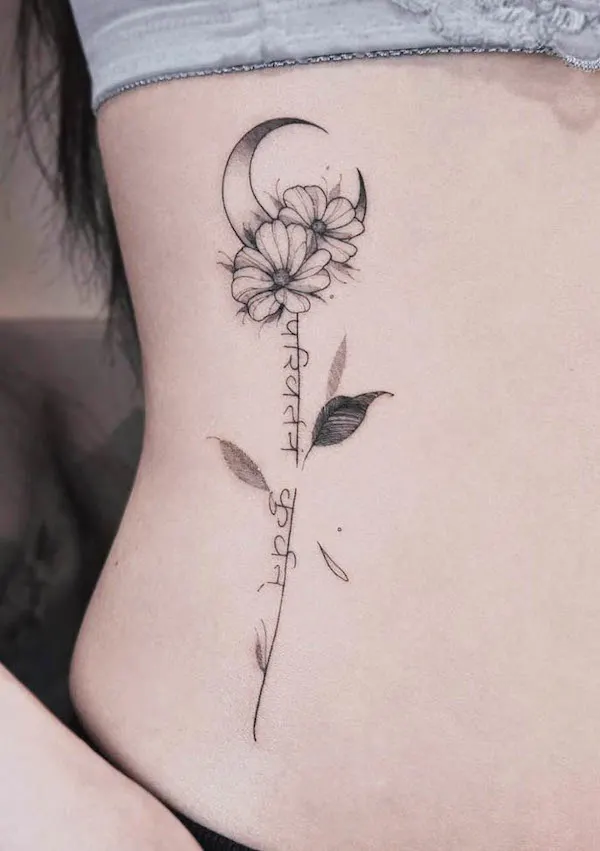 @1996.007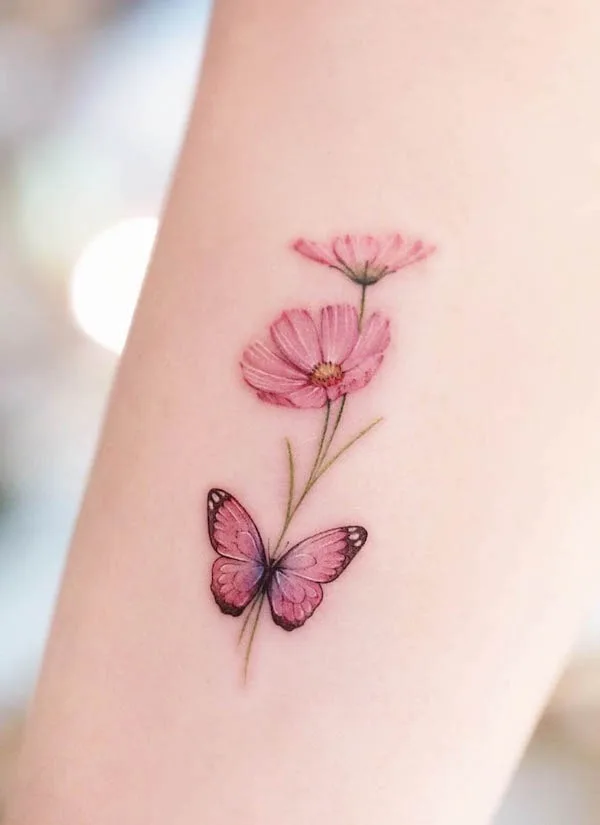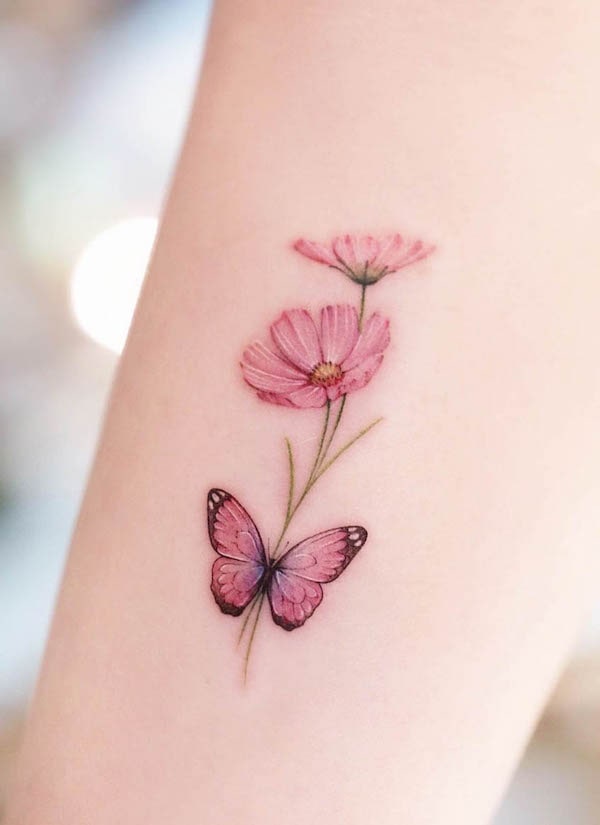 @tattoo.haneul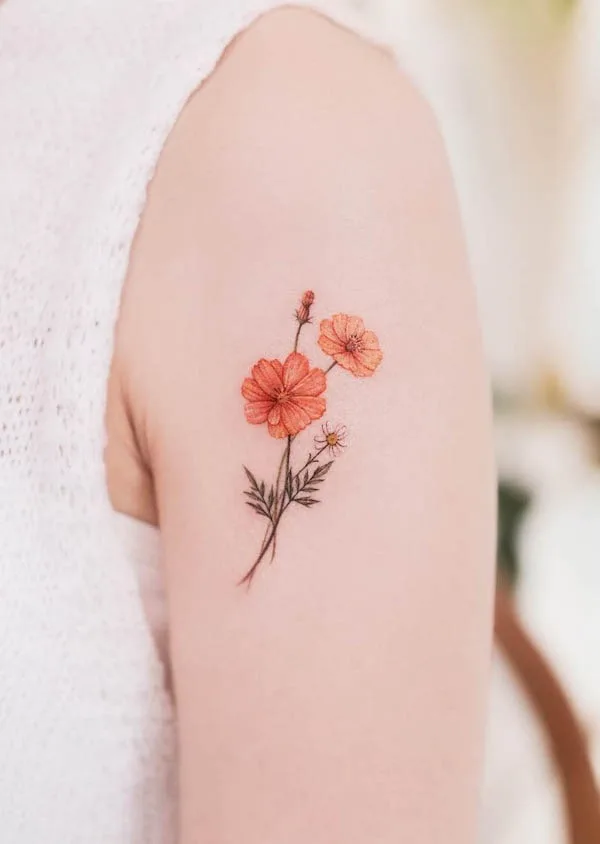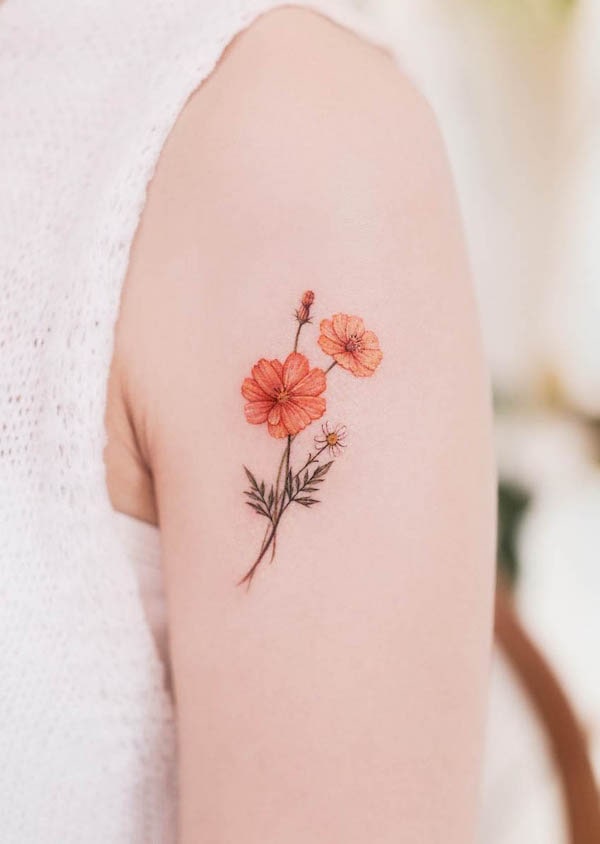 @tattoo.haneul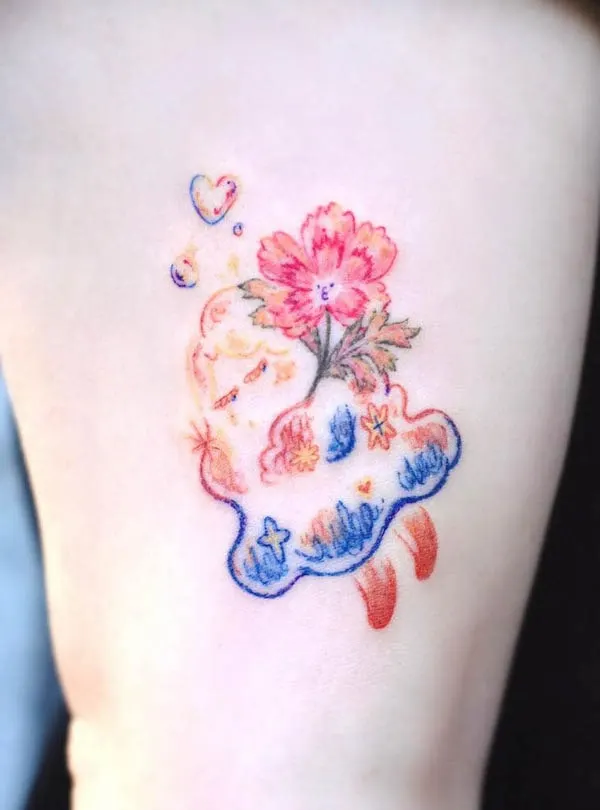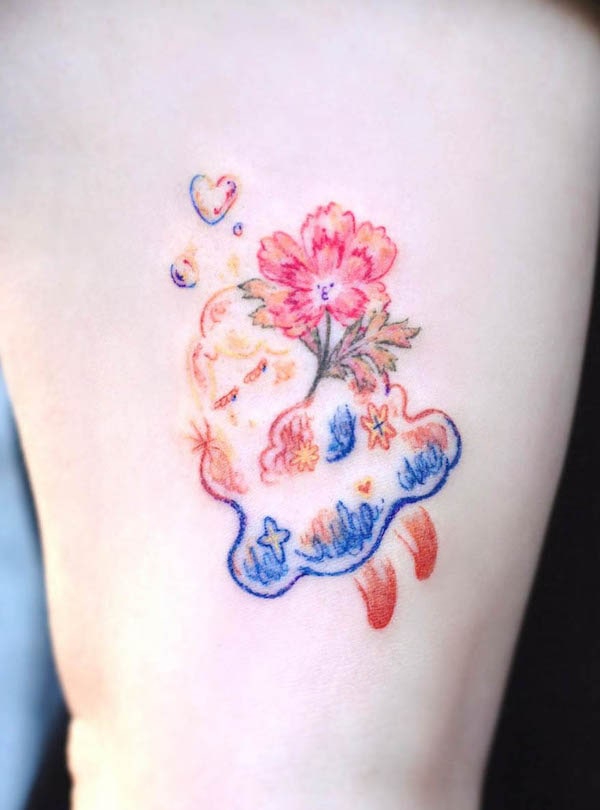 @second.pin
November birth flowers: Chrysanthemum
Zodiac signs of the month: Scorpio and Sagittarius
Birth stones of November: Topaz and citrine
Chrysanthemum, also known as mum, looks like a bowl of long thin petals that curl towards the center.
The name of the flower means "golden" in greek, thus yellow is a signature color of the chrysanthemum. But they can also be red, purple, orange, and other vibrant colors.
In western cultures, the chrysanthemum symbolizes joy, friendship, and peace. In the east, however, the flower is closely connected to life. White chrysanthemum is often used in funerals as good wishes for one's afterlife. And yellow chrysanthemums are a festive flower for celebrations and important occasions.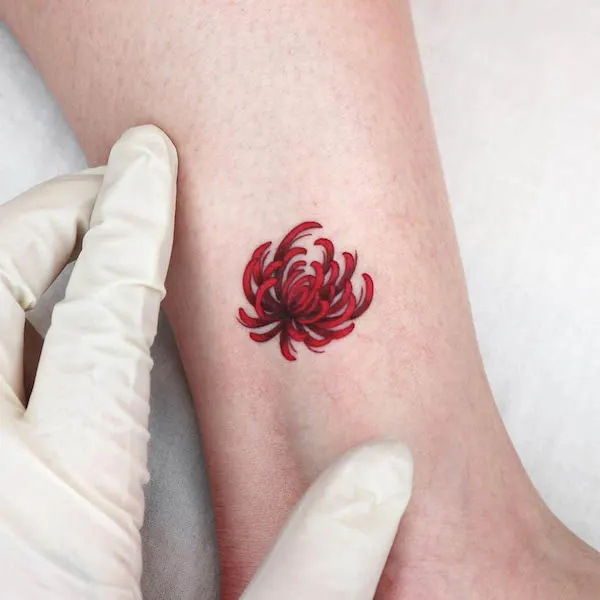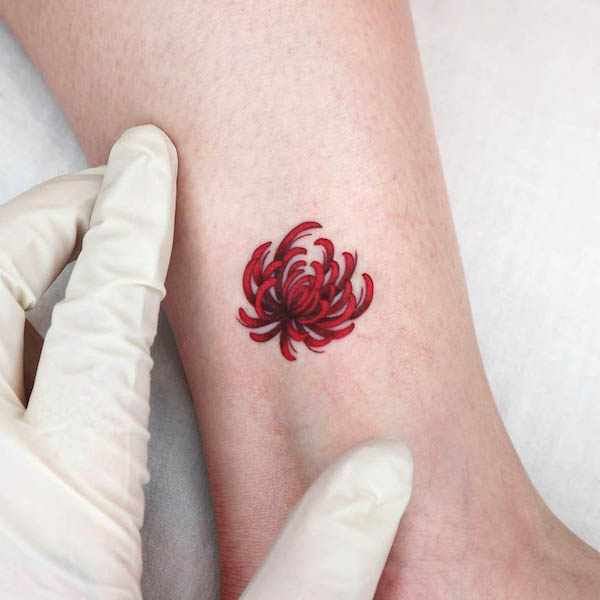 @rolypolyc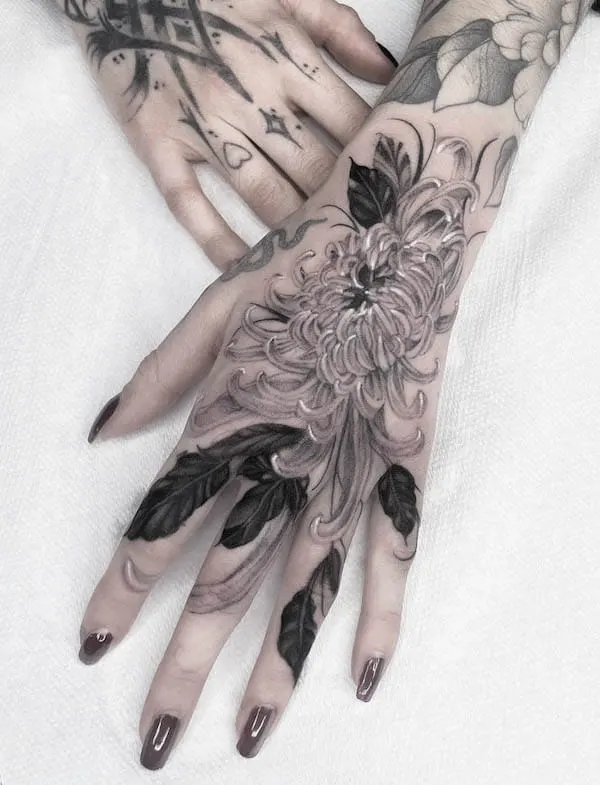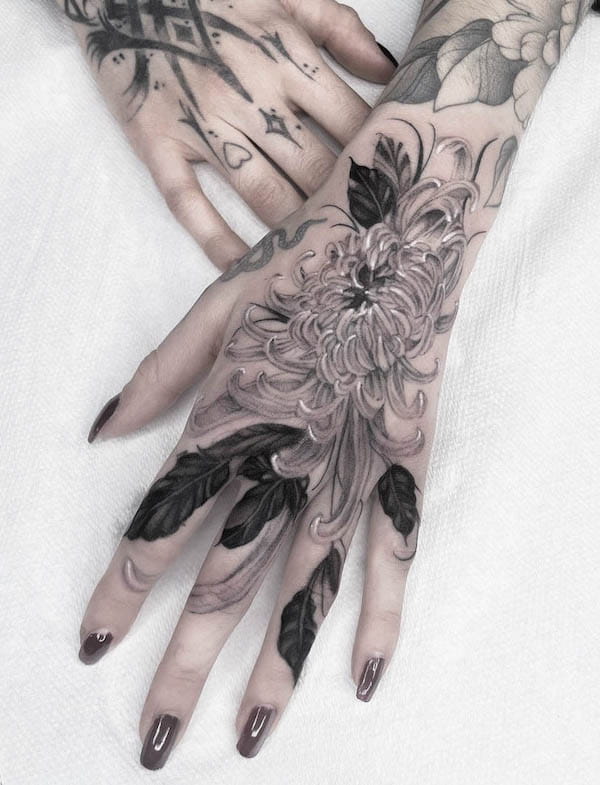 @zefyreon
Hand tattoos are highly visible, not to mention a full-hand design like this one. Such an exposed tattoo has to have perfect details and composition. And this one checks both boxes.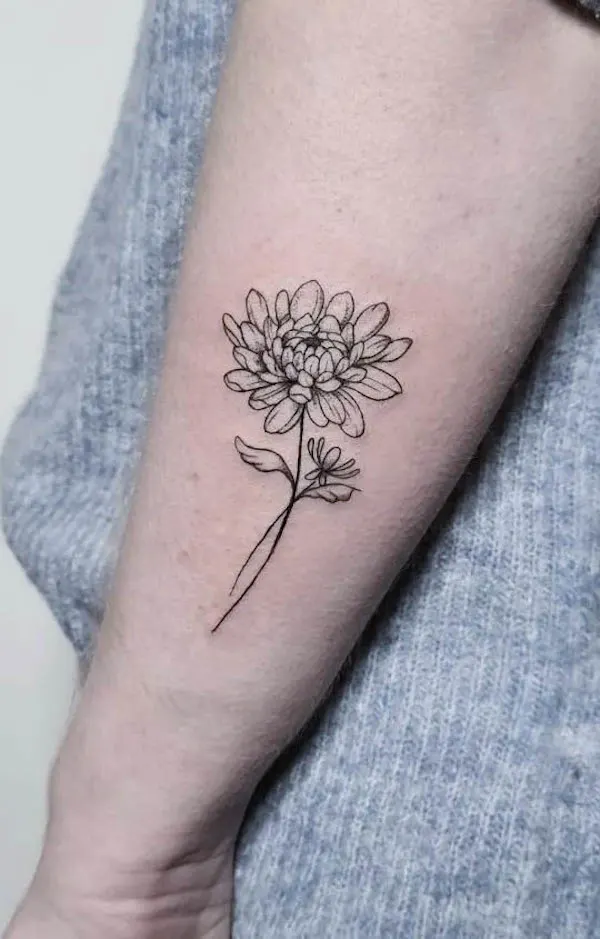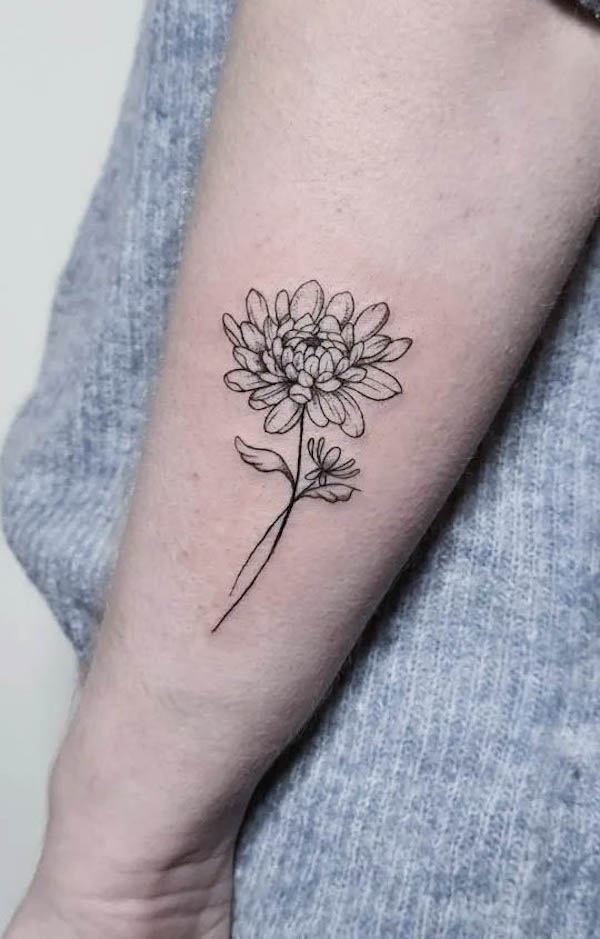 @steffis_farbklecks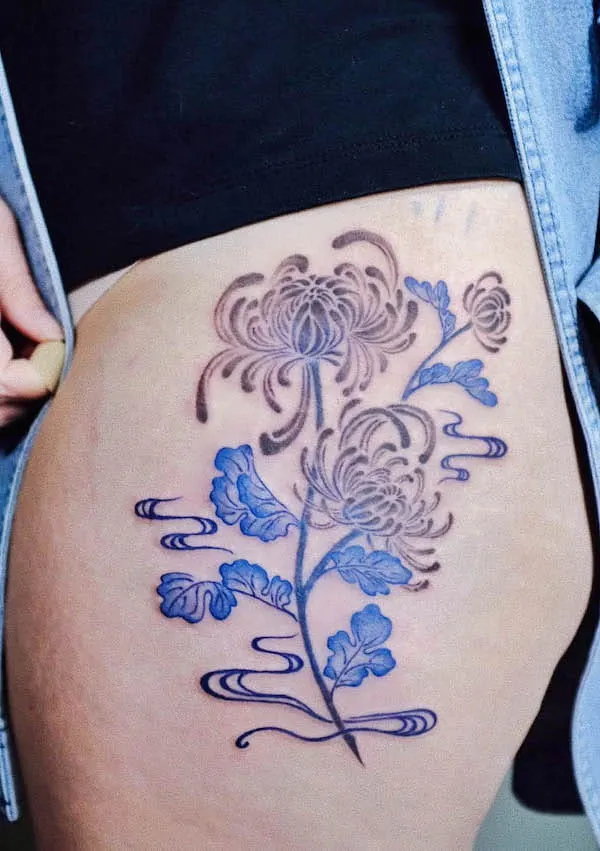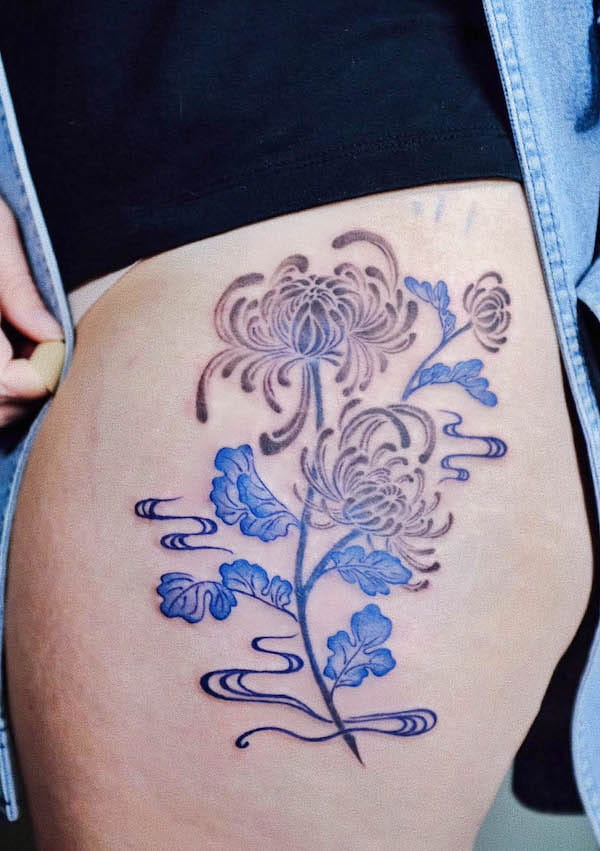 @xiaolun_tatt
December birth flowers: Narcissus and holly
Zodiac signs of the month: Sagittarius and Capricorn
Birth stones of December: Tanzanite, turquoise, and zircon
Narcissus is a big flower family with distinctive bell-like petals and long, straight stems. These gorgeous flowers are primarily seen in yellow and white, symbolizing energy and positivity.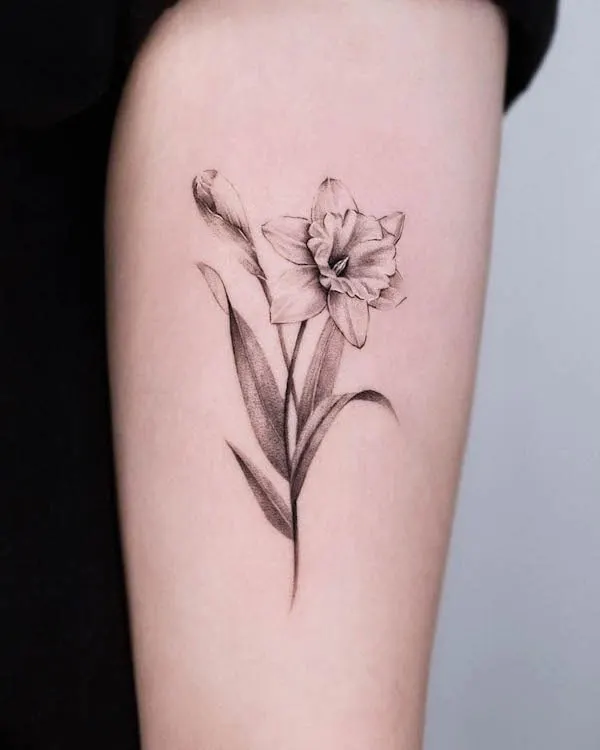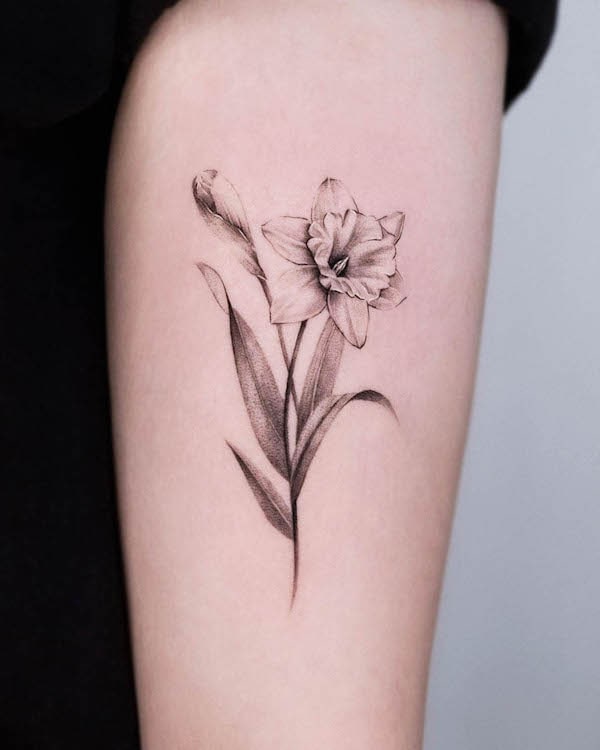 @tattooist_pen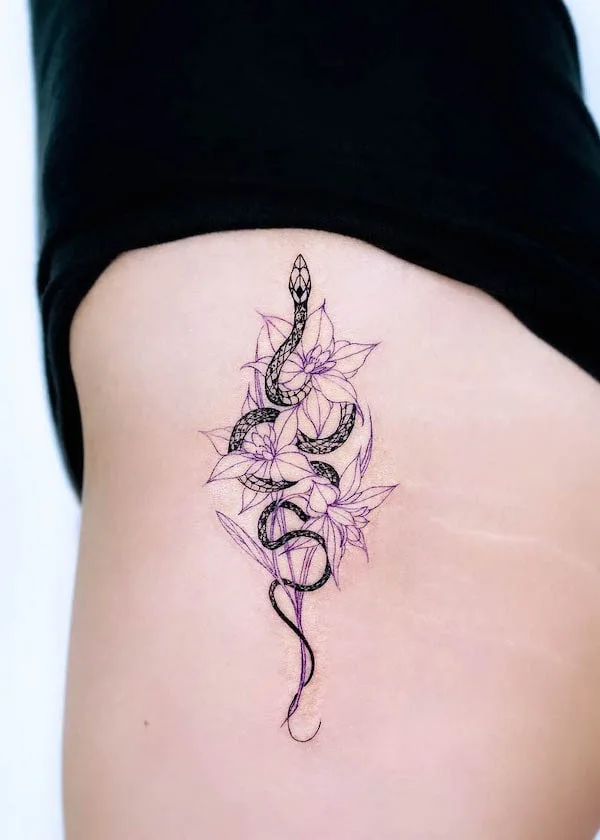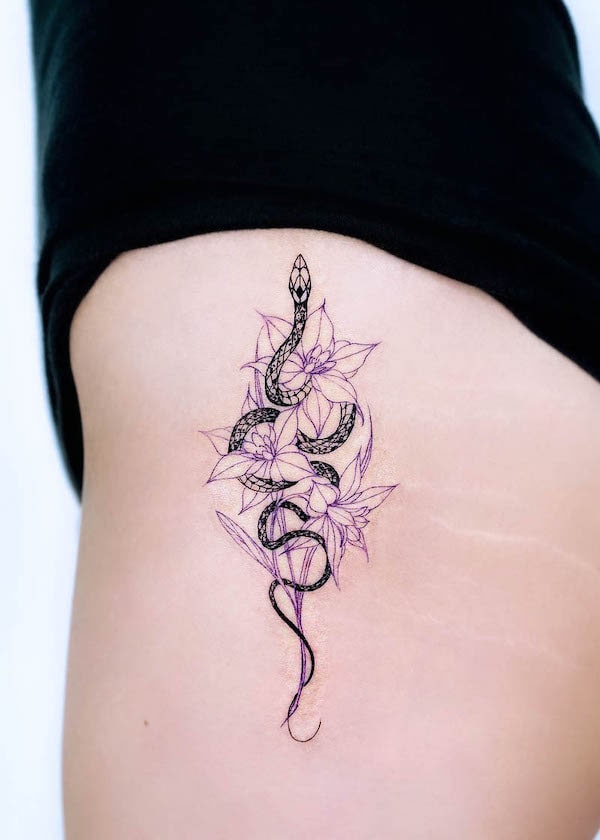 @bium_tattoo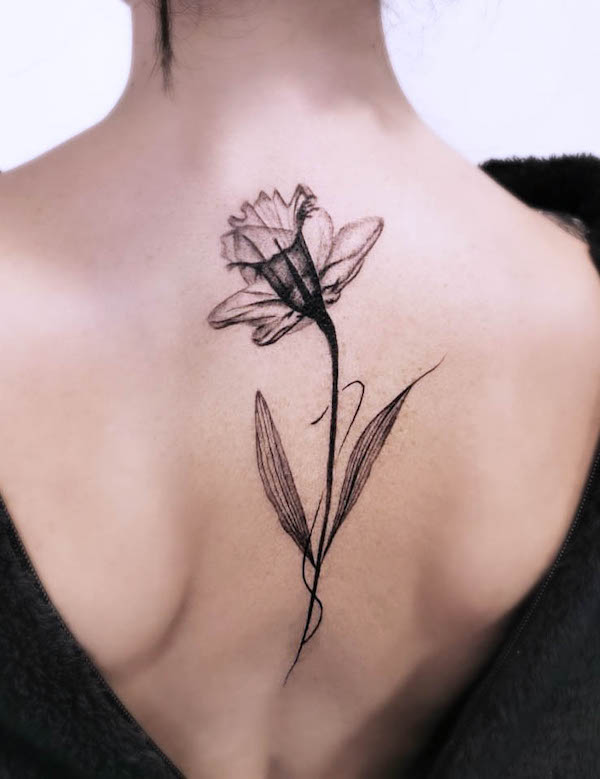 @yleniaattard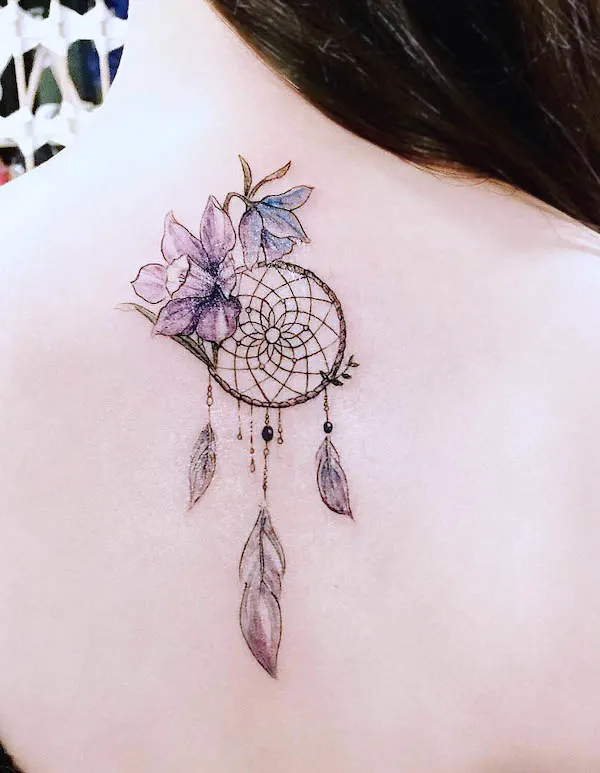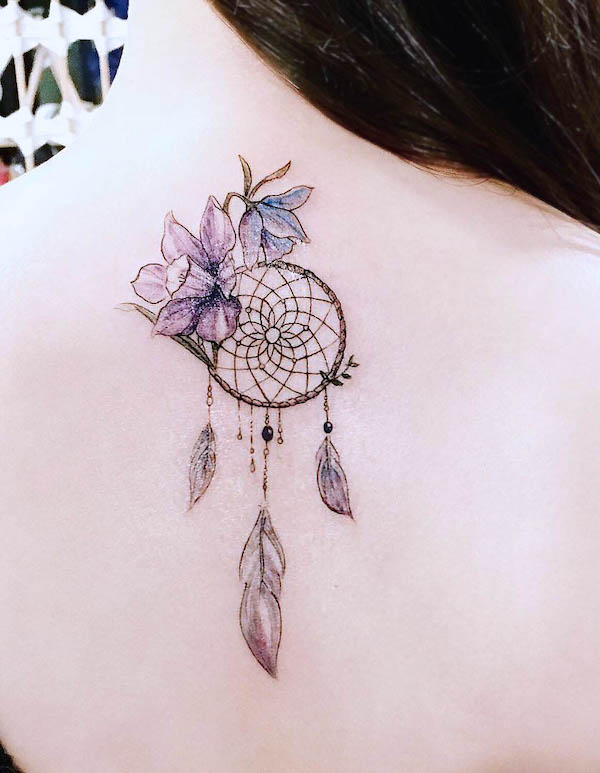 @tattoo2me
Unlike other flowers we have mentioned, the holly plant is mainly recognized by its green leaves and red berry-like fruits.
Its green and red color palette sparks Christmas joy, and makes them a perfect representation of the cheerful winter season. In addition, holly can also symbolize protection, courage and happiness of a family.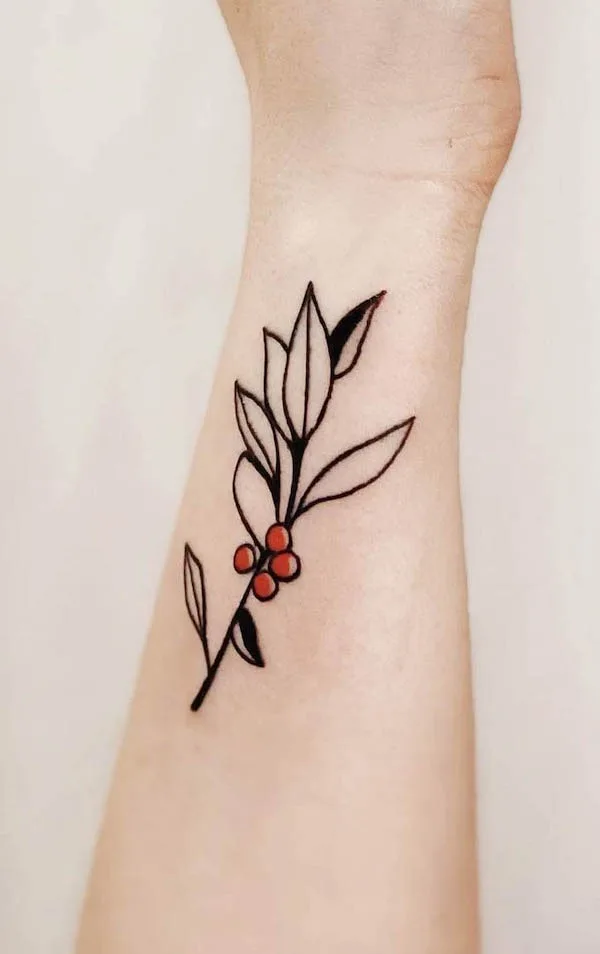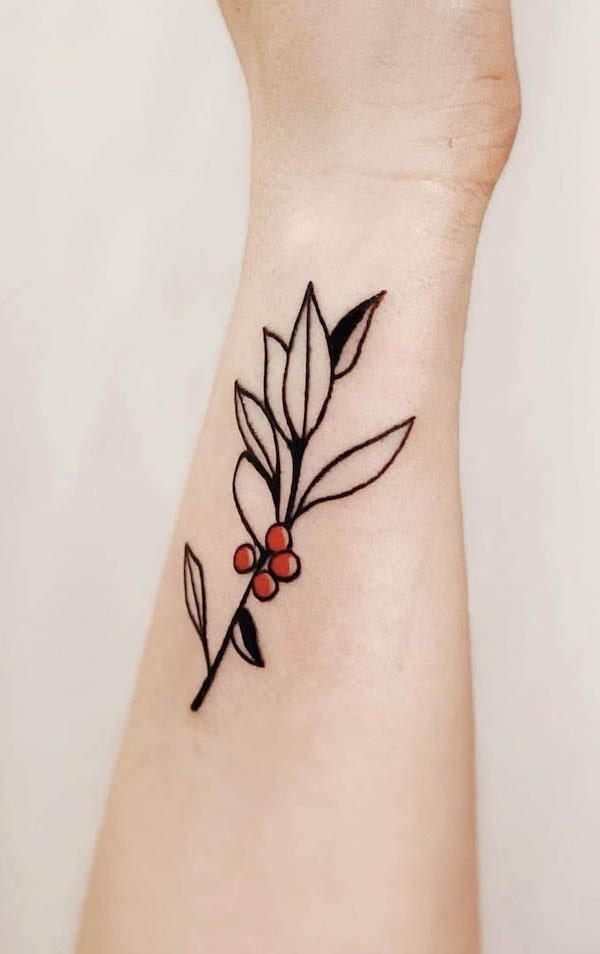 @justinecrawfart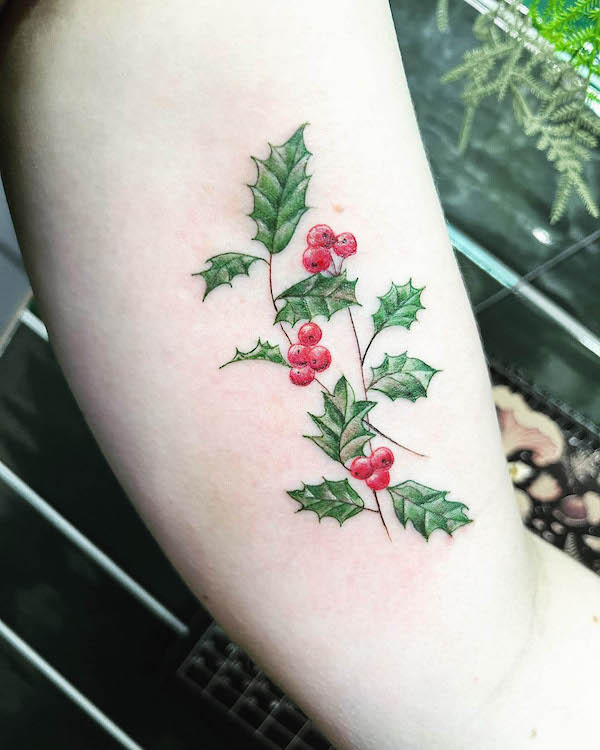 @juliaseizure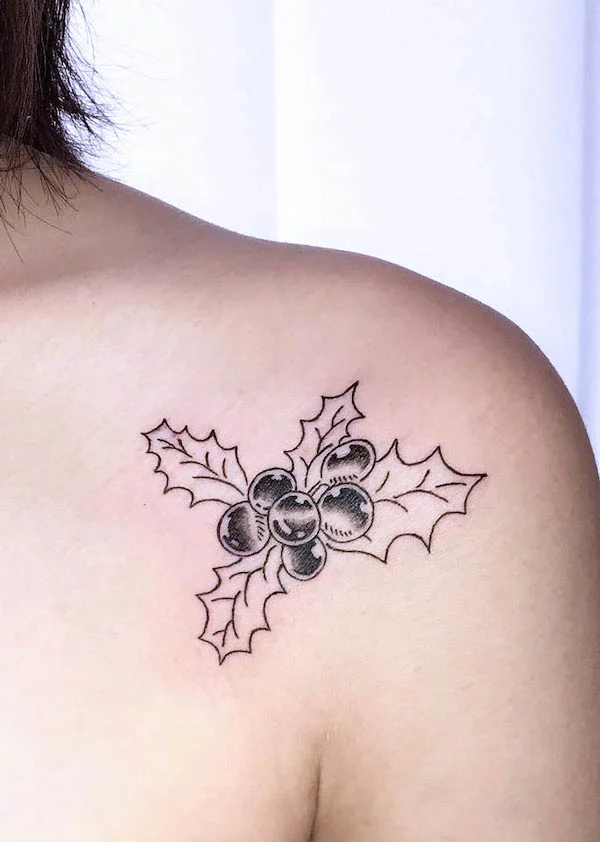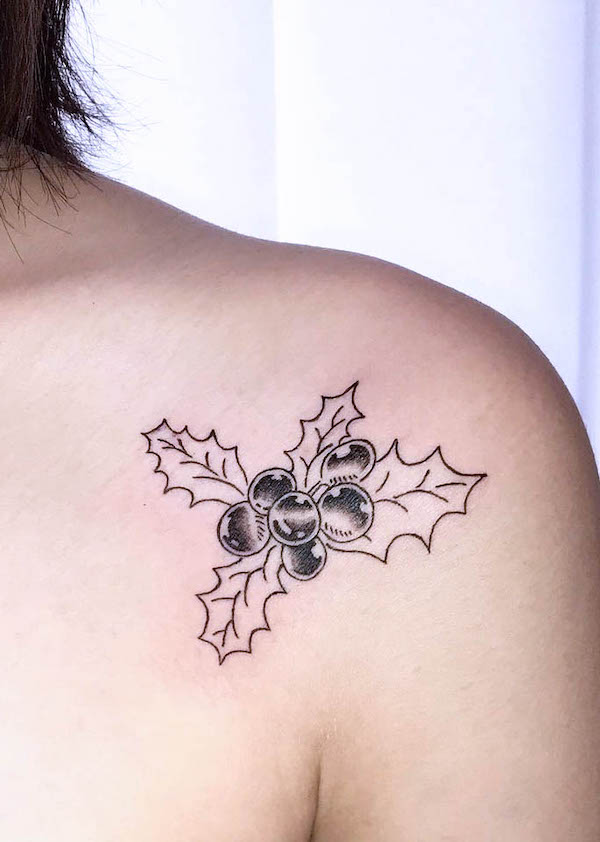 @yooroo_tattoo
Leave your thoughts in the comment down below!